Business owners in Co Leitrim have appealed to the Government to honour commitments to undertake urgent drainage work after severe flooding on the River Shannon hit the area in the last 48 hours.
The flooding has left thousands of acres under water.
The Carrick-on-Shannon Flood Action Group say they were given commitments that remedial work would be carried out on the weir at Jamestown - which would have relieved flooding in the county town - but the work never went ahead.
They have accused the acting Minister of State for the Office of Public Works and Flood Relief, Kevin Boxer Moran, of not honouring the commitments given by his predecessor Seán Canney.
The business community say that while land and some car parking in the town has been flooded, they remain open for business and want the OPW to resolve the issue.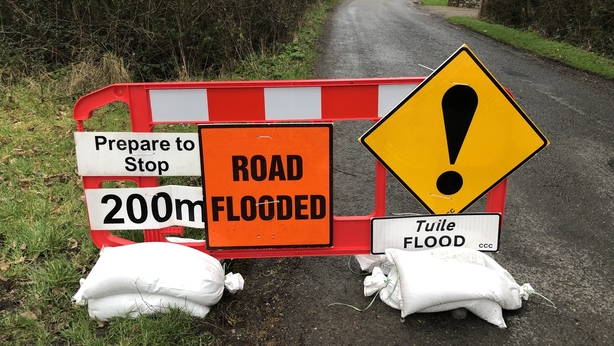 In Co Clare some families have moved to a local hotel after flood waters cut off access to their homes.
Flood waters are rising in the Springfield area of Clonlara and are higher than yesterday.
The release of waters through the Parteen Weir has now exceeded 300 cubic metres per second to relieve the pressure of swollen waters further up the along the Shannon.
Geraldine Quilivan, who lives in the area, said flood levels are not at critical levels yet, but two local families have had to move to a local hotel because rising waters cut off access on the road leading to their homes.
A Status Yellow rainfall warning has been issued for much of the country for tonight and Monday morning.
The warning is for all of Connacht and counties Cavan, Monaghan, Donegal, Dublin, Kildare, Laois, Longford, Louth, Wicklow, Offaly, Westmeath, Meath, Clare, Limerick, Tipperary.
Met Éireann said rain overnight will lead to accumulations of between 20 to 25mm, with higher totals possible in upland areas.
The rain is likely to be preceded by a period of sleet and snow in parts of Connacht, Ulster and north Leinster, with hazardous driving conditions for a time.
As the ground is saturated at the moment and river levels are elevated the combined effect of rainfall and snow melt may lead to some localised surface and river flooding.
Additional reporting Cathy Halloran