Sealed with a kiss. That's how 13-year-old Cameron McNamara won the heart of RTÉ weather presenter Audrey McGrath.
Cameron, from Dublin, got first-hand experience of how to present the weather with a behind the scenes look at the set with Audrey.
This will LIFT YOUR SPIRITS! Watch it through ..BEAUTIFUL !! For #WorldDownSyndromeDay Cameron came into #RTÉ where Audrey McGrath showed him how to present the RTÉ Weather..🌹 pic.twitter.com/8UpQ8yFYjv

— Des Cahill (@sportsdes) March 21, 2019
As Audrey was demonstrating how to switch screen backgrounds with a button device Cameron gave her a kiss on the cheek, leaving a giddy Audrey exclaiming: "How cute is that, so cute…you're melting my heart."
Cameron's visit to RTÉ studios was for the 'I Could Be' campaign by The Down Syndrome Centre charity organisation for World Down Syndrome Day.
The 'I Could Be' campaign aims to promote the message that while people with Down syndrome need additional supports, they have innate potential, skills, talents and unique perspectives to bring to society and to a chosen profession.
World Down Syndrome Day is celebrated each 21 March to signify the uniqueness of the triplication (trisomy) of the 21st chromosome, which causes Down syndrome.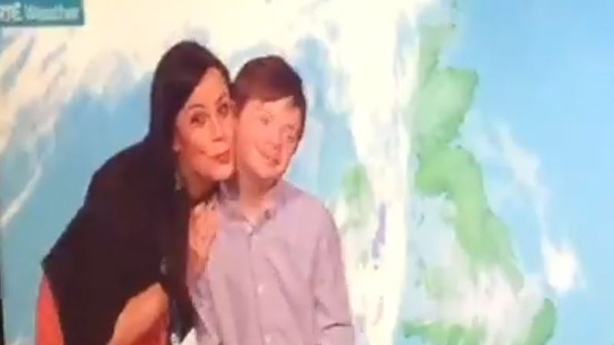 Cameron got an opportunity also to visit the set of the Late Late Show, the Sport studio and Brendan O'Connor's Cutting Edge.
Meanwhile, also as part of World Down Syndrome Day, Down Syndrome Ireland is launching a booklet and video that challenge outdated ideas about Down syndrome.
The charity says the new resources will provide an insight into the realities of family life with a baby, child, teenager or adult with Down syndrome in Ireland today.
Mary Doherty, President of Down Syndrome Ireland, said: "As many parents of children with Down syndrome know, there is an abundance of medical information about the condition but not a lot which provides real insight into the realities of having a child with Down syndrome, and we wanted to change that."
---
More
'I Can and I Will' - events to mark World Down Syndrome Day
---