If all the butter Ireland now exports annually was put into standard eight-ounce blocks it could be wrapped around the world three times. 
The butter exports would also take up the same footprint as Dublin's iconic Liberty Hall and would stretch almost three-quarters of a kilometre high into the sky.
The latest figures from Bord Bia for 2018 published today show the value of Ireland's exports of food, drink and horticultural products exceeded €12bn last year with exports of butter alone over €1bn for the first time.
This represents a 22% increase in value last year which was achieved despite difficult and unstable international trading conditions.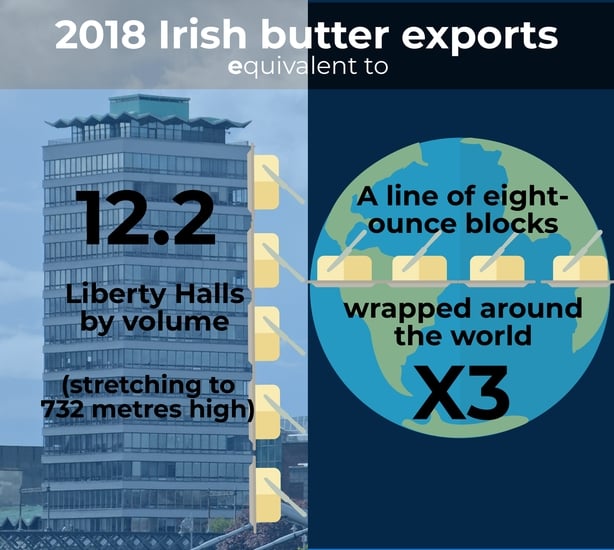 According to the State agency Ireland is now benefiting from an international reassessment of the health effects of butter.
Globally consumers now see butter in a far more favourable light. Apparently they are turning away from vegetable fat spreads for the perceived health benefits of butter.
Ireland exported 215,000 tonnes of butter around the world last year, up 8.5% from 2017. And butter alone now represents a quarter of all dairy exports from Ireland.
International prices for butter were close to record highs (about €5,500 per tonne) for the first three-quarters of last year before slipping sharply (to €3,300 per tonne) in the final quarter for the year.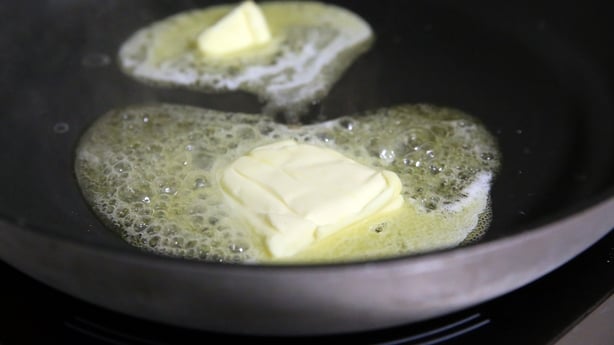 Bord Bia said it was the ninth consecutive year in which the volume of agri-food exports grew.
Bord Bia described last year's performance as exceptional under the circumstances.
Dairy and beef exports are now collectively valued at €8bn, and account for two-thirds of all agri-food and drink exports.
Bord Bia Chief Executive Tara McCarthy said that for 2019 instability has become the new norm in international food markets.
However, she said she remains optimistic about the industry's prospects, not withstanding the uncertainty and challenges posed by Brexit.
Minister for Agriculture, Food and the Marine Michael Creed said the possibility of a disorderly Brexit poses an unprecedented strategic challenge for the sector in 2019.