The Irish Cattle and Sheep Farmers Association (ICSA) organisation mounted a protest at the offices of the BidX1 online property trading platform in Dublin today in opposition to the forced sale of family farms, homes and businesses.
The ICSA said that in some cases those involved do not know that their homes and properties are being sold on the online platform.
The organisation said that fire sales like this are a crude and blunt instrument and they want BidX1 to cease selling properties while there is proper and meaningful mediation going on.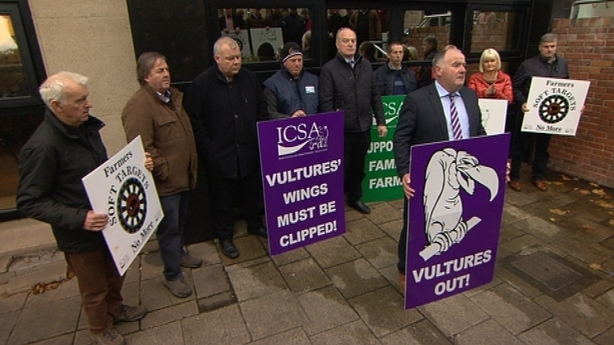 ICSA Rural Development Chairman Seamus Sherlock said it is very hard for a farmer or a business to try to do a deal with a so-called vulture fund when their property is up for public auction at the same time.
He said that selling properties on the BidX1 platform is a faceless way for the vulture funds to operate.
He added that it is all done online and that a person can buy a distressed property without even leaving their own home.
Mr Sherlock said that the ICSA was happy to see last Friday that BidX1 offered to cease selling farms for a time.
However, he said farmers want a more stringent commitment than that.
They want BidX1 to do some research into the properties they are being asked to sell, to see if there are families involved and if those families are actually working with banks and accountants to try to get a meaningful process together, so that the distressed loans can be resolved without having to sell the roof from over their heads.