Minister for Health Simon Harris has said he still plans to set up a Commission of Investigation into the CervicalCheck crisis, despite the author of the review into the controversy saying he did not think one was needed.
The Scally Review, conducted by Dr Gabriel Scally, was still receiving documents days before the completion of its work last week, RTÉ News has learned.
The review was unable to meet its original deadline of the end of June, due to the format of some documents supplied to it.
Overall it received around 12,000 documents and the final report runs to around 170 pages.
It is understood to point to governance failures in the CervicalCheck programme and recommends cultural and legal changes, to ensure open disclosure to patients.
While existing laboratories being used are found to be broadly meeting quality assurance standards, it has identified issues concerning laboratories which no longer have a contract with CervicalCheck.
It also points to failures in communication.
The Scally Review has 50 recommendations and is due to be presented to Cabinet tomorrow.
Dr Scally has determined that he has uncovered what needs to be uncovered in the controversy, which affected 221 women and their families.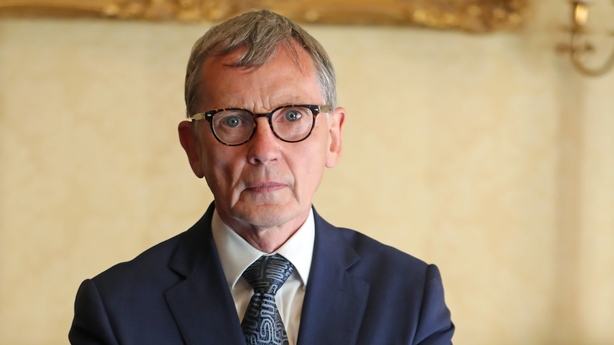 He is also expected to continue work in some key areas after publication of his report tomorrow.
An interim report on improving the information provided to women receiving screening and treatment was published in mid-June.
When the crisis emerged, the Government said it would set up a Commission of Investigation.
Dr Scally was asked to advise what issues should be examined by that commission.
However, he has concluded that a commission was not needed, as he has managed to uncover what needs to be uncovered.
He found that the system needs to be repaired now with his recommendations, rather than wait a few years for a commission to report.
Ultimately though, it will be a matter for Government as to whether a commission is established.
Speaking on RTÉ's Morning Ireland, Mr Harris said it was still his intention to set up a commission but he said it was best to allow the report to be published and to have all parties briefed on it and then make a decision.
He said: "So what I intend to do is let the report be published, let Dr Scally speak ... meet with the Opposition, meet with some of those affected and impacted by this terrible debacle, and then decide whether people feel there is need for one.
"But absolutely if there is a feeling that there is a need for one that will be the case.
"The only people who can change that decision are the Government and the Oireachtas, but obviously if a very eminent expert has been asked to look at this area and has made a view I think its important that we at least let the report be published and consider why he arrived at that point."
A lot depends on how Dr Scally's report will be received and if people feel he has got to the truth.
Some might argue what more is there for a commission to do at high cost and continuing damage.
---
Read more:
'Heartbreaking and disappointing' - Women react to news of Scally review
Varadkar 'disgusted' by leak
What is the Cervical Check controversy about?
€2,000 ex-gratia payment among recommendations in CervicalCheck report
€2.5m settlement for Vicky Phelan
Emma Mhic Mhathúna settles case for €7.5m
---
However, a commission has legal powers to secure documents and compel witnesses - Dr Scally did not.
There may be concerns about accountability as Dr Scally's report does not blame individuals.
Nevertheless, it points to certain system failures and the review is expected to recommend a very tight monitoring system involving women and families and public reporting, to make sure progress is being made in implementing his recommendations.
Some of the women and families affected by the CervicalCheck controversy are to be briefed this afternoon by Dr Scally on the findings and recommendations of his report.
Mr Harris said he would now endeavour to bring the briefing forward if all parties were available.
Have asked Dr Scally to brief the representatives of the women and families impacted by the CervicalCheck report today. Very grateful that he has agreed to do this

— Simon Harris TD (@SimonHarrisTD) September 11, 2018
Mr Harris said there were more than 50 recommendations made in the report, none of which had been reported on this morning.
He said the recommendations were very significant, and some of them were "very exciting in terms of addressing clear deficits in terms of governance, disclosure, audit".