One of the 221 women affected by the CervicalCheck crisis has said it was heartbreaking and disappointing to discover leaked reports of the review of the controversy in the media today.
The women and families of those affected had been due to be briefed before the Scally report was published tomorrow.
However, media reports today said the Scally Review is expected to conclude that a commission of investigation into the CervicalCheck crisis does not need to be set up.
Dr Gabriel Scally has determined that he has uncovered what needs to be uncovered in the controversy.
He will brief some of the women and families affected by the controversy on the findings and recommendations of his report this afternoon.
VIDEO: Lorraine Walsh from Galway on the answers being demanded by those affected by the cervical smear controversy. more on @rtenews pic.twitter.com/52vGceLg7g

— Pat McGrath (@patmcgrath) September 11, 2018
Lorraine Walsh is one of two patients representatives appointed by Minister for Health Simon Harris to a steering committee tasked to oversee changes to the screening programme.
Speaking on RTÉ's Morning Ireland, she said that members of the committee were informed yesterday that they would be briefed tomorrow morning, ahead of the Scally report going to Cabinet.
Ms Walsh said the group was already "emotionally charged" ahead of the report being published and today's leak was very upsetting.
She said: "It had been confirmed to us yesterday by Gabriel Scally and the minister that we would be briefed prior to the report going to Cabinet or published.
We need your consent to load this rte-player contentWe use rte-player to manage extra content that can set cookies on your device and collect data about your activity. Please review their details and accept them to load the content.Manage Preferences
"And to wake up this morning and to see news of it all over the papers, it's just heartbreaking.
"It's just so disappointing that throughout this whole experience the main information source that we have is the media."
She is meeting with Dr Scally in Limerick this afternoon, along with other representatives of those impacted by the crisis. They will be briefed on the content of the report ahead of its presentation to Cabinet.
The meeting has been brought forward after some recommendations were leaked.
Ms Walsh said she understood that the information contained in the in the report was only given to Minister Harris, the Department of the Taoiseach and the Department of Health.
She explained that the group had been trying to re-organise their personal schedules so they could meet Dr Scally tomorrow.
Ms Walsh said that Vicky Phelan, whose false negative smear test was the first to highlight the controversy, was attempting to have her treatment appointment changed so she could attend the meeting.
She asked how the information could be leaked when it was with the Government and she said it was unacceptable that this highly confidential information could be leaked.
Ms Walsh added that the group wanted to meet Dr Scally so they could fully understand his recommendations, including his opinion that a commission was not needed.
She said: "Vicky, I know, was due to have treatment, her life-saving treatment in Dublin tomorrow, and she was trying to change that so she could be briefed by Dr Gabriel Scally tomorrow.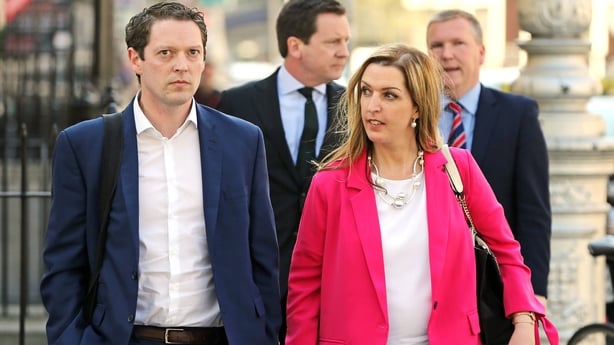 "It's just so disappointing to see now that this has been leaked from within. How is this information leaked?
"It's only with the Government. It's with the Minister for Health. It's with the Taoiseach's Office and it's with the Department of Health. Who's leaked this information?"
Meanwhile, Ms Phelan has said she will meet Dr Scally later today. In posts on Twitter, she said that this morning she woke up to "a whitewash".
She said that information "continues to be withheld from women" and vowed that she will "continue to fight back".
Ms Phelan said she will meet Dr Scally with Ms Walsh and Stephen Teap, whose wife Irene was diagnosed with cancer in 2015 and died last year after two undisclosed false tests.
Information continues to be withheld from women and I will continue to fight back. Today @Stephenteap @LorcallWalsh and I meet with Scally...3/4

— Vicky Phelan (@PhelanVicky) September 11, 2018
Mr Teap has said it was upsetting to wake up to the news that there would be no commission.
Minister Harris has described as extremely regrettable that some conclusions of the review have been made public before publication.
Heartbroken this morning at the disrespect shown towards the women and families in this scandal by Government @SimonHarrisTD @campaignforleo leaking this report before the families find out, very upsetting waking up to this #cervicalcheckscandal

— Stephen Teap (@Stephenteap) September 11, 2018