A ceremony has been held in Omagh, Co Tyrone, this afternoon to remember the 29 people who were killed and the hundreds injured by a Real IRA bomb on this day 20 years ago.
The reflective service was held at Market Street in the town, where the bomb exploded.
The bomb, hidden in a Vauxhall Cavalier car, killed 29 people, including a woman pregnant with twins.
Inaccurate warnings meant police evacuated shoppers towards the bomb site in what was the worst single atrocity of The Troubles.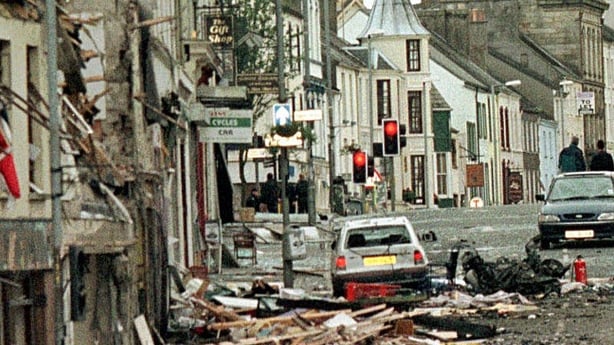 The victims included 18-month-old Maura Monaghan from Augher and her 30-year-old mother Avril, who was pregnant with twins.
Among the other victims were 20-month-old Breda Devine from Donemana, Co Tyrone; James Barker and Sean McLoughlin, both aged 12 and eight-year-old Oran Doherty, all from Buncrana in Co Donegal; and Fernando Blasco Baselga, 12, and Spanish youth worker Rocio Abad Ramos, 23, who were visiting Ireland from Madrid in Spain.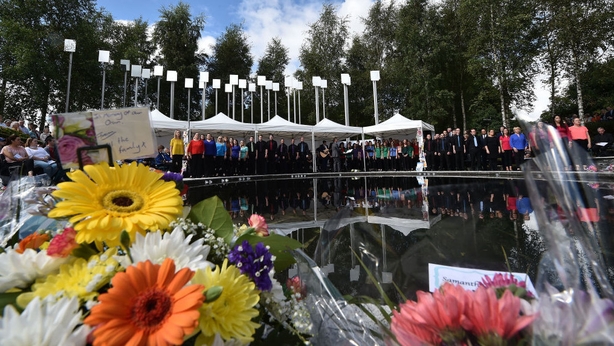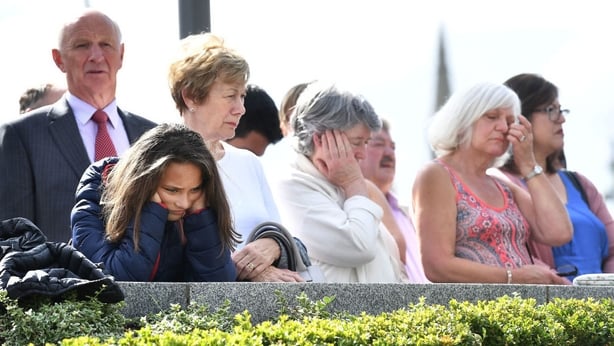 This afternoon, at the scene of the blast, a bell was rung 32 times to reflect the 31 lives taken, with an additional ring to remember all those who have lost and continue to lose their lives in atrocities across the world.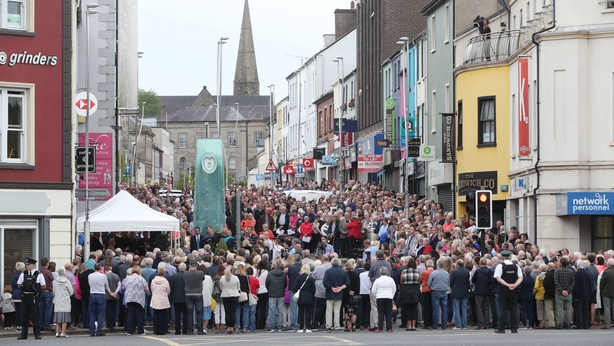 The bells ceased at 3.10pm to mark the exact moment of the explosion 20 years ago.
The commemoration featured a song, and people were offered a flower petal to scatter into a river or a pond at a nearby memorial garden.
---
From the archives
---
We need your consent to load this rte-player contentWe use rte-player to manage extra content that can set cookies on your device and collect data about your activity. Please review their details and accept them to load the content.Manage Preferences
In a message, President Michael D Higgins added his voice to the expressions of solidarity with the people of Omagh, leading calls for a "culture of peace".
President Higgins said: "As we recall with deep sadness the deaths and the injuries at Omagh, we should use this moment to recognise the many ways in which we are all connected and the many ways in which we have sought to make peaceful progress over the last two decades.
"May we use this anniversary as we honour the victims, to re-emphasise the importance of building a culture of peace and tolerance on our island."
President Michael D Higgins rings the Peace Bell at Áras an Uachtaráin in honour of the victims of the Omagh bombing | https://t.co/045ChlwCpl pic.twitter.com/ZapFrqdiIt

— RTÉ News (@rtenews) August 15, 2018
One of the biggest police manhunts in history unfolded, but criticism of the police investigation led to unfulfilled calls for a public inquiry.
Two people faced prosecution for murder but were not convicted.
Catholic Bishop of Derry Donal McKeown held a special mass in the town yesterday evening.
He told parishioners at the Sacred Heart Church: "Your memorial here is a monument to all the innocent who were torn from us by violence in our community.
"Combatants do fighting but it is mostly civilians who do the dying."
Meanwhile, the former policing watchdog who investigated the Omagh bombing has said it could have been prevented.
Nuala O'Loan called for a public inquiry into the worst single atrocity of the Northern Ireland conflict and seriously questioned the handling of security force intelligence.
She said the various intelligence services could have worked in a more cohesive way.
On 4 August 1998, the RUC received an anonymous telephone call warning that there would be an "unspecified" terrorist attack on police in Omagh on 15 August 1998.
The force's Special Branch, which handled intelligence from agents, took only limited action on the information and a threat warning was not sent to the sub-divisional commander in Omagh, an investigation by Ms O'Loan when she was police ombudsman found.
An RUC review concluded in 2000 that the information should have been passed to the commander.
Ms O'Loan told the BBC: "If that had been conveyed to the sub-divisional commander in Omagh he could have just set checkpoints up around the town and the effect of that could have been to drive the bombers to abandon their bomb."
But Police Service of Northern Ireland chief George Hamilton has insisted officers could not have prevented the blast.
"I consider this comment to be inaccurate, unfair and unreasonable," he said.
"Police were not in a position to prevent the Omagh bombing. I do not know what has led Baroness O'Loan to a conclusion that differs so much from her remarks of 2001."
"Considerations around a public inquiry into the Omagh bombing are a matter for government."
He also said that Ms O'Loan risked re-traumatising the families.
"I find it bizarre that, 20 years on, assertions like this based on no new information are being brought in to the public debate."
Road to peace 'worth protecting'
Earlier, SDLP leader Colum Eastwood said: "The pain of Omagh families and victims should serve us with an important reminder that the road to peace is worth protecting at all costs."
He said the resilience of all affected provided the "ultimate example" that reconciliation and agreement in the face of adversity was always possible.
Sinn Féin MP Orfhlaith Begley said it had been one of Ireland's darkest days and should stand as an eternal reminder of the constant need to build on progress made.
Oliver Barker was four years old when his brother James was killed in the bombing.
He and his family had moved from England to Buncrana the year before and had stopped off briefly in Omagh when the bomb exploded.
Speaking on RTÉ's Morning Ireland, Mr Barker said some of his first memories are from that day.
He said there was a huge amount of chaos and it was a very difficult time for him and his family.
He described a recent visit to Omagh as a "hugely cathartic experience"
Mr Barker said there had been dark times over the years and times when he felt he could not cope, but he wanted to tell anyone who was affected by the Troubles that there is a huge amount of resources out there.
He said his brother was a very forgiving and a very kind child.
He said everyone will always remember the image of his green eyes and his smile.
"The greatest respects have to be held for the victims and the families that have always rejected violence, have always pursued justice and have always categorically said they are ready for peace and they support peace and they support that dialogue."
Additional reporting: PA