An update of the key indicators of climate change since 2019 has found that human-induced warming is increasing at an unprecedented rate of 0.2C per decade, and that annual greenhouse gas emissions are at an all-time high.
Fifty leading climate scientists from around the world, led by the University of Leeds and including those at the ICARUS Climate Research Centre at Maynooth University, came together under The Global Climate Change Project to produce a report.
The report, which will be updated every year, details some remarkable deterioration in key climate change data over the past three years.
The scientist who wrote the report said it is critical that policymakers and the public are made aware of how quickly we are changing the climate and that the scale and pace of climate action has been insufficient.
Despite the focus and pledges about climate action all over the world, it shows annual average greenhouse gas emissions have grown to a record 54 billion tonnes per year.
That is up one billion tonnes since 2019.
It says human-induced warming, largely caused by burning fossil fuels, averaged 1.14C over the past decade.
That is up from the 1.07C estimate in the IPCC report just three years ago.
The overall pace of global warming, according to scientists, has now accelerated to 0.2C per decade.
The fact that we are warmer than expected, while the volume of climate-warming gases in the atmosphere is higher than predicted, suggests that we are now within five years of exceeding the amount of carbon that we can add to the atmosphere before the key 1.5C of warming is likely to be exceeded.
The report also underscores how time is rapidly running out for climate action.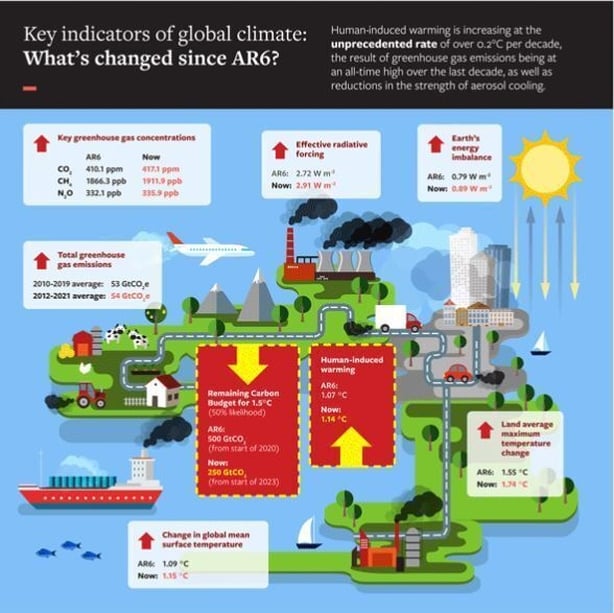 Three years ago, the remaining carbon budget to ensure a 50% chance of keeping the increase in global temperature to 1.5C was calculated to be 500 billion tonnes. By the start of this year, according to today's report, that had been cut in half to just 250 billion tonnes.
Currently, it is taking up to ten years for the Intergovernmental Panel on Climate Change (IPCC) to turn around its own updates of these key climate change indicators.
This causes an information gap at a time when policymakers and civil society groups desperately need up-to-date information on which to base decisions and act.
The aim of the scientists behind today's report is to fill that information gap and update the data every year.
Director of ICARUS Climate Research Centre at Maynooth University Professor Peter Thorne said "it is critical that policymakers and the general public be made aware of how quickly we are changing the climate through our collective activities.
"Already, since the IPCC assessment of the physical science basis in 2021, key numbers have changed markedly, and we remain well off track to avert warming above 1.5C."
Recent IPCC reports have shown conclusively that with every further increment of global warming the frequency and intensity of climate extremes, including extreme heat, heavy rainfall, and agricultural droughts increases.
Professor Piers Forster, Director of the Priestly Centre for Climate Futures at the University of Leeds, said the world must work harder and urgently bring emissions down if we don't want to see the 1.5C goal disappearing in our rear-view mirror.
"Decisions made now will have an impact on how much temperatures will rise and the degree and severity of impacts we will see as a result."
"We need to be nimble-footed in the face of climate change. We need to change policy and approaches in the light of the latest evidence about the state of the climate system. Time is no longer on our side," he added.
The key findings in today's report are:
Greenhouse gas emissions at 'an all-time high' causing unprecedented rate of global warming
Human-induced warming averaged 1.14C over the last decade
A record level of greenhouse gases is being emitted each year, equivalent to 54 billion tonnes of carbon dioxide
The remaining carbon budget - how much carbon dioxide can be emitted to have a better than 50% chance of holding global warming to 1.5°C - has halved over three years
Reduced particulate pollution from coal burning has temporarily added to global warming as the particulates had been having a cooling effect
Key climate indicators to be updated every year, so people can be kept informed about critical aspects of global warming