(1) The end of the Independent Alliance
Some household names found themselves fighting for their political lives today. Among them outgoing cabinet ministers Katherine Zappone and Regina Doherty.
Former tánaiste and Labour party leader Joan Burton has lost her seat in Dublin West. Outgoing Minister for Transport Shane Ross was the first big name casualty from the Cabinet.
He was a leading member of the Independent Alliance in the 32nd Dáil. His colleagues in that grouping Finian McGrath and John Halligan both retired before this election.
One name that no commentators or political anoraks predicted to lose his seat was Minister of State Kevin 'Boxer' Moran.
Chalked down as a banker to retain his seat by anyone who took a look at the Longford-Westmeath constituency before polling day, another member of the Independent has conceded that he has lost his seat.
Speaking to RTÉ's Ciaran Mullooly, he said it would be "a miracle" if he held on.
That leaves Sean Canney as the last man standing in the Independent Alliance. The outgoing independent TD has topped the poll again in Galway East.
A good day for him, but also the day that marks the end of the Independent Alliance.
(2) Success for rural independents
Some other outgoing Independent TDs (who were not a member of the ill-fated Independent Alliance) have had phenomenal election performances.
Michael Collins in Cork South West topped the poll with 11,700 votes to get elected after the first count.
In Tipperary, Michael Lowry topped the poll with 14,802 to get elected. In Kerry, Independent TDs the Healy-Rae brothers, Michael and Danny, are also certain to be returned to the Dáil.
Michael Fitzmaurice was elected in Roscommon-Galway with 13,077 votes in another poll topping performance.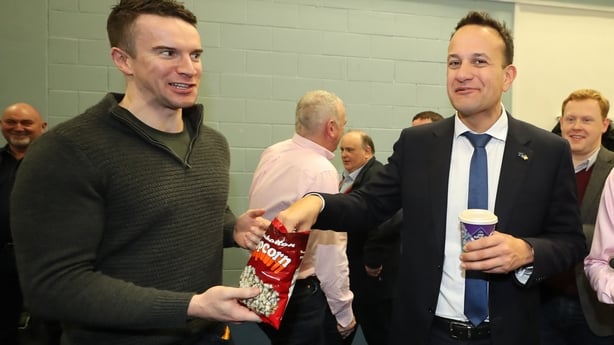 (3) Campaign holidays do work
It's certainly an unorthodox way to approach a general election. But it appears that going on holidays in the white heat of a general election campaign does work.
There are times when a surge in a support for a given party is such that candidates do not have to fully engage in a campaign.
In 1991, Sadhbh O'Neill, a 21-year-old Trinity student was elected to Dublin City Council. She had never canvassed and headed off to the US on a J1 visa for the summer. Yet, the party brand was such that she was elected.
In 2020, history may repeat itself. Sinn Féin candidate Patricia Ryan came in for some criticism from the other candidates in Kildare South when she went on holidays. Today, she looks like she is going to win a Dáil seat.
Speaking to RTÉ at the Count Centre in Punchestown Ms Ryan said: "My family comes first, my politics comes second."
She explained her sons had bought her a holiday for Christmas and she said: "I couldn't afford to throw their money away that they worked hard for, so I went for my holiday."
She said she worked hard on the election "prior to and after" the holiday. She added: "I didn't do anything illegal I was only on holiday."
Asked if she thought it was odd to take a holiday in the middle of an election campaign she said: "I wouldn't think it odd, I won't have to take a holiday now that I am elected. I can work on from here on in."
---
Read more
---
(4) Family affairs
Green candidates Catherine Martin and her husband Frances Noel Duffy garnered a lot of media attention when they were both elected councillors in 2014.
Six years later, the couple are set to be elected to the Dáil on a historic day for the Greens. Catherine has topped the poll in Dublin Rathdown and she will be re-elected a TD.
With nearly 5,000 first preference votes, her husband Noel looks well placed to take a seat. Catherine's brother Vincent P Martin is also in contention in Kildare North, where he has won 10% of the first preference.
Another couple involved in this election is Social Democrats' candidate councillor Holly Cairns. She is the party's agriculture spokesperson and in a relationship with Fianna Fáil's Christopher O'Sullivan.
O'Sullivan, a son of former TD Christy, looks well poised to take a seat and Cairns has performed really strongly with 4,700 votes.
(5) Newbies
With 515 candidates in the race for 159 seats and a long way to go in many counts, it is difficult to predict how many new TDs will make up the 33rd Dáil.
Shortly after 7pm on Sunday, seven first time TDs were elected - all of them Sinn Féin candidates. They were Thomas Gould in Cork North-Central; Paul Donnelly in Dublin West; Ruairí Ó Murchú in Louth; Rose Conway-Walsh in Mayo; Darren O'Rourke in Meath East; Johnny Guirke in Meath West and Johnny Mythen in Wexford.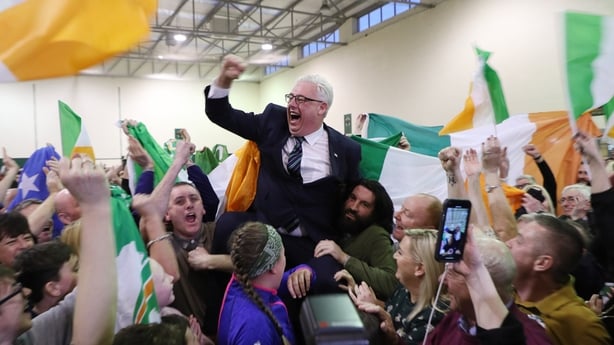 Among the other likely first time TDs likely to be elected are Fianna Fáil's Jennifer Murnane O'Connor (Carlow-Kilkenny) and Cathal Crowe (Clare).
Also well poised are Sinn Féin's Matt Carthy, Pauline Tully (Cavan-Monaghan), Violet-Anne Wynne (Clare) and Mairead Farrell (Galway West), Réada Cronin (Kildare North) and Séighin Ó Ceallaigh (Limerick County).
Fine Gael's Neale Richmond (Dublin Rathdown) and Social Democrats Gary Gannon (Dublin Central), Cian O'Callaghan (Dublin Bay North) and Jennifer Whitmore (Wicklow) look well poised to win seats.
Among the likely first time Green candidates looking like having a part to play in the 33rd Dáil seats are Francis Noel Duffy (Dublin South West) Ossian Smyth (Dún Laoghaire) and Roderic O'Gorman (Dublin West).
(6) Fianna Fáil to win Cork North West Bellwether battle
Traditionally seen as a bellwether constituency, Cork North West was described as a "straight shoot out" between Fianna Fáil and Fine Gael prior to this election.
It was always likely that this three-seat constituency would return two Fine Gael TDs and one from Fianna Fáil; or two Fianna Fáil TDs and one from Fine Gael.
In 2016, Fianna Fáil got the upper hand here with Aindrias Moynihan and Michael Moynihan winning two seats and Fine Gael's Michael Creed taking the other one.
It appears that the ratio remains the same after Election 2020 with the two Moynihans and Michael Creed retaining their seats.
(7) So who will Sinn Féin send to Europe?
Outgoing MEP Matt Carthy is on course to top the poll in Cavan Monaghan.
It is the standard practice in the European parliament that MEPs name a list of substitutes that could replace them if they leave the Brusssels parliament. In a remarkable turn of events, Mr Carthy's substitute list is now a who's who of new Dáil deputies.
His replacements Darren O'Rourke (Meath East), Mairead Farrell (Galway West) and Pauline Tully (his running mate in Cavan-Monaghan) are all set to take seats.
Councillor Caoimhe Ni Shluain from Meath is next on the list.
Nine days after giving birth to baby Iarla Seosamh, (who was named after the late Meath West party stalwart Joe Reilly), could now find herself in the unlikely position of becoming Sinn Féin's sole representative in Europe.
The party's other MEP Martina Anderson has departed following Brexit.