Sinn Féin leader Mary Lou McDonald has been elected to the new Dáil after the first count in the four-seater Dublin Central constituency.
The quota in Dublin Central was 6,288 and she secured 11,223 votes, coming ahead of outgoing Minister for Finance Paschal Donohoe.
Ms McDonald described the election result as seismic, historic and said the two-party system was over.
She said she had not yet heard from Fianna Fáil or Fine Gael, but she had spoken to the Greens, the Social Democrats and Solidarity/People Before Profit about the formation of government.
Fine Gael leader Leo Varadkar retained his seat in Dublin West but had to wait until the fifth count to do so after Sinn Féin's Paul Donnelly topped the poll.
This evening, Micheál Martin secured his re-election in Cork South Central. The Fianna Fáil leader came second to Sinn Féin's Donnchadh O'Laoghaire.
Earlier, Green Party leader Eamon Ryan was elected after the first count in Dublin Bay South, topping the poll with 8,888 votes.
The quota for the four-seater constituency was 7,919. 
Mr Ryan said the Green Party wants to talk to everyone to try to tackle climate change and the biodiversity crisis. 
Mr Ryan said it is very difficult to see what kind of government can be formed. He said he remembers the 1980s when there were elections every six months and said that did not serve the country. 
He said the Greens will play their part in talks but he can not see what formation of government is possible at this time.
The Green leader said he will talk to Labour, Social Democrats and other like minded parties to see if they can strengthen their hand. 
Mr Ryan said he hopes the Greens might get into double figures, but it will be tight adding that their vote has increased since the local elections last year.
In Mayo, Fine Gael's Michael Ring topped the poll. He was elected on the first count with 14,796 votes, along with Sinn Féin's Rose Conway-Walsh on 14,633 votes.
Independent Michael Lowry has taken the first seat in the Tipperary five seater. He took 14,802 first preference votes.
After topping the poll on Tipperary, Michael Lowry says he has survived for so long as he and the people of his constituency are faithful to each other #GE2020 pic.twitter.com/FbytlIr2mf

— RTÉ News (@rtenews) February 9, 2020
Sinn Fein's Martin Browne took 10,004 votes and he is expected to take a seat in the constituency. Independent Mattie McGrath, who is also expected to take a seat, received 9,321 first preferences. 
In Cork, South West Independent candidate Michael Collins topped the poll with 11,712 votes, as did Independent candidate Michael Fitzmaurice in Roscommon/Galway on 13,077 first preferences.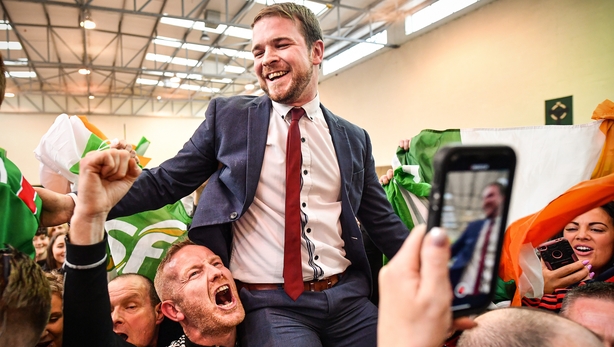 The first TD to be elected to the 33rd Dail was Sinn Féin's Donnchadh Ó Laoghaire who topped the poll in Cork South Central.
He was elected in the four-seater constituency ahead of Fianna Fáil leader Micheál Martin and Tánaiste Simon Coveney with a total of 14,047 votes.
The quota for the constituency was 11,429.
"I'm delighted, absolutely delighted, it's a huge mandate that we've got. We haven't expect this kind of vote but when you see this is replicated across the state there is an enormous appetite for change," Mr Ó Laoghaire said after his election.
"There are thousands of young people out there who don't have any prospect of having a home of their own, and for them and countless others, they saw in our policies a radical alternative, and they voted for it in numbers, true in Cork and across the State."
Meanwhile, Sinn Féin's Johnny Guirke was elected on the first count in Meath West. He topped the poll with 12,652 votes, well ahead of the quota of 10,377.
Sinn Féin's Eoin Ó Broin was elected on the first count in Dublin Mid West, securing a total of 11,842 votes. The quota in the four-seater was 9,091.
In Wexford, Sinn Féin's Johnny Mythen topped the poll with 18,717 votes, ahead of Labour leader Brendan Howlin on 9,223 and Fianna Fáil's John Brown at 8,058 votes.