Fine Gael leader Leo Varadkar has congratulated Sinn Féin on its election performance but said his party's coalition position had not changed.
He again ruled out going into government with Sinn Féin, despite the party winning the most first preference votes and 29 seats so far.
"I made my position, and that of Fine Gael, very clear during the election campaign, and we won our votes on that basis. My position hasn't changed," he said when asked about a coalition with Sinn Féin.
"Nobody can be forced into some sort of forced marriage or forced coalition."
The Taoiseach said that he was "not really" disappointed that he did not top the poll in his own constituency and added he was very grateful to be elected for the fourth time in a row and said that he got an increase in his vote compared to previous elections.
Mr Varadkar said he heard Micheál Martin's interview about not ruling out a coalition with Sinn Féin, but the Fine Gael leader said that Mr Martin's comments were "open to interpretation" in terms "what he believes the next steps should be".
He added that what his party said during the campaign "wasn't a tactic or a strategy" and that it was what they honesty believed. Therefore, he said, that for Fine Gael to go into coalition with Sinn Fein was "not an option".
Fine Gael leader @LeoVaradkar says it's still his position that his party will not go into coalition with Sinn Féin. He says it would be difficult to face the 450,000 people who voted for Fine Gael on the understanding they would not do so | #GE2020 https://t.co/pFMrdtMTEm pic.twitter.com/Wo9SalNdha

— RTÉ News (@rtenews) February 9, 2020
"That is what we believe. That is our principal position in Fine Gael, we don't believe that a coalition with Sinn Féin is a viable option. A forced marriage would not result in a good government".
He described Fine Gael as "not compatible" with Sinn Féin because to form a government "parties need to have roughly the same views" around the courts, the criminal justice system, the economy and how democracy should function.
Mr Varakdar said it does not concern him that Mary Lou McDonald is already speaking to other parties. 
Speaking at the Dublin West count centre, the Fine Gael leader said that Ms McDonald had not been in touch with him yet but later added that he did not plan on calling her. 
Meanwhile, Finance Minister Paschal Donohoe said that he has always considered Fine Gael to be a "party of the centre" but he says this is not the same as "being a party of the status quo".
He said that "clearly a lot of people in Ireland" associate Fine Gael with the status quo and feel that it is not serving them.
Mr Donohoe said that in terms of who they engage with, they need to wait and see who is going to be elected before giving a definitive answer.
He said Fine Gael does not believe that Sinn Féin should be in the next government.
Earlier, Micheál Martin did not rule out going into coalition with either Sinn Féin or Fine Gael.
He said the most important thing was that there is compatibility in the programme for government and over the next few days people will assess the situation. 
He said he has heard the people speak today and he respects that, but warned that the formation of a government is going to be very difficult.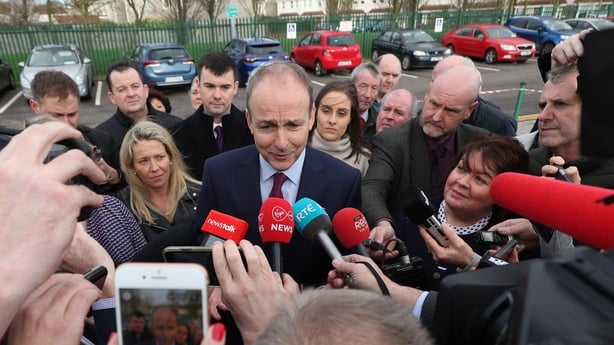 Mr Martin said it looked like Fianna Fáil would be the largest party, but it was hard to call at this stage.
He was speaking from the count centre for Cork South Central where Sinn Féin's Donnchadh Ó Laoghaire became the first TD elected to the 33rd Dáil, as he topped the poll there ahead of Mr Martin and outgoing Tánaiste Simon Coveney.
He said: "I want to first of all thank the voters of Cork South Central because it seems from the tallies that we will win two seats here, in or around 35% of the vote, which given everything which has happened today is a very very solid performance from myself and Michael McGrath.
"We will obviously listen. The people have spoken and there is no greater democrat than I, but that said we will not pre-empt the outcome itself because it's very clear to us that the destination of the final seats in many constituencies cannot be called now."
Sinn Féin leader Mary Lou McDonald has said she will talk to everybody and "listen to everybody ... it's my object to deliver solutions".
She said she has not yet heard from Fianna Fáil or Fine Gael, but she had spoken to the Greens, the Social Democrats and Solidarity-People Before Profit about the formation of the next government.
She said it is not an overstatement to say this election has been historic and constitutional change and unification has never been so close and they need to make preparations.
However, she said she does not know when there will be a border poll. She said Sinn Féin wants to form a government without Fine Gael or Fianna Fáil.
Sinn Fein leader @MaryLouMcDonald says the political establishment are still in denial and not listening to what the people have said. She said she's spoken to the Greens, the Soc Dems, and SPBP but has not heard from Fianna Fáil or Fine Gael. @rtenews pic.twitter.com/KQZXfBRt6n

— Samantha Libreri (@SamanthaLibreri) February 9, 2020
Ms McDonald said her party represents a vast number of citizens and it is wrong for Fine Gael  and Fianna Fáil to say they cannot be represented at the decision making table.
She said Sinn Féin is a party that enjoys the "confidence of almost a quarter of this democratic State".
Green Party leader Eamon Ryan, who was elected on the first count for Dublin Bay South, said they want to talk to everyone to try to tackle climate change and the biodiversity crisis.  
He said it was very difficult to see what kind of government can be formed, but said the Greens will play their part in talks.
Fine Gael's Michael Ring said he does not want Fine Gael to be in government with Sinn Féin but they must sit down as a party and let the decision be made by the grassroots. 
He added that he hopes Sinn Féin is prepared for government, that they did not want to do it the last time and they did not want to do it in Northern Ireland.
Sinn Féin want a government without FF or FG
Earlier, Sinn Féin's Pearse Doherty said Ms McDonald has started to engage with other party leaders as there was an onus now to bring about change.
Mr Doherty said the party has a responsibility to see if they can bring about this change, now that voters have sent a clear message.
He said the party would use the huge mandate it has been given to address voters' concerns.
Sinn Féin's Mary Lou McDonald and Michelle O'Neill are caught in a media scrum at the count centre in the RDS, Dublin #GE2020 pic.twitter.com/cAoOUdyNiB

— RTÉ News (@rtenews) February 9, 2020
Mr Doherty said the best outcome to this election would be a government without Fine Gael or Fianna Fáil, and the worst outcome would be a government with both parties.
He said that Sinn Féin is at a strong position at this point in time, adding it is surprising to see that Fine Gael and Fianna Fáil's vote has dropped so dramatically in Donegal.
He added that Sinn Féin is the vehicle for change and Ms McDonald's leadership throughout the campaign has been phenomenal.
---
Read More:
LIVE: SF wins more than 20 seats as big names falter
Fine Gael coalition position has not changed: Varadkar
High profile casualties likely as Shane Ross loses Dáil seat
Live updates from your constituency
---
Fine Gael's Richard Bruton said he believes that his party will be in pole position when the counts are completed.
Currently, he said, Fianna Fáil's count is slightly lower and he believes Fine Gael will be in a better position to hold seats.
But he said the formation of a government will be difficult and it will be very much like the last time with parties trying to hammer out an arrangement.
Fianna Fáil General Secretary Sean Dorgan said they are a little bit disappointed that their vote in Dublin has been more sluggish that they had hoped for. But he said they are still fighting to be the biggest party numerically.
He said there is no doubt it is going to be a good day for Sinn Féin but there is a ceiling to the number of seats they will get.
Not a good day for Labour
Labour Party leader Brendan Howlin said that Sinn Féin has largely won the election and that it has not been a good day for the Labour Party.
He said they still have a number of colleagues in contention for seats across the country but it has not played out as they had hoped.
Mr Howlin said they have been squeezed by the surge of Sinn Fein, which has taken all political parties by surprise.
Independent TD Michael Lowry said there had been a massive rejection of Fianna Fáil and Fine Gael in this election.
Mr Lowry, who topped his poll to retain his seat, was elected to the Dáil for the sixth time. He said he saw the appeal for Sinn Fein trending on the doorsteps, especially with young people.
Mr Lowry said young people have no worries about the past.
He said they are concerned about the future and Sinn Féin put forward a campaign that appealed to them.
After topping the poll on Tipperary, Michael Lowry says he has survived for so long as he and the people of his constituency are faithful to each other #GE2020 pic.twitter.com/FbytlIr2mf

— RTÉ News (@rtenews) February 9, 2020
Social Democrats co-leader Catherine Murphy has described it as an historic election.
Speaking at the Kildare North count centre, she said there had been a seismic shift and that it was very difficult to say what government might be formed.
She said she knew there was a wind in the Sinn Féin sail. She said she was pleased with the Social Democrats' vote and they were in the hunt for seats.
Outgoing Independent TD Katherine Zappone has said Mr Varadkar and Mr Martin will have to reconsider their assertions that they will not do business with Sinn Féin and encouraged both leaders to speak with Ms McDonald.
Aontú leader Peadar Tóibín has said it was ridiculous that Fianna Fáil and Sinn Féin would not go into government together, adding that it is clear that people want that type of government.
He said he is hopeful of retaining his seat in Meath West and that his party is on course to achieve their objective of 25 of the vote overall.