The number of primary school age children contracting Covid rose again last week, as did the share that this age group represents in overall confirmed cases.
Last week, 6,077 five to 12-year-olds tested positive. This is an increase of 13% on the previous week's numbers for this age group, and an 80% increase over the past four weeks.
This age group now represents almost one in five (19.6%) of all cases notified. The proportion was 17.6% the previous week.
Four weeks ago primary school age children represented 13.6% of all cases.
Acknowledging that the rate in this age group is higher than the national incidence rate and that infections among five to 12-year-olds now represent 20% of all infections, the HPSC said that trends among this age group continue to be observed.
It said that the change in the contact tracing policy for children aged 12 years and younger does not impact on the notification of outbreaks within a school or childcare setting.
"To date 31% of notified outbreaks associated with schools and 27% of outbreaks associated with childcare facilities involved only two linked cases. These limited transmission events may now be less likely to be detected, particularly if cases remain asymptomatic. The risk of onward transmission from undetected asymptomatic cases within the school setting remains low."
It added that "increases in the disease incidence among school-aged children or the detection of an outbreak in a school or childcare facility does not of itself indicate that transmission occurred within the school or childcare facility; clusters of cases may be detected within a particular setting despite exposure and transmission having occurred elsewhere".
Meanwhile, Minister of State for Special Education Josepha Madigan said mask wearing for primary school pupils is about keeping the schools open and that teachers will use their discretion and their common sense to deal with those children who are concerned about it.
Speaking on RTÉ's Drivetime, Minister Madigan said if implementing the measure of wearing masks is necessary to keep the schools open "then so be it" adding "we don't want to go back to last year".
She said it is a big burden being placed on the shoulders of primary school staff to deliver this measure but that it will work and they trust school staff to deliver on this.
She said in relation to the directive given to schools, that children who arrive without a mask or a medical certificate exempting them can be refused entry; "if you have a child with an additional need or a child that comes within the exemption or if there's an absolute reason that's valid and has merit, I do think the teachers will use their common sense and will use their discretion.
"But it's a very different matter if you're talking about a child who is refusing point blank to wear a mask for no valid reason."
The minister added that children with learning difficulties will not be expected to wear a face mask and teachers and principals are aware of the pupils who qualify for those exemptions.
She urged parents whose children are concerned about wearing a mask to speak to the teacher to work out a bespoke solution.
She said children will not need a formal diagnosis of an additional or special need to qualify for the exemption on wearing face masks.
Children who are visually impaired or have hearing issues can wear visors, she explained.
When asked if the Government had sought legal advice on refusing children entry to school for not wearing a mask, Minister Madigan said it is based on public health advice; it is not a legal requirement and urged school principals who are concerned to contact the principals' Covid helpline.
Chief Executive of Barnardos Suzanne Connolly said no child should be excluded from school for not wearing a mask and described the threat of exclusion as "abhorrent".
Speaking on RTÉ's Drivetime programme, she said she does not understand why this measure had to be mandatory and to exclude a child from school is a very serious thing to do.
She said overall the Government has done a really good job in getting a high level of support from parents and children to implement the guidelines and she does not understand why it is now introducing the threat of exclusion as a means of securing compliance.
She asked "why couldn't they have gone with support and encouragement?"
Ms Connolly said the move is not child centred and it is not trusting parents to make the appropriate decision in the best interests of their children.
She said some children have struggled to settle back into school and the idea that because they do not have a mask they will not be able to attend school is really heart breaking.
Earlier, Minister for Education Norma Foley said that face masks are "absolutely not required" at PE time or during breaks in school yards.
Schools had complained that the instructions they received yesterday evening contained no guidance around these questions and others.
Speaking on RTÉ's News at One, the minister said that further information, in the form of Frequently Asked Questions, would be issued to schools.
Minister Foley said primary schools will adopt a "practical approach over the next day or two" when it comes to implementing the new requirement for children in third class and above to wear face coverings.
Norma Foley told the Dáil this would allow schools to "communicate the new measures to parents" - rules which were being undertaken because "it's a public health measure."
Children in third class and up will be required to wear face masks at school from this morning, and can be refused entry if they do not.
However, the Department of Education has said schools can be flexible in application of the rule in the first couple of days.
Ms Foley said she recognised it may be "difficult" for some, but added: "Schools know their children and are best placed to identify those children whose complex needs are such that the wearing of face coverings may not be possible for them and to discuss this with parents as required."
We need your consent to load this rte-player contentWe use rte-player to manage extra content that can set cookies on your device and collect data about your activity. Please review their details and accept them to load the content.Manage Preferences
She was replying to Labour education spokesperson Aodhán Ó Ríordáin, who criticised her for failing to "show leadership" on the issue last night and explain the rationale to the public.
"What kind of leadership is that? What kind of certainty is that? What happens if someone comes to the school gate and flatly refuses for their child to have a mask - what does the principal do then? Do you know? Have you told them in the 16 hours for them to prepare for this?"
Mr Ó Ríordáin called on the minister to give guidance to school principals, who he contended: "... you've let down in this regard because what they needed last night was a voice of compassion and care and leadership from the political face of education in Ireland."
Education Minister @NormaFoleyTD1 tells Dáil schools have been provided with guidance and information to help parents understand the requirement for face masks for 3rd class above in primary schools: "It's a public health measure." @rtenews

— Paul Cunningham (@RTENewsPaulC) December 1, 2021
A medical certificate to exempt a child from mask wearing must be supplied to show that a child has difficulty breathing or another relevant medical condition, is unable to remove the cloth face-covering without assistance, or has special needs and may feel upset or very uncomfortable wearing the covering, for example pupils with intellectual or developmental disabilities, mental health conditions, sensory concerns or tactile sensitivity.
While schools do have some discretion - when they know a particular child cannot wear a mask - the instruction to schools states that children or staff without masks or a cert "will be" refused entry.
Primary schools have also been sent a letter from Chief Medical Officer Dr Tony Holohan for distribution to parents.
In it, he said schools play a fundamental role in the lives of children, and, due to the current high incidence in this age group, it is "imperative that we move quickly".
Parents were also advised yesterday to reduce socialisation indoors of children aged 12 and under for the next two weeks, as part of efforts to stem the spread of Covid-19 in the community.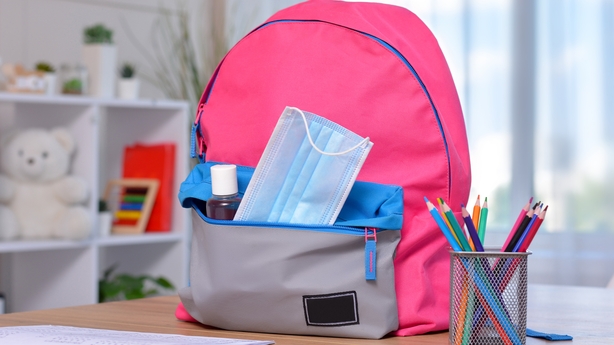 Speaking on RTE's News at One, Minister Foley the use of face masks for some primary school children is a short-term measure and was introduced on the back of expert public health advice given to Government.
She said while it is "not the space we would like to be in" it is the reality of living with Covid-19 and the priority is "protecting our children and keeping schools open".
The minister said that these are very difficult, challenging and anxious times for everybody and particularly for school communities.

The minister said that the circular issued to schools asks for the measure to be implemented on a short-term basis but that '"there is a clear recognition that there will always be exceptions".
She said that schools are best-placed to identify the needs of their students and that no certification is required from children with special needs and parents of those with complex needs, who can engage with their school authorities.
Minister Foley said that it is has been made abundantly clear that in certain rare instances, where the school is not clear about the needs of the child, a GP certification is also acceptable.
The masks will not be required during break times or Physical Education, she said, adding that a follow-up to address FAQ's will be issued to all schools.
---
Read more:
'Large volume' of queries around mask wearing - CPSMA
Case of Omicron variant confirmed in Ireland
EU launch of vaccine for children brought forward
---
Meanwhile one member of NPHET has said there is no medical basis for issuing certificates which exempt children from wearing masks, and this should be kept within the school environment.
Speaking on RTÉ's News At One, Dr Mary Favier, who is Covid-19 adviser for the Irish College of General Practitioners, said there are "exceptionally few medical reasons" why somebody can't wear a mask.
She said that teachers and principals will be able to manage this and GPs do not expect that there will be significant requests for such certification, and that they will not be able to fulfil them.
She said GPs are too busy dealing with various illness both Covid-related and non-related, as well as the booster vaccine campaign.
"If parents are concerned about the impact of masks, they're often the very children who should wear them," she added.
Govt communications around masks in schools 'diabolical'
Labour leader Alan Kelly has characterised the Government's communications around face masks in primary schools as "frankly diabolical".
He said school principals are "wondering what they're supposed to do" while GPs cannot be "giving up their time" to provide medical certs for the parents of exempt students because "they're wrecked".
Speaking in the Dáil, Mr Kelly said he wanted to know what the legal basis underpinning the new rules was, and whether "the principals [are] legally protected if they refused people at the gate".
He said it was a "critical question" whether the Government would defend any High Court action which might be taken.
In reply, Taoiseach Micheál Martin said that "teachers administering public health policy... will be protected".
The Taoiseach said the introduction of masks in primary schools was "a public health measure" which had to be introduced after the Chief Medical Officer and his deputy "expressed their deep concern" regarding rapid increases among five to 11 year-olds.
He said as a former teacher he "wasn't comfortable" with the measure but it was necessary.