The Catholic Primary School Management Association (CPSMA) has said it received a very large volume of emails and phone calls from schools this morning raising concerns and queries around mask wearing for older primary school children, which is now mandatory.
The organisation said it is seeking clarification from the Department of Education and has advised schools to take a pragmatic approach.
Children in third class and up are now required to wear face masks at school, and can be refused entry if they do not.
Minister for Education Norma Foley said primary schools will adopt a "practical approach over the next day or two" when it comes to implementing the new requirement.
The vast majority of children and their parents were happy to comply with mask-wearing this morning, it appears, but school principals remain very concerned about numerous aspects of the instruction, which says mask-wearing by older children is required and that school entry can be refused.
RTÉ News spoke to a number of school principals this morning. There was almost universal concern at the tone of the instruction sent to schools a yesterday evening, with principals saying that the mandatory nature of the instruction was wrong and potentially divisive.
"We have some parents that are anti-mask and they have already started on Facebook," one school principal said.
"They have a right to their opinion but this is pitting parents against the school."
Schools are reporting that a small minority of parents have indicated they will not send their children to school if they are required to wear masks. These are children without any condition that would allow them an exemption to wearing a mask.
"The parents are going crazy and some of the emails are beyond belief," said one principal
"Is the minister seriously suggesting that we refuse access to a child on a long-term basis simply because they are not wearing a mask?" asked another principal.
"This is creating a new battle for schools and it's unworkable."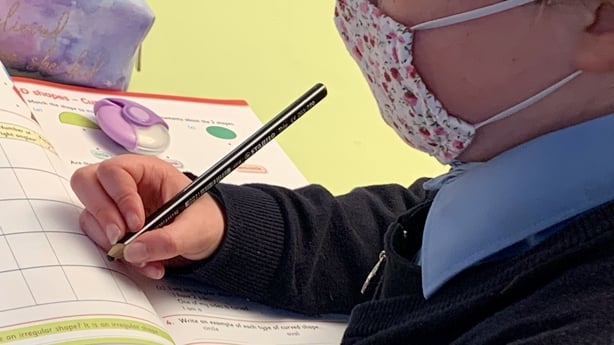 Schools also have legal concerns around refusing entry to a child who is not wearing a mask.
"If you are refusing entry, that is a suspension," said one principal. "They can't put this on us on top of everything else."
The CPMSA by lunchtime had received 90 concerned calls and more than 150 emails from schools.
Schools told RTÉ News that they did not know whether children have to wear masks during PE or at yard break.
They have complained that the instruction received by schools after hours yesterday evening came on un-headed notepaper and was not signed. They feel that the communication was rushed and ill-thought out.
This afternoon, Minister for Education Norma Foley said that face masks are "absolutely not required" at PE time or during breaks in school yards.
Schools had complained that the instructions they received yesterday evening contained no guidance around these questions and others.
Speaking on RTÉ's News at One, the minister said that further information, in the form of Frequently Asked Questions, would be issued to schools.
It was unclear too what happens around children who are deaf and may have to lip-read to understand what their classmates are saying.
One school principal said she had sent a message to parents this morning saying that the instruction had come in very late and that they had no expectation about children wearing masks this morning.
Many other schools are adopting similarly pragmatic approaches today, but they say the mandatory nature of the instruction is unhelpful, inflammatory and unsustainable.
---
Read more:
Foley: Schools will adopt 'practical approach' to mask wearing
Case of Omicron variant confirmed in Ireland
EU launch of vaccine for children brought forward
Latest coronavirus stories
---
The President of the Irish Primary Principals' Network said he anticipates a strong level of compliance with the mask wearing measure in primary schools, but that the issue is likely to be an emotive one.
Speaking on RTÉ's Today with Claire Byrne, said he thinks schools will consider a plan of action in consultation with their boards of management, and the focus in schools will be in encouraging and supporting compliance rather than insisting on enforcement.
"At the heart of this are very young children and the notion of refusing children attendance at school absolutely flies in the face of everything," Mr O'Doherty said.
Mr O'Doherty acknowledged that it would be a challenge if parents decide not to follow the public health advice and children do not have a medical exemption.
Also on the programme, Dr Yvonne Williams of Shannon Medical Centre said it is not practical to tell parents to attend their GPs if they feel their children are struggling with wearing masks.
Dr Williams said there had been no formal agreement or discussion with GPs about the matter, and that there are not many conditions where children cannot wear a mask.
However, she said masks are only part of the plan and vaccinations among children must now be rolled out.
The Chief Executive of Parentline said they have been receiving calls since last Wednesday from parents who are concerned about the mask requirement.
Aileen Hickie said parents understand the necessity to keep schools open, but are concerned that the rule will have an impact on children's long-term development, particularly language development.
Speaking on RTÉ's Morning Ireland, Ms Hickie said parents of children with special needs are particularly angry with the directive, although she acknowledged that principals have the discretion to allow some children to continue coming to schools without a mask.
She said that while the requirement for wearing a face covering lies with the school, parents also bear responsibility.
Anyone with a child aged between nine and 12 knows it is difficult enough to get them to wear gloves or a scarf, she said, let alone a face covering.
"Once again, the responsibility is coming back on parents to make sure that children are wearing masks," Ms Hickie said.
'I couldn't really hear people that much'
Separately, two nine-year-olds who attend two different Dublin primary schools, described their first day of mask-wearing in school.
They said it felt "a little bit strange" and "kind of weird".
"I couldn't really hear people that much. People were reading aloud in my class and I couldn't really hear them."
Both children said they were allowed to take the masks off when playing out in the yard: "We had to bring them outside with us and just leave them on our wrist."
One of the children said that after a while the mask hurt his nose a little. The other child said it hurt her ears.
"After a while it felt all wet, and that was annoying," the boy said.
Both children said they "don't really like it".
"I don't really want to wear it for too long."
Asked did they think it was a good idea to wear masks one said: "I don't know if it is a good idea, but I think it is."
One said her teacher had told them that she knew it felt a bit strange and that if they wanted they could take the mask off for a little bit. They were told they could take it off if it hurt or if they felt that they could not breathe.
"The people with glasses they got to take it off, but only for a little bit."
Both said that all of the pupils in their classes were wearing masks, "except for one girl" in one class.