A group of people whose relatives died with Covid-19 have begun creating what they hope will become a permanent memorial to those who have died in the pandemic.
The memorial wall at Lambeth, on the south bank of the river Thames, is intended to be a visual reminder of a largely invisible death toll.
At the wall, groups of volunteers are painting read hearts onto the wall that runs along this side of the river – each heart representing someone who has died from the virus.
They started on Monday and have no idea how many they have painted so far. But they do know that they are a long way short of the 150,000 people who have had Covid-19 recorded on their death certificate over the past year.
"I feel it's really important to be part of this group and create this visual installation, so people can see how many of our fellow citizens have died of Covid," said Fran Hall, whose husband died with coronvirus.
The couple got married last September and he was tested positive for the virus three days later. He died in October.
Ms Hall said that for her, showing what 150,000 looks like is important.
"Because the numbers don't make sense really, they are too big. But when you see the hearts and you realise that every single heart represents one person and their whole bereaved family... it stops people. And I have had people in tears walking past, when they realise what it means."
The group thinks they are not even a quarter of the way through painting all the hearts on the wall.
I personally have painted about 1,500 hearts and I have been here two and a half days, but I know that's just a tiny proportion," said Ms Hall.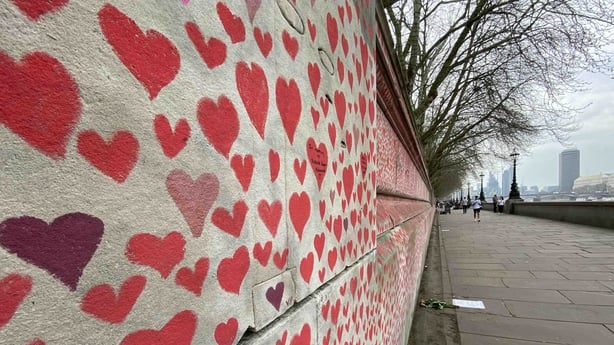 The organising group plan to use digital scanning equipment to count the hearts along the wall in the coming days to get an accurate number.
This is an unofficial memorial project - they do not exactly have permission, but neither the council nor St Thomas's Hospital, whose back wall this is, are chasing them off.
The memorial is expected to run for several hundred metres along the hospital wall, which can be clearly seen by MPs and Peers from the terrace of the Houses of Parliament, on the other side of the river.
Organisers say Prime Minster Boris Johnson inadvertently gave them the idea. On 23 March, the first anniversary of the UK's first lockdown, Mr Johnson said "at the right moment we will come together and build a fitting and permanent memorial to commemorate the loved ones we have lost, and this whole period".
But they do not want to wait for officialdom, and have taken matters into their own hands (an all party parliamentary group, chaired by Liberal Democrat MP Layla Moran is pushing hard for a series of official memorials – including one in Whitehall, the seat of the British government, where wreaths would be laid on what could become an annual day of commemoration).
Some of those taking part in the wall painting project have lost loved ones to the virus – others just feel strongly that the victims should be remembered in a way that is visible.

One resident form south London said: "I haven't lost anyone myself, but friends of mine have lost family members – there are many people across the wall today who have lost people, and I just think it's important to pay tribute to them."
Courtney Romble, from west London, lost her grandmother last April during the first wave of the pandemic. She died just two days after feeling unwell with the disease.
"Each heart is individually drawn and represents a person," she said.
"When my Nan died I just felt so isolated, like I was the only person, because I didn't know anyone who had lost someone – but coming down here we are meeting members of the group, we're meeting passers-by, and it's a good way to remember those we have lost, they are people, not just numbers. They are here and they are going to stay here."
While organisers in the group, Covid-19 bereaved families for justice, say that the wall is not a political project, some of them are also campaigning for a public inquiry into the way the pandemic was handled.