The notion of having "Zero Covid" in Ireland within weeks or months is a strategy offering an "utterly false promise", Professor Philip Nolan has said.
A group of academics presented the case for Zero Covid to the Special Oireachtas Committee on Covid-19 last August.
They suggested "crushing" the virus through a ban on non-essential foreign travel along with testing, isolation and strict tracking of people once they arrive into the country.
In recent days, support for the approach has been voiced by some Government TDs and opposition parties.
Prof Nolan, who is the Chair of the NPHET Epidemiological Modelling Advisory Group, said there are two shared "pieces" between a Zero Covid strategy and the actual strategy that's being adopted now.
One is that the only safe position to be in is to have a level of community transmission that is as close as practicable to zero. The second element is to have only essential travel taking place. 
He told a NPHET media briefing that we should be doing everything we can, through whatever mix of testing and isolation, to limit the risk of introduction of new variants or further infection.  
We need your consent to load this rte-player contentWe use rte-player to manage extra content that can set cookies on your device and collect data about your activity. Please review their details and accept them to load the content.Manage Preferences
---
---
But, he said, we had to accept that in this country, no such system would guarantee complete exclusion of any new variant or any new disease.
'I think it is an utterly false promise to say if we put certain things in place now we can go to Level 0 or 1 on the framework in weeks or months,' Prof Philip Nolan has said in response to a question about a 'Zero Covid ' strategy | Follow live updates: https://t.co/bFcnn6TMqH pic.twitter.com/2nLDF5OOpO

— RTÉ News (@rtenews) January 28, 2021
In this context, Prof Nolan said it was an "utterly false promise" to suggest we could go to Level Zero or Level One, in the Living with Covid framework, in a matter of weeks or months. 
He said it was much better to "work to get the level of disease down, keep it down and continue the vaccination programme". 
Earlier today, Minister for Health Stephen Donnelly confirmed that 161,500 vaccine doses have been administered so far here.
Chief Medical Officer Dr Tony Holohan also said a Zero Covid strategy would not work. "We simply couldn't realistically seal the borders of this country and stop movement of people in and out."
There were 47 further coronavirus-related deaths and 1,466 new cases of Covid-19 reported to the Department of Health today.
The total number of people who have died with the virus is now 3,167 while the cumulative number of infections is 192,645.
The number of Covid patients in ICU is 216, this is down one since yesterday. There are 1,567 patients with the disease in hospitals with 69 additional admissions in the past 24 hours.
The 14-day national incidence rate per 100,000, as of 27 January, is 622. It was 1,141 on 20 January - this is a reduction of 54% in seven days.
The positivity rate for Covid-19 tests has fallen from over 20% at the start of January to 8.4% over the past seven days, Professor Philip Nolan has said.

He said the 14-day incidence has fallen from a peak rate of 1,500 to 622 | Follow live updates: https://t.co/bFcnn6TMqH pic.twitter.com/x6UtvYOpVg

— RTÉ News (@rtenews) January 28, 2021
While this 14-day rate is significantly down on its 1,500 peak earlier this month, it is still twice as high as it was in October.
Prof Nolan said: "Incidence is falling and by working collectively to reduce contacts, we have achieved suppression of transmission with the R number estimated at 0.4 and 0.7.
"If we keep this up, we would be down to 200 to 400 cases per day by the end of February."
This would mean in the region of 600 to 800 people in hospital, with 60 to 80 of these in ICU - still a "significant burden" on the health service but also "huge progress".
The number of people in hospital is falling "quite rapidly" the media briefing heard. Daily admissions were now averaging at 89 per day compared to 150 per day a fortnight ago. 
In the seven days to yesterday, an average of 1,700 new cases were confirmed daily, compared to 6,500 in early January. 
'It is cause for optimism, but really an endorsement to keep going,' Professor Philip Nolan said when asked about the R number, which is now estimated at between 0.4 and 0.7 | Follow live updates: https://t.co/bFcnn6TMqH pic.twitter.com/tNU5tjv3z3

— RTÉ News (@rtenews) January 28, 2021
Positivity rates from tests in public health labs has reduced from 27% at the peak to 9% as of yesterday. This is a "more rapid decrease" than expected.
Prof Nolan warned that there was still a very large volume of disease in those aged 65 and older. But he said they are making progress across all age bands.
It remains a concern to NPHET that infection rates are declining most slowly in those aged over 75 and in particular those aged over 85.
He said close contacts of a confirmed case has reduced to around 2.1 and that is not drifting upwards.
Dr Holohan said: "Incidence is falling but remains high. It is positive to see numbers of people hospitalised reducing and a stabilisation of numbers in ICU.
"However, we are continuing to experience high mortality with 878 deaths so far in January. I am concerned about the high incidence we are seeing in long-term care settings and vulnerable groups.
"Our efforts to stay home and break transmission of the disease will save lives. Please continue to follow the public health advice and support each other to keep going."
Counties with the 14-day highest rate of Covid per 100,000 include Monaghan (1,373.3), Louth (908.6) and Carlow (874.7). Those with the lowest rates are Leitrim (246.5), Roscommon (294.4) and Kerry (322.3).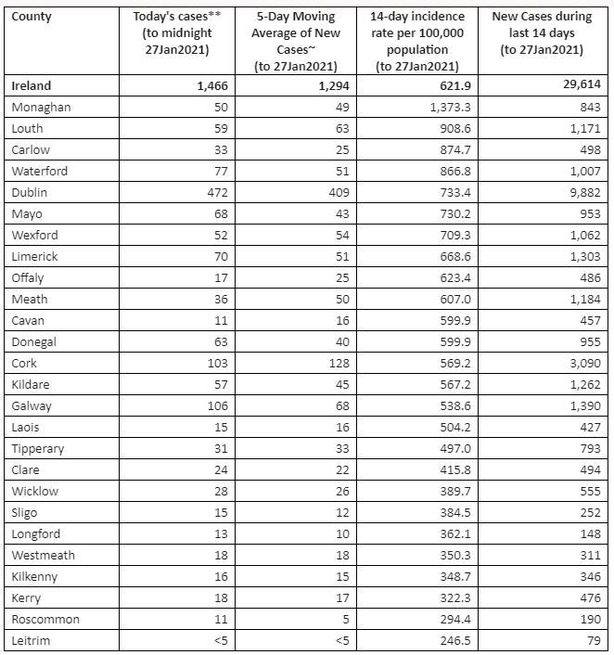 Examples of how outbreaks spread through communities
Dr Lorraine Doherty, National Clinical Director Health Protection Ireland, revealed how a meat plant in the west of Ireland had an outbreak with 83 linked cases.
"One of these cases had a household contact who worked in a different meat plant where there was another outbreak with 76 cases - these two workplace outbreaks were linked by one household contact."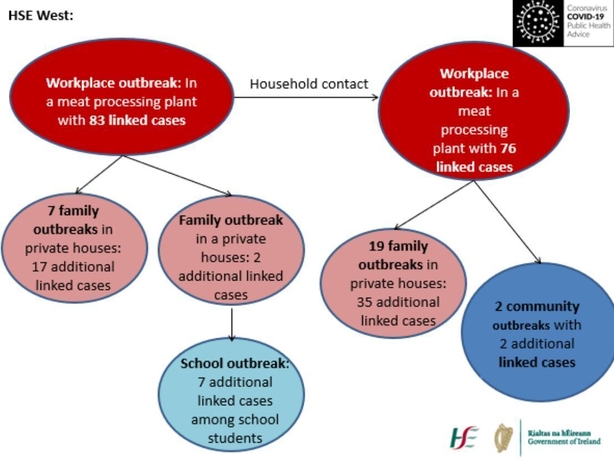 The first outbreak, involving 83 people, led to seven family outbreaks in private houses with 17 additional cases as well as other family outbreaks, one of which was linked to a school outbreak.
In the second outbreak, with 76 cases, there were 19 family outbreaks linked back to it with 35 additional cases as well as two further community outbreaks.
Two workplace outbreaks of Covid-19 at meat plants in the west of the country led to several household outbreaks and a school outbreak, Dr Lorraine Doherty, the HSE's National Clinical Director for Health Protection, has said | Follow live updates: https://t.co/bFcnn6TMqH pic.twitter.com/hhAxH9rP8I

— RTÉ News (@rtenews) January 28, 2021
"It only takes one event to spark a chain of transmission of Covid-19 that can spread through a community," said Dr Doherty. "Every action an individual takes matters."
She also told of an outbreak on a construction site in the north west of the country, involving 11 cases. One of those attended a funeral and this resulted in 14 additional cases. Further family outbreaks were also linked to the original outbreak.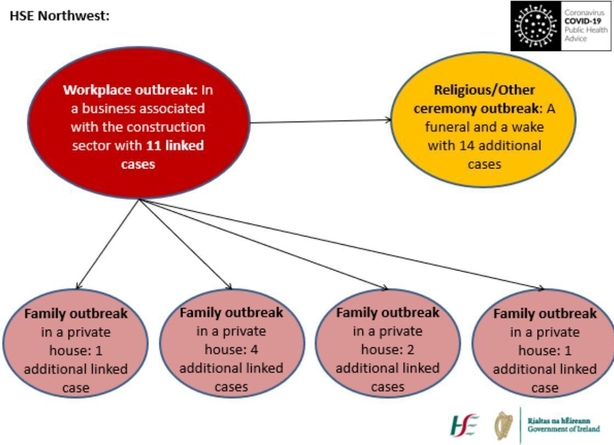 In the mid west, there were 61 cases among a third level student group. One infected student waitressed at a wedding in a local hotel and 16 further cases ensued.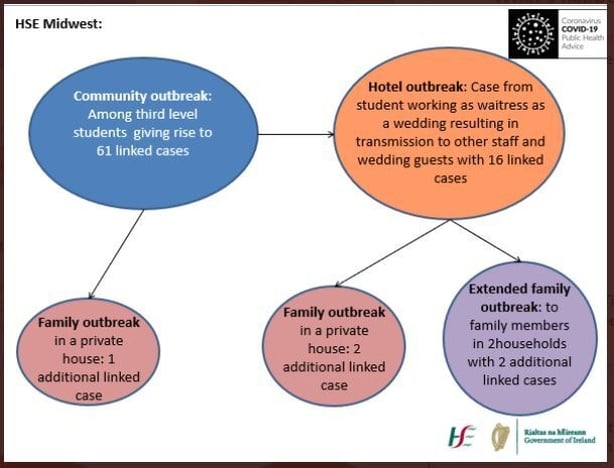 Of the new Covid-19 cases notified today 697 are men, 764 are women and 55% are under 45 years of age.
There were 472 cases in Dublin, 106 in Galway, 103 in Cork, 77 in Waterford, 70 in Limerick and the remaining 638 cases are spread across all other counties.
Also today, the HSE confirmed that seven residents have died with Covid-19 in West Kerry Community Hospital in recent weeks.
In its latest letter to the Government, NPHET said it will become increasingly difficult to maintain the level of suppression of Covid-19 that has been achieved since the New Year.
Visas revoked for 12 countries
Twelve countries have lost visa-free access to Ireland due to Covid-19 concerns after Minister for Justice Helen McEntee signed a regulation last night.
Passengers arriving from South Africa and Brazil, as well as Argentina, Bolivia, Chile, Colombia, Ecuador, Guyana, Paraguay, Peru, Suriname and Uruguay, are affected.
The regulation came into effect at midnight in response to rising concerns about more contagious Covid-19 variants.
Taoiseach Micheál Martin has said that he expects to add to the list of countries where a mandatory quarantine of 14 days will apply for any arriving passengers into Irish ports and airports.
He told a Fianna Fáil parliamentary party meeting last night that half of the arrivals into Dublin Airport on Tuesday night came from holiday destinations - 397 out of 800 passengers.
He said the Government is responding in multiple ways from increasing fines for non-essential journeys to more garda checkpoints at ports and airports.
Tánaiste Leo Varadkar told a Fine Gael party meeting last night that he would not rule out any strategy to deal with the pandemic, saying it was possible the European Union could even decide to ban travel into the EU.
Opposition TDs argue that the Government is acting to slowly.
Independent Thomas Pringle said that while people have pandemic fatigue, they also feel that 2020 was wasted because the Government did not learn any lessons.
Meanwhile, two test centres have opened near Dublin Airport and outside Gorey, Co Wexford to facilitate commercial drivers travelling to France.
A new French requirement, requiring people arriving in the country to have proof of receiving a negative Covid-19 test, came into force today.
Tanaiste @LeoVaradkar tells Dail that 3 million #covid-19 tests have been conducted in the State - and he congratulated frontline workers for their role in that success. @rtenews

— Paul Cunningham (@RTENewsPaulC) January 28, 2021
The Health Service Executive announced that Covid-19 antigen tests, carried out in the public health system, can now be used to confirm infections.
This should allow a significant increase in testing with shorter turnaround times and lower cost than total reliance on PCR testing, which has been the case until now.
Additional reporting George Lee, Paul Cunningham