Meat Industry Ireland and SIPTU have agreed that a wider level of Covid-19 testing is required at meat processing plants.
Representatives from MII and the trade union held talks in Dublin to discuss the outbreaks at a number of meat plants in the midlands.
A further 68 cases of coronavirus were confirmed yesterday evening.
Two-thirds of the cases were in counties Kildare, Laois and Offaly, where limited restrictions are in place for two weeks in response to the increased spread of Covid-19.
SIPTU and MII said they will now make contact with the Health Service Executive to look at putting in place a new testing protocol for the workers.
SIPTU area organiser Greg Ennis said it will be aimed at having "rapid testing and rapid results" while also ensuring a continuity of production in the sector.
He said mandatory temperature testing arrangements will also be examined.
Public health authorities have said they hope they can prevent a number of large outbreaks from spreading widely into local communities.
It comes as a fourth meat plant which had been hit by an outbreak of Covid-19 in the midlands said it will suspend operations.
Yesterday, three of the four affected plants - O'Brien Fine Foods, Kildare Chilling, and Irish Dog Foods - had said they would not reopen today, after the Minister for Health Stephen Donnelly said in his personal view they should not reopen.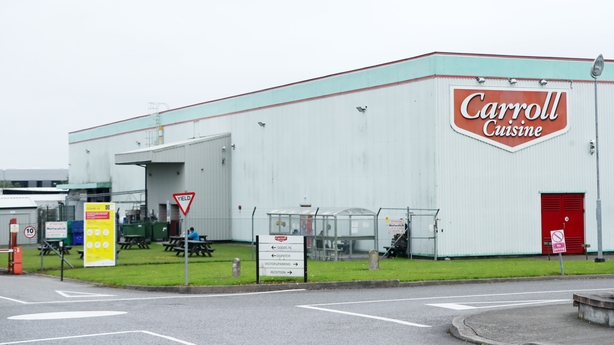 In a statement this afternoon, Carroll Cuisine in Tullamore has said it will also be suspending operations in order to prevent the spread of the virus in the community.
However, Carroll Cuisine said it will take "a necessary short period of time" to fully suspend operations.
A spokesperson for the company said food currently in storage or in production will have to be appropriately processed as part of the suspension of operations.
Carroll Cuisine said: "This is an essential requirement where we operate to the highest possible standards of quality and food safety."
Chief Executive Kieran Carolan said employees will continue to be paid as normal. He added that it was essential to note that "while closures may be envisaged, the industry will need to continue in operation to supply food and facilities will need to reopen once any particular situation is contained and brought under control".
"Clear guidance is required on the measures, procedures and roadmap envisaged by the Government in this regard."
Speaking as he arrived for this morning's talks, Mr Ennis said the union wanted "to ensure that we open up a forum for terms and conditions to discuss and negotiate with employers, because we believe that the terms and conditions of workers in the meat industry is a huge transmitter of the virus right across the industry".
He said "over 10% of workers" in the sector have been infected by Covid-19 and "nine out of ten do not have a sick pay scheme".
He added that there will be talks with the HSE and the Government on the issue of costs, and that it will not be workers who are paying for tests.
Cormac Healy, the Senior Director of Meat Industry Ireland, said the primary objective of screening tests will be to ensure workers' safety, and the continuity of business.
He said he wants to see testing done quickly and for results to come through quickly.
"So businesses and workers can be assured of where they stand and be able to continue in production," he said.
Asked if workers should remain at home, or if plants should be closed while workers are awaiting test results, Mr Healy said MII will be guided by public health authorities.
He added that the matter of who will pay for the tests has yet to be discussed.
---
Read more:
Latest coronavirus stories
---
Kildare, Laois, Offaly not locked down, says minister
Earlier, Minister of State Sean Fleming said a Cabinet sub-committee meeting on Covid-19 tomorrow will consider special supports for businesses in the three counties under restrictions, and said regular testing in meat plants must happen in future.
Speaking on RTÉ's Today with Sarah McInerney, Mr Fleming said that increased testing at nursing homes in the midlands region is to be welcomed and there needs to be continuous testing of all staff in the meat factories.
Mr Fleming said the counties are not "locked down", adding that most businesses remain open and people can travel to the counties for work if they cannot work at home.
In response to Mr Fleming's comments, the Tánaiste later said he did not think politicians should be "falling over each other" calling for certain businesses to be closed.
He said we have to look closely at what is happening in meat plants, but until that is done it is wrong to attribute blame.
Sinn Féin's Health spokesperson David Cullinane said "self-assessment" in meat factories should not be relied upon and any meat factory that is the source of a Covid-19 outbreak should be closed.
He said the Health and Safety Authority and the HSE have the power and authority to act and enforce closures and this needs to happen.
Mr Cullinane said that he had figures from the HSA that showed there were 570 inspectors who carried out a total of 230 inspections of businesses in July.
He said this equates to one inspection for every two inspectors, which is not sufficient.
Mr Cullinane said that these inspections led to eight improvement and nine prohibition notices being issued and the question is "how many were in meat plants and in those where there are now outbreaks".