Church services and funerals are going ahead in front of restricted audiences in many parts of the country, despite the Covid-19 clampdown on gatherings.
Local priests in some dioceses say they are coming under increased pressure on a daily basis from the relatives of the deceased in many areas to attend events at home.
They have appealed for calm within communities where many are grieving alone.
In many communities, where deaths are taking place, people have turned to alternative ways of showing solidarity by displaying flags and emblems in the open air, most notably in Roscommon where former GAA star and solicitor Conor Connelly passed away.
He was one of Roscommon's star players in the team that won the 2001 Connacht Senior Football Championship.
When the 44-year-old died suddenly from natural causes last weekend, there was a huge outpouring of grief on social media in the west and the midlands, as friends and team-mates moved to try to support his wife Claire and his family after their tragic loss.
All over Roscommon and Offaly, where he lived, fans confined to their homes displayed the primrose and blue of Roscommon outside from windows, doors and hedges as a tribute.
It was a gesture welcomed by former Roscommon goalkeeeper Shane Curran in the helplessness of these times.
"Conor was not just a great footballer on the field, he was a great person off the field," Mr Curran said.
"It was another colleague on the county team, Lorcan Dowd, who came up with the idea of putting out a flag to display our solidarity with Claire and the boys. It was a brilliant idea and will last as a fitting tribute to Conor for the rest of the year."
Where funerals are going ahead in some parts of Ireland, the pressure is growing on priests and the religious in many communities to attend and pray privately with families, despite the Covid-19 restrictions.
Bishop of Elphin Kevin Doran has already appealed to the public not to put pressure on priests, many of whom are in their 70s and are cocooned in their own homes.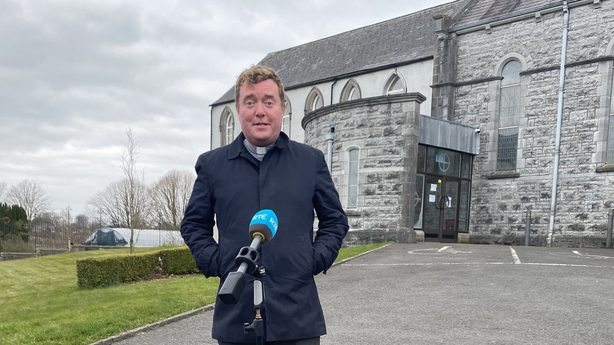 Fr Paddy Byrne, the parish priest of Abbeyleix in Co Laois, has appealed for calm.
"These are extraordinary moments. Moments of challenge and moments when many people are over-burdened and overwhelmed " Fr Byrne said.
"Our role as priests in the community is to be a presence of calm at this time, a voice of hope, so it is important that we support that mighty response that is out there in the community in dealing with Covid-19.
"Funeral and bereavement is always a difficult time but when there is regulation and isolation it adds to the burden. I do think it is an opportune time for us not to engage with anxiety or be in a place of fear."
As the restrictions continue, the HSE guidelines on looking after the deceased have been clarified.
Phil O'Reilly, a funeral undertaker in Tullamore, said there was some confusion originally with guidelines, but as it stands in Co Offaly, it is possible to arrange a viewing when somebody dies outside of the Covid-19 situation.
"We now have eight seats in our funeral parlour where once we had over 100 and it is very tough on families, but they are coming to grips with the changes," he said.