There have been 74 new cases of coronavirus confirmed in Ireland, bringing the total in the country to 366.
The Department of Health confirmed this evening that 45 of the new cases involved men and 29 were female.
Dublin has the highest number of cases at 129, followed by Cork at 48 and Limerick at 14.
Galway has recorded 12 cases, Wicklow 9, Westmeath 7, Waterford 7 and Kerry 6.
All other counties excluding the three that do not have any cases, Leitrim, Laois and Monaghan, have fewer than five cases.
Tonight, the National Public Health Emergency Team published an analysis of the 271 cases notified as of midnight Monday, 16 March.
Of the 271 cases notified, 40% are male and 59% female, with 23 clusters, or groups of cases.
To date, 42% cases are travel-related, 22% associated with community transmission, 17% are as a result of local transmission and 20% remain under investigation.
The department said that two thirds of cases are people younger than 55, with almost one in four cases aged 35-44.
One in five cases are healthcare workers, with 37% of these cases associated with travel.
74 further cases of Covid-19 confirmed by the Department of Health. Overall there are 366 cases here and 434 on the island of Ireland. Cases are yet to be confirmed in three counties - Leitrim, Laois and Monaghan | Read more: https://t.co/088sLGVfoJ pic.twitter.com/v5PIzMRgNL

— RTÉ News (@rtenews) March 18, 2020
Dr Tony Holohan, Chief Medical Officer in the Department of Health, said: "Again, today we are seeing another increase in case numbers. The importance of social distancing cannot be underestimated. Everyone must play their role.
"We need to continue maximising our efforts to interrupt new transmission chains and keep clusters under control.
"Reduce your social contacts to those in your closest family network. Practice social distancing. Stop shaking hands and hugging when you say hello."
Earlier, there were six new cases announced in Northern Ireland, bringing the total on the island to 434.
Dr Colm Henry, the HSE's Chief Clinical Officer has said that the pattern of transmission of Covid-19 was more of a concern than the number of new cases. 
Speaking on RTÉ's Primetime, Dr Henry said that more and more people were catching the virus from community transmission.
This means that a person did not catch the virus in an affected country and or from contact with a known case.
Dr Henry told Primetime that even the best healthcare system in the world would not be able to cope with the worst predictions in relation to the virus. 
Of the estimate that that there could be 15,000 Covid-19 cases in Ireland by the end of the month, Dr Henry said that they were planning for the worst possibly eventuality, but that this may not come to pass "if everybody plays their role" in terms of good hand hygiene, cough etiquette and social distancing.
Dr Henry said that they were creating upwards of 5,000 acute beds and were "doubling or quadrupling" Ireland's critical care capacity.
He said they were making decisions they have never made before, without extensive collaboration, without piloting and without securing funding.  
He added that, so far around 7,000 tests have been carried out and he expected to see a rapid escalation in testing.
In response to reports that people could not get tested quickly enough Dr Henry said "that's true, there are pinch points."
He said this was because services had been set up so quickly. 
Dr Henry acknowledged that the electronic test ordering system for GPs that went live on Monday crashed that morning, but was operational again in the afternoon. He also said that equipment for testing centres had to be ordered and a delivery arrived this evening. 
"I can't pretend that there aren't pinch points, I can't pretend there aren't delays in accessing the testing and I can't pretend there aren't delays in the turn around time in labs, but we remain intent and focused on testing as many people as possible," Dr Henry said.
We need your consent to load this rte-player contentWe use rte-player to manage extra content that can set cookies on your device and collect data about your activity. Please review their details and accept them to load the content.Manage Preferences
Dr Cillian de Gascun of the Covid-19 Expert Advisory Group said simple breathing is not going to spread the virus, however hand hygiene is very important to stop the spread of the virus.
In general, he said, it is spread by droplets through sneezing and coughing, but if someone was sick and breathing heavy, then it may pass from one person to another due to the droplets.
Tens of thousands of health care professionals have answered the HSE's request for extra staff to deal with a surge in cases.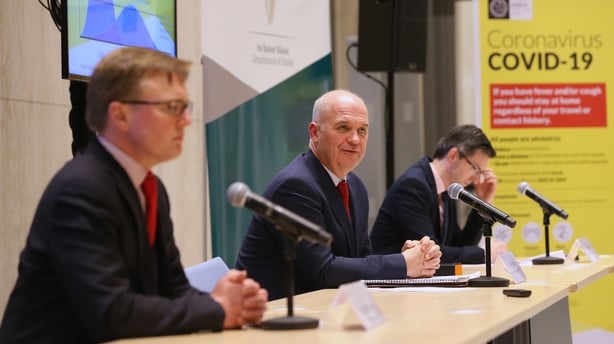 Minister for Health Simon Harris has said an estimated 10,000 to 15,000 tests for Covid-19 are expected to be carried out a day at more than 30 testing centres.
He said that as more tests were carried out, the longer it would take for results to come back.
Figures indicate that up to 24,000 people have contacted the HSE in response to the request for staff to be on call to assist the health services during the crisis.
As part of a recruitment campaign, the HSE is asking professionals from all disciplines who are not already working in the health service to register to be 'on call' for Ireland.
Earlier, five banks agreed a series of measures to help mortgage-holders, tenants and businesses. This included a three-month break on payments for business and personal customers.
Today has also seen the closure of some of the country's biggest stores, including Penneys, Brown Thomas and Arnotts.
The Department of Foreign Affairs and Trade has said the deadline for all Irish tourists in Spain to travel home would be extended to this Saturday.
Last weekend, it warned holidaymakers, who wanted to return home, to re-book flights before midnight on Thursday.
This evening, the department advised Irish citizens, unless legally resident in Germany, to avoid travel to Germany. It is also said it was advising against transit through Germany by air unless you are returning to Ireland.
The department said this new advice reflected new border entry requirements introduced to contain the spread of Covid-19.
In Northern Ireland, First and Deputy First Ministers, Arlene Foster and Michelle O'Neill announced that all schools are to close from next Monday due to Covid-19.