The main banks are to introduce a range of measures to help those affected by the outbreak of coronavirus.
They include including a payment break up to three months, the deferment of court proceedings and the provision of working capital support to support businesses and personal customers.
It follows a meeting between representatives of the banks, the Banking and Payments Federation and Minister for Finance Paschal Donohoe.
AIB, Bank of Ireland, KBC, Permanent tsb and Ulster Bank, said they would work collaboratively to ensure that continuity of service plans are in place and that critical functions can continue.
They added that staff would remain available to continue to service customers.
In addition to the measures being introduced by the banks, the Minister for Finance is requesting that the banking industry increase the limit on contactless payments to €50. 
That would see it increase from the current limit of €30.
Paschal Donohoe said the increased limit would cover most transactions as the average value of debit card transactions is €41.52.
The minister is also deferring the collection of stamp duty on credit cards to July. This is normally levied in April.
Minister Donohoe said he would legislate for this in due course.
Revenue confirmed this evening that the duty of €30 per year per credit card account would now be levied on 1 July, three months after the legislated date of 1 April.
It added that individual credit card account holders did not need to take any action as the collection date would be changed automatically by financial institutions.
We need your consent to load this rte-player contentWe use rte-player to manage extra content that can set cookies on your device and collect data about your activity. Please review their details and accept them to load the content.Manage Preferences
Minister Donohoe said the country was at the centre of a "very significant economic shock".
Mr Donohoe said: "I would not at this point in time like to talk about many hundreds of thousands of jobs being lost until we get accurate estimates from the Live Register."
While refusing to be drawn on the number of job losses anticipated, he said: "We are facing into a significant period of job losses.
"I want to assure people who have lost their jobs that all that can be done to get income to them quickly and get them access to the pandemic benefit can be done."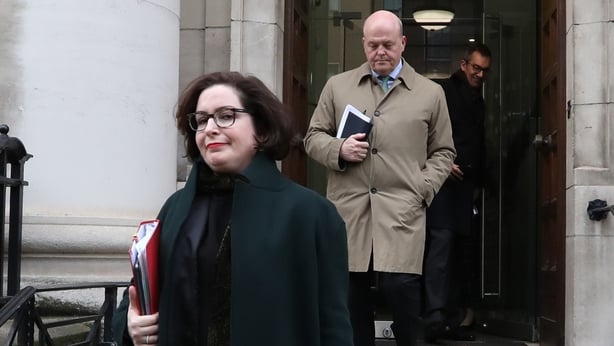 ---
Read more:
Latest coronavirus stories
Covid-19 emergency to continue beyond March - Varadkar
---
The measures being introduced by the five main banks are as follows:
1. Implement a payment break up to three months for business and personal customers affected by Covid-19, to be followed by ongoing reviews depending on the scale and extent of the situation. Customers wishing to avail of a payment break should contact their respective bank.
2. The banks agree there is a need for a simplified application process to make it as easy as possible for businesses and personal customers impacted by Covid-19 to receive support from their banks.  They are working with all member banks to achieve this.
3. The banks want to ensure that any Covid-19 application for a payment break and further reviews will not adversely impact the customer's credit record, and the banks reporting of these facilities. Banks want to avoid this and are meeting with the Central Bank of Ireland to urgently achieve a solution in this regard.
4. Banks will also defer court proceedings for three months. 
5. The banking system stands ready to provide working capital support. 
6. They had initial discussions with Credit Servicing Firms and with those non-bank lenders who provide mortgages. Both the Credit Servicing Firms and non-bank lenders have issues which we need to address with the Central Bank of Ireland, but both are committed to working with the Government and industry to provide the flexibility that people need right now.
Sinn Féin Finance spokesperson Pearse Doherty welcomed the joint plan.
But he also called for an immediate engagement from Government and the Central Bank with so-called "vulture funds" and non-bank lenders to ensure the same reliefs are provided to all mortgage-holders.
Speaking on RTÉ's Primetime, Minister Donohoe acknowledged that some of those who have loans with so-called 'vulture funds' may be in "particularly vulnerable situations".
He also said that landlords with buy-to-let mortgages who avail of the measures could not evict a tenant during the same period. 
"You can't have it both ways," Minister Donohoe said, adding that he and Minister for Housing Eoin Murphy were looking "at all options" to address that issue. 
Mr Donohoe said he would like see the agreement extended to include non-bank lenders in Ireland in the coming days.
He said the Banking Payments Federation of Ireland is currently engaging with non-bank lenders. 
The minister said he would like to see, where possible, the similar flexibility in place for people who have a loan with non-bank lenders.
He said he would like the spirit of the agreement, if not the full agreement reached with the banks, to be in place for all.
While Retail Ireland, the Ibec representative body for the retail sector in Ireland, welcomed the move to increase the limit on contactless payments.