The European Commission has proposed a ban on non-essential travel to the EU for a period of at least 30 days over the coronavirus outbreak.
In a short video message the president of the Commission Ursula von der Leyen said she proposed the measure during a conference call with G7 leaders this afternoon.
"The restriction should be in place for an initial period of 30 days, which can be prolonged as necessary," she said.
At home, Tánaiste Simon Coveney said all Irish citizens had been advised against all non-essential travel overseas from now until 29 March. The guidance includes the UK but not Northern Ireland.
The @EU_Commission presents guidelines on border measures & proposes:

1⃣Green lanes/fast lanes giving priority to essential transport to keep the mobility sector going & ensure economic continuity

2⃣Temporary restriction on non-essential travel to the EU (30 days) pic.twitter.com/9bda9MntF0

— Ursula von der Leyen (@vonderleyen) March 16, 2020
The Russia government announced this evening that it is sealing off borders to foreigners over the coronavirus. 
It follows a number of border closures and lockdowns around the world over the coronavirus outbreak.
The number of novel coronavirus cases globally stood at 175,530 with 7,007 deaths, across 145 countries and territories at 2pm today, according to a tally compiled by AFP from official sources.
Meanwhile, the leader of Spain's Catalonia region, Quim Torra, has revealed he has tested positive for the coronavirus and is going into self-isolation in a government building.
The Catalan deputy head of government, Pere Aragones, had previously announced that he had also tested positive.
Meanwhile, Spanish ministers said that a state of emergency over the coronavirus which has shut down much of the country will have to be extended beyond the initial 15-day period.
The Spanish government is also considering closing its borders.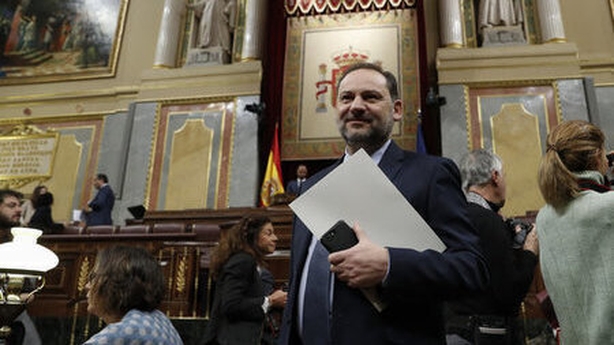 "Obviously we will have to extend this situation...in 15 days I do not think that we will be in a position to win this battle," Transport Minister Jose Luis Abalos told RNE radio.
Spain is suffering Europe's second-worst outbreak after Italy. Its 47 million people have been under partial lockdown since Saturday night as the country tries to stem the coronavirus outbreak. People are only allowed to leave their home to go to work, to the pharmacy or a hospital.
Spanish Interior Minister Fernando Grande-Marlaska said that closing Spain's borders was one of the measures under consideration to help stem the outbreak.
---
Read more:
Covid-19: Live updates
Dublin Airport passenger numbers down 60%
Fears for flow of goods after EU border closures
---
Italian Prime Minister Giuseppe Conte has warned that his country is entering "the riskiest weeks" and urged a coordinated European response to the coronavirus pandemic.
"European coordination on health and economic measures is needed," he said, speaking ahead of a planned video conference between Group of Seven (G7) leaders.
"It is time for courageous choices and Italy can offer a significant contribution as the country that was the first in Europe to have have experienced such a wide spread of the virus," added Mr Conte.
Italy was the first EU member state to close schools and almost all businesses to try to slow a global pandemic that has killed 1,809 people in the Mediterranean country since last month.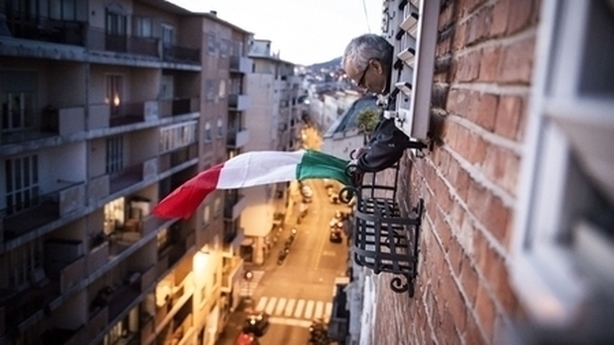 Mr Conte said "no new prohibitions are needed" but urged everyone to stay home as much as possible and only venture outside alone.
"Scientists tell us that we have not yet reached the peak. These are the riskiest weeks and we need the utmost precaution," he warned.
Germany has now introduced border controls with Austria, Denmark, France, Luxembourg and Switzerland in a bid to stem the coronavirus outbreak.
Only those with a valid reason for travel, like cross-border commuters and delivery drivers, are allowed through, officials said.
Earlier today, Dr Agoritsa Baka, the preparedness expert with the European Centre for Disease Prevention and Control (ECDC), said she did not believe border closures are effective at delaying the spread of Covid-19.
Speaking on RTÉ's Today with Sean O'Rourke show, Dr Baka suggested closing borders would "make things worse" and would negatively affect the function of healthcare systems around Europe.
She used the example that if Germany closed its border "everything, like food supplies, personal protection equipment cannot move around Europe, and it would be a disaster".
The spread of Covid-19 across Europe is "not out of control", according to Dr Baka.
Meanwhile, France is struggling to curb the spread of the virus in the country, according to its top health official Jerome Salomon.
He spoke as French authorities consider whether to implement a partial lockdown.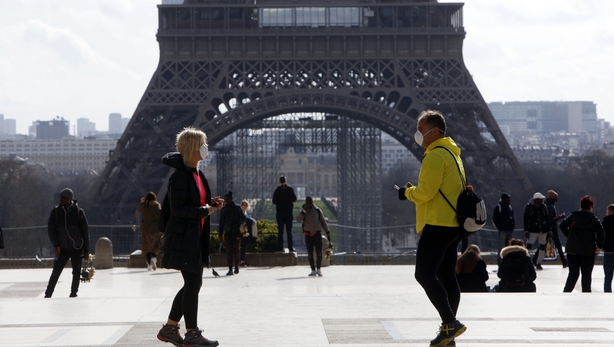 Mr Salomon expressed his regret that many Parisians had ventured out in large numbers yesterday despite official advice to stay at home and a government shutdown on bars and restaurants around the country.
"A lot of people have not understood that they need to stay at home, and this low level at which people have adhered means that we are not succeeding in curbing the outbreak of the epidemic," he told France Inter radio.
He added it would be "catastrophic" if France were to reach a stage on deciding whether to save the lives of certain patients over that of others.
"This morning, I appeal to all French people to mobilise in the fight," he said.
The number of deaths in France from the coronavirus increased by more than a third yesterday to 127 and over 5,400 have been infected.
The Czech Republic has sealed off several towns to combat the coronavirus outbreak and banned people from moving around except for work, shopping and some other limited activities until 24 March.
Prime Minister Andrej Babis urged people to work from home or take holidays if possible. Public transport would remain running, he added.