Fifty-four new cases of the coronavirus have been diagnosed in the Republic today, bringing the total number of confirmed cases to 223.
Two people have died from the illness.
In Northern Ireland, seven new cases of coronavirus were confirmed today, bringing the total number of cases to 52.
There are now 275 cases of Covid-19 on the island of Ireland.
The model projections by Department of Health officials are that we are likely to see around 78 new confirmed cases tomorrow, around 109 on Wednesday and 355 by Sunday.
Dr Tony Holohan, Chief Medical Officer, said that a full-scale lockdown would be a disportionate response and that supermarkets are regarded as essential services rather than indoor mass gatherings.
"We do not regard supermarkets as indoor mass gatherings. Supermarkets provide, and need to provide, an essential public service and a support to people and it's important that people continue to be able to use supermarkets." @CMOIreland Dr Tony Holohan | https://t.co/66o8URcIAq pic.twitter.com/Y3dP1v4ItY

— RTÉ News (@rtenews) March 16, 2020
Speaking at a press conference tonight, Dr Holohan said: "We don't anticipate saying we'll go back to normal on the 29 March."
He said the WHO has again reiterated its advice on testing - test as many cases as possible. He said: "Test, test, test..that's our main priority."
Dr Holohan added "We're not recommending lockdown. It would be easy to recommend every airport, workplace, every part of society to close, that might reduce the spread of the virus but it would be a disportionate response" 
He said there is a package of measures, firstly around behaviours, social distancing and hygiene ettiquette, and that "we need the vast majority of people to follow most of the recommendations most of the time. We think that's a reasonable response". 
The Taoiseach Leo Varadkar said we can expect a 30% increase in cases of the coronavirus every day.
Speaking at a press briefing this evening after a Cabinet sub-committee meeting on the outbreak, Mr Varadkar said it could be expected that there will be 15,000 cases in the Republic by the end of the month.
Most will not need to be treated in hospital, he said, but some will require ICU critical care.
Mr Varadkar said we will be dealing with the Covid-19 emergency for months to come.
Around 80% of cases of Covid-19 will be a mild to moderate illness, close to 14% have severe disease and around 6% are critical.
Generally, you need to be 15 minutes or more in the vicinity of an infected person, within 1-2 metres, to be considered at-risk or a close contact.
We need your consent to load this rte-player contentWe use rte-player to manage extra content that can set cookies on your device and collect data about your activity. Please review their details and accept them to load the content.Manage Preferences
Meanwhile, residents have been urged not to travel overseas.
Tánaiste Simon Coveney said the National Public Health Emergency Team has recommended that all Irish citizens be advised against all non-essential travel overseas from now until 29 March.
The guidance includes the UK but not Northern Ireland.
All persons, including Irish residents, entering the country from overseas, should restrict movements for 14 days if asymptomatic.
This does not apply to Northern Ireland at this time, the National Public Health Emergency Team has said.
The restricted movement does not apply to essential categories of supply chain workers like pilots, hauliers and maritime staff, either Irish-based or foreign based.
The Taoiseach said the Minster for Finance Paschal Donohoe will meet with the banks about deferring loans and ask for forbearance from banks for those struggling.
He said there should be a solution over the next few days on providing childcare for healthcare staff so they can work.
Minister for Health Simon Harris said a massive national recruitment campaign will be launched tomorrow.
He said: "We will hire everybody that we can to work in the Irish health service."
Mr Harris said: "This pandemic cannot be wished away. It's going to have a massive impact."
He said: "Each and every single one of us has a part to play. The number of cases is going to rise and rise and rise over the coming days and weeks."
Next seven days vital in battle to curb spread of virus - Holohan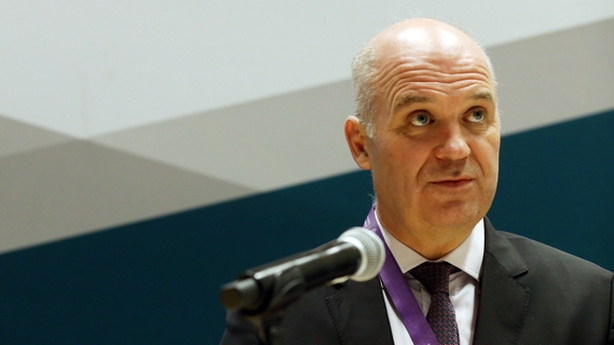 Earlier today, Dr Holohan said the next seven days are "vital" in Ireland's ongoing battle to curb the spread of coronavirus.
 ''The next 7 days are vital. Now is the time to #FlattenTheCurve,'' he declared on Twitter.
Dr Holohan urged everyone to play their part by taking the following steps. These are:
1. Reduce your social contacts - see only a handful of people in your network
2. Distance yourself two metres from people in shops and supermarkets 
3. Stop shaking hands or hugging when you say hello
4. Avoid touching your eyes, nose or mouth
5. Wash your hands regularly and practise cough and sneeze hygiene
6. Clean and disinfect frequently touched objects and surfaces
7. Check on your vulnerable family members and neighbours
8. Work from home where possible
Minister Harris urged people not to ring 999/112 if they feel they need a test for Covid-19.
He said people with symptoms should ring their GP who will arrange a test if that is what their doctor believes is necessary.
Mr Harris said the emergency service numbers need to be used for the work they do.
He also said the health service is focusing this week on looking at securing extra bed capacity, more personal protective equipment for staff, as well as ventilators and more community testing sites are also to be set up.
The HSE's chief operations officer has said anyone who turns up at a Covid-19 testing centre without an appointment will not be tested.
Speaking on RTÉ's News at One, Anne O'Connor urged people to be patient with healthcare teams who are processing requests for testing.
She said people who are unwell are being prioritised, and so it "may take some time" for contact to be made with others who are due to be tested.
She added that a GP will decide whether a person should be tested for Covid-19 or not.
Some GPs are reporting that phones are ringing non-stop today. Some also say the Healthlinks contact for electronic ordering of tests is timing out.
The HSE has now said that difficulties with this online referral system are being resolved and that an electronic booking capacity for GPs will go live this lunchtime. 
Demand on the Healthlink system this morning meant that test requests were held up. However, the HSE said that a secure email facility used by GPs was available.
---
Read More:
40 new cases of Covid-19 confirmed, pubs asked to close
NI Covid-19 policy on school closures set to be challenged
140,000 workers laid off due to coronavirus
Latest  coronavirus stories
---
GPs said it would be helpful if employers did not insist on work certs in the usual manner, as some callers are just seeking certs which is adding to the pressures.
The advice is that the "worried well" should not be phoning GPs for tests.
There will be 22 test centres operating but by appointment only if a test is clinically determined to be required. The national ambulance service will also continue to do house calls.
Medicines for Ireland (MFI), supplier of drugs to the HSE, has said it currently does not anticipate any issues with regard to the supply of medicines as a result of the coronavirus.
MFI chairperson David Delaney said: "Having consulted with all MFI members, we're in a strong position to meet additional demands as a result of Covid-19."
Yesterday, pubs and hotel bars around the country were asked to shut as part of the effort to slow down the spread of the virus. 
Speaking to RTÉ's Morning Ireland, Mr Coveney said the Government will make a decision regarding restaurants and cafés when it is ready rather than being pushed into it, and it will make the decision in an orderly manner.
The Tánaiste said one of the challenges for the public is that there is "information overload".
He warned people to "be careful" where they obtain information from. These were extraordinary times, he said, and people have to think carefully about where they get their information and advice.
The Health Service Executive had said it is expecting a significant surge in the number of people tested this week as GPs can order Covid-19 tests electronically from today.
Mr Coveney said the Government is in a position now to dramatically increase the number of tests provided and the HSE is trying to facilitate that through GP service.
Mr Coveney said everyone must work together - the State services and GPs cannot do this alone, the public must also do their part.
Irish in Spain should travel home by Thursday night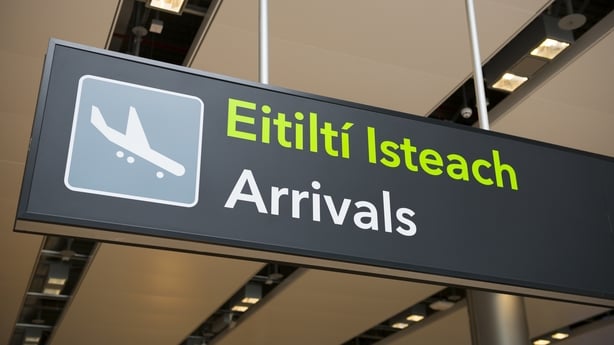 Irish holidaymakers who are currently in mainland Spain, or the Balearic or Canary Islands, are being advised to travel home by midnight on Thursday.
Cancelled flights have left a number of Irish tourists stranded on the Canary islands.
Mr Coveney said Aer Lingus and Ryanair would operate flights to bring people home in the coming days.
He said he does not think there is any certainty beyond Thursday or Friday of this week in terms of where planes will and will not be flying, given the responses of individual countries right now.
Those returning home from affected areas will be met by health officials that will give them advice.
"For people coming from Italy or Spain where we have clear travel advice in terms of non essential travel, they will be advised to restrict their movements. They'll get very clear advice when they land," Mr Coveney said.
He said he thinks it is still safe to travel to the UK, but that people should be cautious when they travel anywhere.
He said the Government is not planning to close airports or shut down flights between Ireland and the UK "despite what some people might have read on social media and on the back of false rumours".
---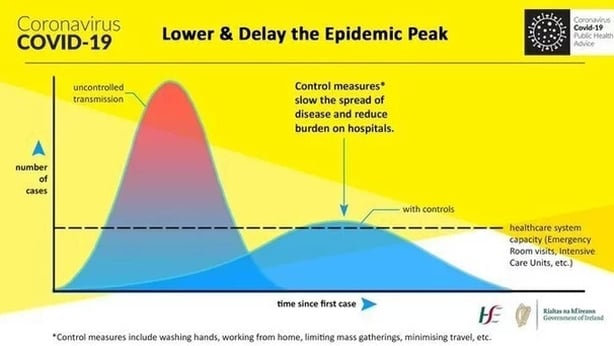 Governments across Europe have all been using the same charts, showing the same pattern of a steep, narrow peak, bursting through a line representing the capacity of the health service, followed by a gently rising and falling hillock, that is supposed to represent a longer, slower rate of coronavirus infection, one that does not overwhelm the health service.
Additional reporting Fergal Bowers, George Lee