Forty more cases of Covid-19 have been confirmed by the Department of Health, bringing the total number of cases in the Republic to 169.
Of the new cases, 23 are males, and 17 are females.
In terms of the geographical spread: 25 are associated with the east of the country, nine in the west, six in the south.
Forty-five cases have now been confirmed in Northern Ireland.
There have been two deaths associated with the virus so far in Ireland.
Around 80% of cases of Covid-19 will be a mild to moderate illness, close to 14% have severe disease and around 6% are critical.
Generally, you need to be 15 minutes or more in the vicinity of an infected person, within 1-2 metres, to be considered at-risk or a close contact.
Chief Medical Officer Dr Tony Holohan said: "In regard to upcoming St Patrick's Day celebrations, the Government is calling on all members of the public not to organise or participate in any parties in private houses or other venues which would put other peoples lives at risk."
---
Pubs asked to close from tonight until 29 March
All pubs, including hotel bars, have been asked to close from tonight until at least 29 March, in a bid to curb the spread of Covid-19.
The Government has also strongly advised against house parties while the pubs are closed.
The Government called on all pubs and bars to close after discussions today with the Licenced Vintners Association (LVA) and the Vintners' Federation of Ireland (VFI).
Health Minister Simon Harris said this shutdown of bars and pubs is not an excuse to have what he termed "Covid-19 parties".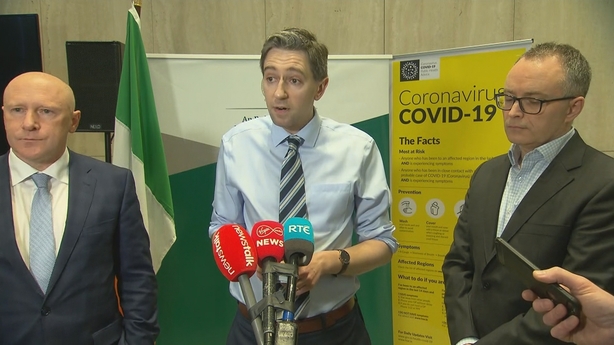 He said we need people to show "cop-on and decency".
"This is a very serious virus which has taken the lives of thousands across the globe and sadly two people here," he said.
Minister Harris said he genuinely hopes that people will see how serious this issue is, appealing to "understand the role you have to play".
He continued by saying: "The scenes like we saw last night in some locations, in particular in our capital city, were really disappointing - when doctors and nurses are working flat out - to see people not showing that degree of social responsibility".
Chief Medical Officer Dr Tony Holohan said "everyone is asked to reduce their social contact over this time period".
"House parties/Covid parties carry the same risks as being in a pub/club, therefore people should not organise or attend them. The virus is now in our community, it is up to us to limit its spread.
"Now is the time for action and to heed the public health advice we will continue to provide."
Rachel Kenna, Deputy Chief Nurse at the Department of Health, said "healthcare workers across the service are working under extraordinary conditions, preparing for the potential impact of Covid-19.
"If all citizens work together and comply with social distancing guidelines and other measures the Government may take in the coming weeks, we will have a stronger response to this virus. Help our healthcare workers in their task."The National Public Health Emergency Team said it will meet tomorrow to continue its review of Ireland's preparedness.
---
Govt agrees plan with Irish airlines and Spanish authorities to bring Irish tourists home
The Tánaiste has called on Irish tourists in Spain who want to fly home to do so by Thursday at midnight.
Simon Coveney has said that the Spanish Government has committed to keeping its airports open until midnight on Thursday and will facilitate flights coming from Ireland to take holidaymakers home.
Speaking on the Six One, Mr Coveney said that there were between 20,000 and 25,000 Irish people currently in the Canaries, on the Balearic Islands and in mainland Spain.
The Tánaiste directly addressed those abroad and told them to plan to come home before midnight on Thursday "regardless of how long your holiday was supposed to be".
After that, he said it would be "difficult to provide any guarantees that people may be able to get home easily".
Mr Coveney today held talks with his Spanish counterpart as well as the Chief Executives of Ryanair and Aer Lingus.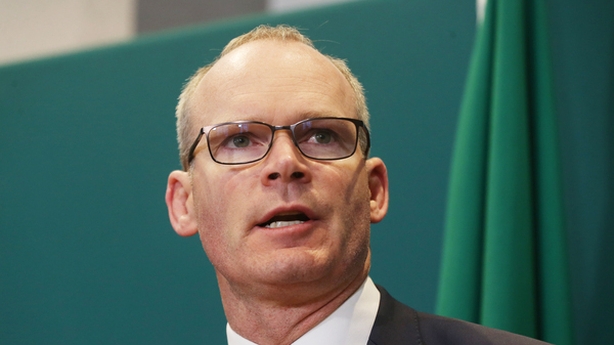 After the talks, Mr Coveney said: "I understand the deep concern about returning home from mainland Spain or the Canary and Balearic Islands in the coming days. We have been working closely with our colleagues in the Spanish government and have an orderly plan in place with Ryanair and Aer Lingus supported by the Spanish government.
"My Spanish Foreign Affairs and Transport counterparts have assured me that Spanish airports remain open and the country is not bringing about a flight ban. They further assure me that Spanish airspace remains open for Irish airlines to bring citizens home," he said.
A conference call took place between Mr Coveney and senior management from Ryanair and Aer Lingus, as well as senior officials from the Department of Transport, Tourism and Sport, the Department of Foreign Affairs and Ireland's Embassy in Madrid.
"I am calling on all Irish tourists who wish to return from Spain to do so by midnight this coming Thursday March 19th. Both airlines are allocating bigger planes to the routes in order to accommodate passengers and both airlines have waived booking and seat fees for anyone who wants to change a booking from a later flight to one in the coming days," said the Minister.
Both Ryanair and Aer Lingus have been in contact with customers via email and social media channels on how to book a seat.
---
Taoiseach urges those who went to pubs to avoid contact with elderly
The pubs ban comes after images and footage emerged on social media showing hundreds of people packed into pubs over the past two days.
Leo Varadkar announced on Thursday that country's schools, colleges and childcare facilities would close in response to the Covid-19 pandemic.
He also said all indoor gatherings of more than 100 people and outdoor events involving more than 500 should be cancelled.
In a tweet this morning, Mr Varadkar said he could refer the matter to the Dáil and Seanad.
He said he had asked the National Public Health Emergency Team for further expert guidance on the issue.
Mr Varadkar said people who had been out this weekend should avoid physical contact with seniors or people with chronic diseases.
He said contact with such people could make them "very, very sick".
No indoor mass gatherings of more than 100 people applies to pubs & clubs. Have asked NPHET for further expert guidance on this. May seek enforcement powers from Dail/Seanad.

— Leo Varadkar (@LeoVaradkar) March 15, 2020
Temple Bar publicans have announced a complete shutdown of all bars and nightclubs with immediate effect.
It will mean no bars open in the area for St Patrick's Day and the closure could last for weeks.
The decision was reached following a meeting of around 35 publicans and advice from gardaí and the health authorities.
Martin Harte of the Temple Bar Company said the decision was taken voluntarily.
He said: "This is the owners of all pubs sitting down and deciding this is the best thing to do in terms of public health and safety."
---
Health official appeals for adherence of guidelines
Senior health officials have appealed for people to adhere to social distancing guidelines, outlined on the HSE website, to help slow the spread of the virus.
Earlier, HSE Chief Executive Paul Reid said that the public health guidelines in relation to pubs and restaurants were clear.
Speaking to RTÉ News, he said that over the weekend most bars around the country acted responsibly.
However, Mr Reid said a smaller number had acted quite recklessly and some of the customers had acted quite recklessly.
The Licensed Vintners Association said most members had heeded the official advice and shut their doors, but it described the pubs flouting the guidelines this weekend as "seriously irresponsible".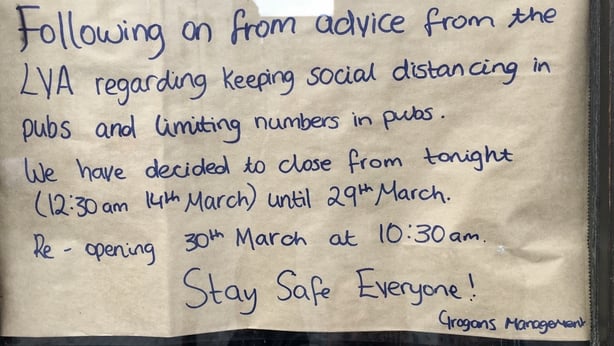 "Their behaviour is completely and utterly unacceptable," it said.
Before the announcement calling for the closure of pubs, Vintners' Federation of Ireland Chief Executive Padraig Cribben said: "Publicans have tried their best to implement social distancing guidelines, but for many it's proved an impossible task.
"While we fully support the Government's health guidelines our members do require urgent clarity about how to manage the current situation.
"We stand ready to help in any way we can but the Government must give us clear and unambiguous instructions that we can pass on to members. Like all small business owners, publicans are worried about the future."
Minister for Finance Paschal Donohoe earlier said the Government had a "grave concern" about people still attending pubs and clubs in big numbers, and not adhering to measures on social distancing.
Speaking on RTÉ's This Week programme, he said it needed to be acknowledged that many other people are doing their best to do so.
We need your consent to load this rte-player contentWe use rte-player to manage extra content that can set cookies on your device and collect data about your activity. Please review their details and accept them to load the content.Manage Preferences
He said people had a responsibility to others not to spread the virus and keep each other safe. 
"This is not just about your own personal health, it is about the responsibility you have to someone who may already be ill. Your nana, your grandad, to your mum, and your dad, and this is particularly the case if you are a younger person, and the role they play within their families and communities," he said.
Among those appealing for people to heed the official advice was Munster and Ireland rugby player Keith Earls.
He said his daughter has a serious respiratory lung condition and said he was starting to worry that people were not following the official guidelines.
March 15, 2020
Last night, Chief Medical Officer Dr Tony Holohan said there were concerns about members of the public not heeding social distancing guidelines.
He said there was "non-compliance in some sectors", particularly in the 20-40 age group.
Dr Holohan said the department would continue to evaluate what was happening with social distancing.
In his annual St Patrick's Day message, President Michael D Higgins has asked people to look out for each other, especially the most vulnerable, during the coronavirus crisis.
We need your consent to load this YouTube contentWe use YouTube to manage extra content that can set cookies on your device and collect data about your activity. Please review their details and accept them to load the content.Manage Preferences
---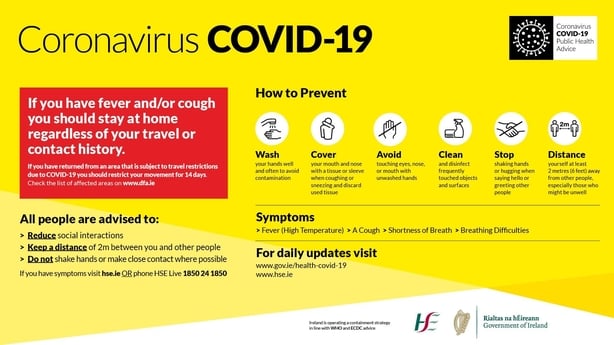 #COVID19 #coronavirusireland

The government has announced additional measures to protect citizens by delaying the spread of COVID-19.

The general public is asked to follow this advice and keep informed of this ongoing outbreak. pic.twitter.com/jgjmJIdWaz

— Department of Health (@roinnslainte) March 13, 2020