It is estimated that around 140,000 people have been laid off work in Ireland because of the measures taken to tackle the coronavirus.
This is a combination of 70,000 restaurant workers, 50,000 pub and bar staff, and around 20,000 crèche and childcare workers.
Those eligible are being urged not to go to Intreo, the public employment service offices, to abide by social distancing rules and avoid long queues.
The Minister for Social Protection has revealed it will be a "number of weeks" before employers are reimbursed for paying workers at least the jobseeker rate of €203 a week if companies have to cease trading as a result of Covid-19 measures.
Speaking on RTÉ's News at One, Regina Doherty said she will announce tomorrow or Wednesday when employers will be reimbursed, but "there is no reason to think that it would be a week or two at most".
She said people who want to avail of this payment do not need to have a public services card to access it.
"If you have the card you can go to mywelfare.ie and fill out the form and you will be responded to within days. If you don't have one, you can download the form and send it back by freepost to PO BOX 12896," Minister Doherty said.
The Covid-19 payment allows continuity of income for people who have lost their jobs until the Department can establish the type of benefit they should be on.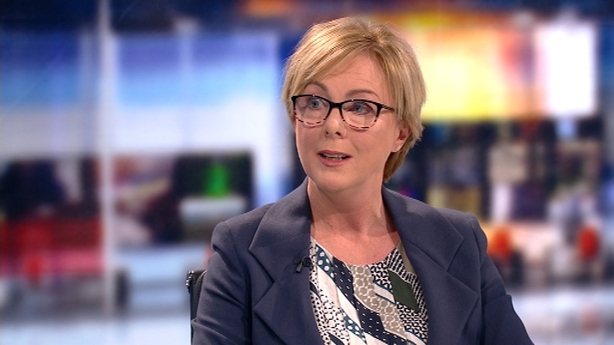 "Right now people who have lost their jobs, mainly because of Covid-19, can apply and they will receive it until we figure out what payment they should be on and we move them to that more appropriate payment for as long as they need it," she explained.
Minister Doherty said that staff at the Department of Social Protection worked over the weekend to process some 20,000 applications that were received on Friday.
Additional staff are still being trained so it may be this afternoon before the scheme is fully operational.
The new temporary refund scheme for employers will be available to all employees and the self-employed who have lost work as a result of the Covid-19 pandemic.
The Banking and Payments Federation has said it's engaging in discussions with the Department of Finance on behalf of the five main retail banks with a view to facilitating a State sponsored short-term unemployment refund scheme.
The Cabinet Sub-Committee will look at planned legislation to support people who are now out of work due to Covid-19.
---
Read:
Live coronavirus updates
People urged not to call emergency numbers for Covid-19 tests
Dublin Airport passenger numbers down 60%
---
It will also examine supports for healthcare staff who are facing childcare difficulties.
The meeting will also consider the logistical issues around people travelling abroad and returning.
No major new measures are to be announced and the focus over the coming week or two will be to monitor the implementation of the major measures introduced since last week.
Around 80% of cases of Covid-19 will be a mild to moderate illness, close to 14% have severe disease and around 6% are critical.
Generally, you need to be 15 minutes or more in the vicinity of an infected person, within 1-2 metres, to be considered at-risk or a close contact.
There have been 169 cases in Ireland and two deaths to date, with 45 cases of Covid-19 in Northern Ireland.
Governments across Europe have all been using the same charts, showing the same pattern of a steep, narrow peak, bursting through a line representing the capacity of the health service, followed by a gently rising and falling hillock, that is supposed to represent a longer, slower rate of coronavirus infection, one that does not overwhelm the health service.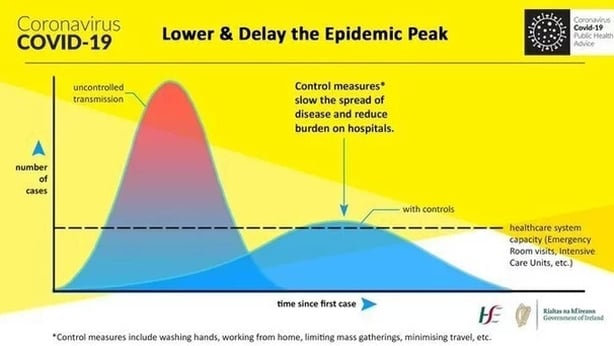 Separately, the Health Service Executive is expected to announce a staff recruitment drive tomorrow.
This will include student nurses coming in to assist care, possibly as care assistants at this point.
Staff in other parts of the health service and in other departments, who would usually be busy at this time but are not, will also be involved in redeployment.
Meanwhile, the CEO of the Restaurants Association of Ireland has appealed to the Government to issue a directive ordering restaurants and cafés to close. 
Adrian Cummins told RTÉ's Morning Ireland that they had been expecting to be told to close at the weekend.
"We want to close but they need to tell us so that everybody closes.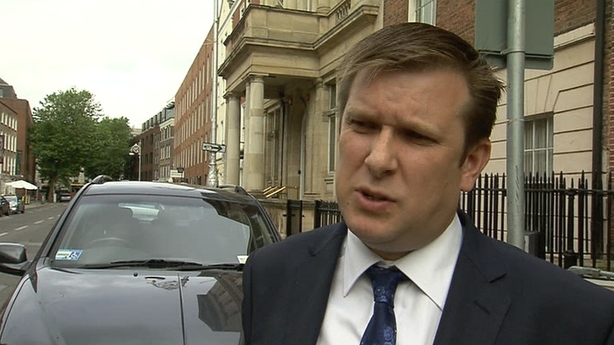 "Social distancing is not working in Ireland at the moment and we need to have a national call right across the country that any area where you have the opportunity for collective gathering needs to be now closed down."
Mr Cummins said that a directive must be issued to ensure no businesses take the opportunity to open.
He said that a number of pubs chose to open over the weekend, while many others closed.
"This needs to happen this morning, in the best interest of the public's health. I'm appealing to the Government to issue an order for us to close down immediately," he said.
Mr Cummins said that up to 70,000 employees in restaurants and cafés will be temporarily laid off.
He said this will put a "huge strain" on the social welfare department. He urged employees not to go to the Intreo office and to apply online instead.
Meanwhile, the Irish Hairdressers Federation has warned that many salons forced to close due to the Covid-19 virus may not reopen due to financial problems.
The Federation's Vice-President, Lisa Eccles, said hairdressers face particular difficulty in complying with HSE guidelines on social distancing because of the contact required to deliver hair services. 
She said that over the last 24 hours,  many salons including her own had decided to close - some for a week, and some until 29th March - though she acknowledged that the closures could be longer depending on how the battle against the virus is going.
Ms Eccles, who owns the Zinc Hair and Beauty Salon in Dublin's Kilmainham, said she had had to put her 17 staff on temporary lay-off, adding that with no clients coming in, hairdressers would not have income or cashflow.
She said it was regrettable that the government had not issued a clear directive on closures, as some businesses were still unsure about what to do.
She said this latest blow came on top of the increase in the VAT rate from 9% to 13.5%, as well as the elimination of the trainee wage rate for apprentices, who now receive the minimum wage.
According to the IHF website, it's estimated there are 4000 hairdressing salons in Ireland.
Additional reporting: Fergal Bowers, Ingrid Miley
This story was amended at 4.08pm on 19 March 2020 to include the correct link to where people can apply for the Covid-19 Pandemic Unemployment Payment