Italy has recorded 368 new deaths from the Covid-19 outbreak as the total rose to 1,809 from 1,441 a day earlier, the country's civil protection authority has said.
The number of positive cases rose to 24,747 from 21,157 a day earlier as Europe's worst outbreak of the deadly virus continued to expand.
Italian leaders warned of a bed and artificial respirator shortage in the European epicentre of the coronavirus pandemic.
The Vatican took the drastic step of cancelling Easter week celebrations that were set to begin on 5 April as the country of 60 million braced for an extended crisis.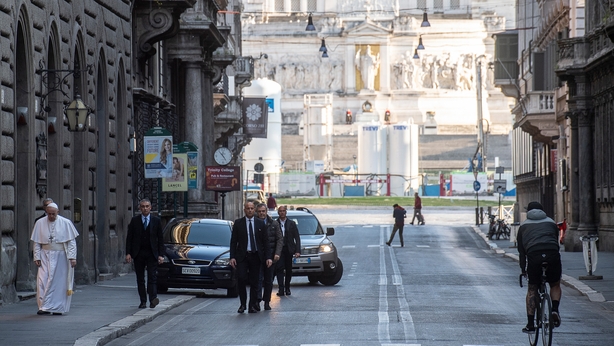 Milan's Lombardy region governor Attilio Fontana said the situation in areas around Italy's financial capital was "getting worse".
"We are close to the point where we will no longer be able to resuscitate people because we will be out of intensive care unit beds," Mr Fontana told Italy's Sky TG24 channel.
"We need those machines (doctors) use to ventilate lungs, artificial respirators that unfortunately we cannot find," Mr Fontana said.
"As soon as those respirators arrive from abroad, we will be ready to go on the attack."
The Lombardy region has recorded 1,218 of the deaths officially attributed to Covid-19 over the past three weeks - more than the rest of Europe combined.
The region of 10 million - slightly smaller but more economically productive than neighbouring Switzerland to the north - also has 13,272 reported infections and 767 people in intensive care.
France sees 29 new deaths; Spain infections near 8,000
France recorded 29 additional coronavirus deaths today, the biggest one-day increase in the country since the outbreak, bringing the total death toll to 120, Health Minister Olivier Veran has said.
An additional 900 cases of infection were recorded in the past day, taking the total to 5,400 since January, Mr Veran told France 2 television.
France announced it will shut shops, restaurants and entertainment facilities from today, with its 67 million people told to stay home after confirmed infections doubled in 72 hours.
French Prime Minister Edouard Philippe said the government had no other option after the public health authority said 91 people had died in France and almost 4,500 were now infected.
"We must absolutely limit our movements," he said.
Earlier, Spanish authorities confirmed the country's official coronavirus death had risen by 152 overnight to 288, while the number infected rose by 2,000 new cases to 7,753.
Among the high-profile figures to test positive were the prime minister's wife, two cabinet ministers and five players on top-flight soccer club Valencia.
Spain, the second-worst affected European country after Italy, ordered its 47 million citizens to stay indoors yesterday, except for necessary outings such as buying food and medicine. Social gatherings are banned.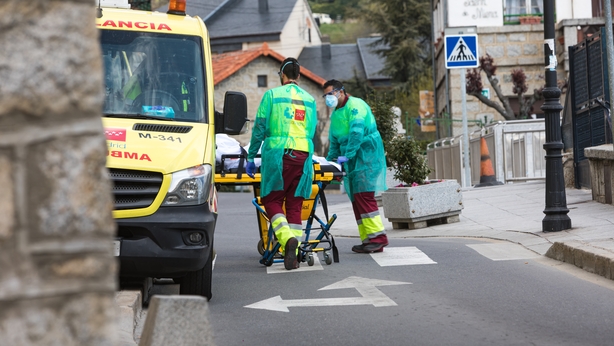 Public places from city streets to beaches across Spain were deserted, with a strengthened presence of police, many wearing latex gloves and facemasks, ensuring people complied with the emergency measures.
The sudden Spanish lockdown, along with similarly abrupt moves to curtail public life in France, have astonished Western Europe this weekend, as countries follow Italy in imposing restrictions unseen in peacetime.
In Ireland, the Tánaiste has called on Irish tourists in Spain who want to fly home to do so by Thursday at midnight.
Simon Coveney today held talks with his Spanish counterpart as well as the Chief Executives of Ryanair and Aer Lingus.
---
Europe becomes epicentre of the Covid-19 outbreak
In Hungary, the government communication centre has confirmed the central European nation's first official victim of the new coronavirus, state news agency MTI reported.
A 75 year-old Hungarian national died shortly after being hospitalised with severe pneumonia and a suspected coronavirus infection.
Hungary has 32 confirmed coronavirus cases and 159 people in quarantine, according to government data. The government closed all schools and introduced restrictions on public gathering this week.
Around 80% of cases of Covid-19 will be a mild to moderate illness, close to 14% have severe disease and around 6% are critical.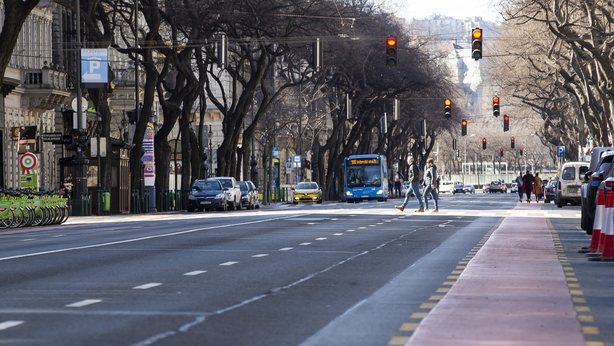 Generally, you need to be 15 minutes or more in the vicinity of an infected person, within 1-2 metres, to be considered at-risk or a close contact.
Several countries have imposed bans on mass gathering, shuttered sporting, cultural and religious events, while medical experts urged people to practice "social distancing" to curb the spread.
Britain is preparing to ban mass gatherings, while isolating people aged over 70 for up to four months is part of its action plan to tackle coronavirus which will be implemented in the coming weeks, Health Secretary Matt Hancock said.
The British Department of Health confirmed earlier that 14 more patients have died in England after testing positive for Covid-19. This follows the 10 deaths announced yesterday.
A total of 34 people have died from the virus in England, while there has been one death in Scotland.
---
Australia and South Africa among the countries to ban entry
Australia has ordered self-isolation of arriving foreigners, and several other countries have extended entry bans to try to contain the spread of the coronavirus.
Australian Prime Minister Scott Morrison said from midnight Sunday international travellers arriving in the country would need to isolate themselves for 14 days, and foreign cruise ships would be banned for 30 days, given a rise in imported cases.
"What we've seen in recent weeks, is more countries having issues with the virus and that means the source of some of those transmissions are coming from more and more countries," Mr Morrison told a news conference.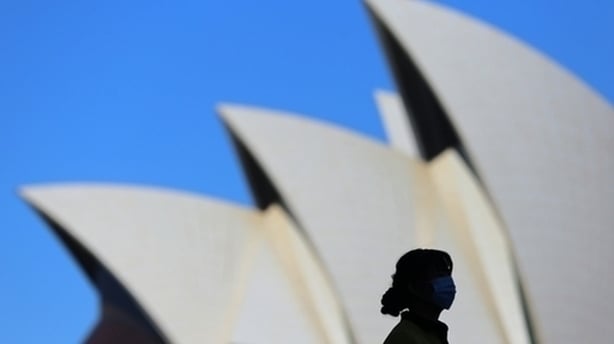 Australia's latest restrictions mirror those announced by neighbouring New Zealand on Saturday. Australia has recorded more than 250 coronavirus cases and three deaths.
Panic buying in Australia, the United States and Britain has seen leaders appeal for calm over the virus that has infected over 140,000 people globally and killed more than 5,000.
Argentina banned entry to non-residents who have travelled to a country highly affected by coronavirus in the last 14 days, the government officially announced late yesterday.
In Colombia, all visitors will be blocked from entering the country. Colombia's president, Iván Duque Márquez, said the ban will come into effect tomorrow.
The ban will last 30 days. Argentina has 45 cases of coronavirus, the health ministry said, up from 21 on 12 March.
Starting today, South Korea began to subject visitors from France, Germany, Britain, Spain and the Netherlands to stricter border checks, after imposing similar rules for China, Italy and Iran.
Visitors from those countries now need to download an app which will report whether they have symptoms.
South Korea has been testing hundreds of thousands of people and tracking potential carriers using cell phone and satellite technology.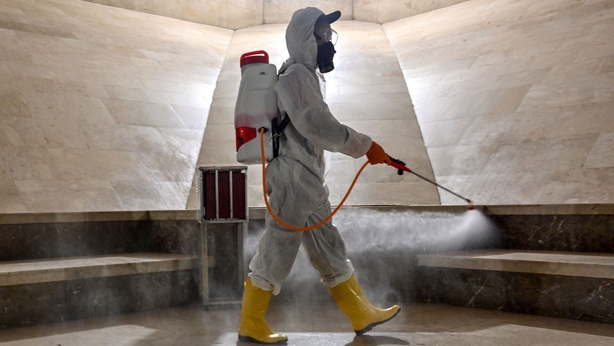 US President Donald Trump declared a national emergency on Friday. The United States has recorded more than 2,000 cases and 50 deaths, but has been criticised for slow testing.
Travel bans and a plunge in global air travel saw further airline cutbacks, with American Airlines planning to cut 75% of international flights through 6 May and ground nearly all its widebody fleet.
The dramatic announcement by the largest US airline came hours after the White House said the US would widen new travel restrictions on Europeans to include travellers in the United Kingdom and Ireland, starting Monday night.
Washington has already imposed flight restrictions on China.
---
China sees imported cases surpass those transmitted locally
China has tightened checks on international travellers arriving at Beijing airport this morning, after the number of imported new coronavirus infections surpassed locally transmitted cases for a second day in a row.
Anyone arriving to Beijing from abroad will be transferred directly to a central quarantine facility for 14 days for observation starting 16 March, a city government official said.
China, where the epidemic began in December, appears to now face a greater threat of new infections from outside its borders as it continues to slow the spread of the virus domestically.
Meanwhile, South African president Cyril Ramaphosa announced the closure of borders from Wednesday to all foreign nationals from countries highly impacted by the coronavirus outbreak.
"We are imposing a travel ban on foreign nationals from high-risk countries such as Italy, Iran, South Korea, Spain, Germany, the United States, the United Kingdom and China as from 18 March 2020," Ramaphosa said in an address to the nation.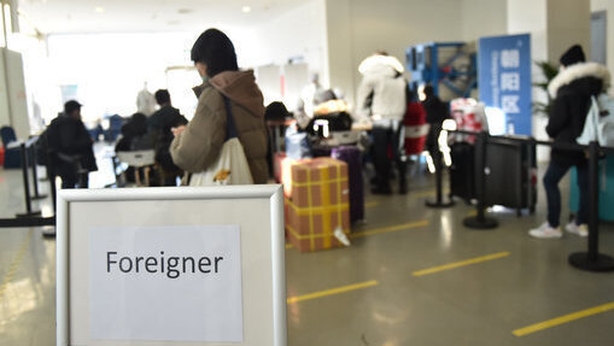 ---
Read more:
Italian doctor warns Irish people to change lifestyles
UK to ask elderly to self-isolate for four months
Live updates: Public urged to adhere to social distancing
Australia orders all international arrivals to self-isolate for 14 days
---