Spain is to be put under partial lockdown, as Prime Minister Sanchez announced a state of emergency this evening.
All shops in Spain are to close except pharmacies and those selling food and other basic necessities.
Prime Minister Pedro Sanchez said the government would agree economic measures to help workers and companies.
He said the state of emergency would apply to all of Spain for 15 days.
Armed forces would be available to help in the fight against the virus if needed, he said.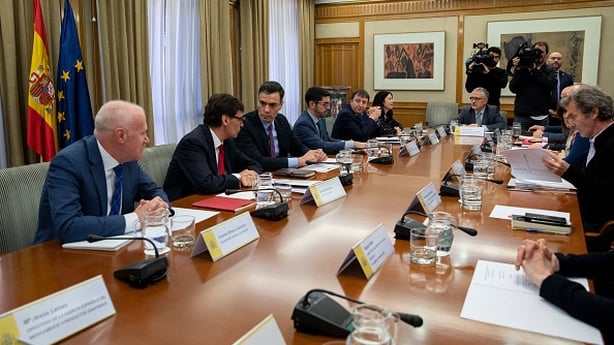 France has drastically stepped up its measures against the spread of the coronavirus, announcing the closure of all non-essential public places including restaurants and cafes from midnight.
"I have decided on the closure until further notice from midnight of places that receive the public that are non-essential to the life of the country. This includes notably cafes, restaurants, cinemas and discos," Prime Minister Edouard Philippe told reporters.
Top health official Jerome Salomon meanwhile announced that the death toll from Covid-19 had risen by 12 over the last day in France to 91, with the total number of infected standing at 4,500.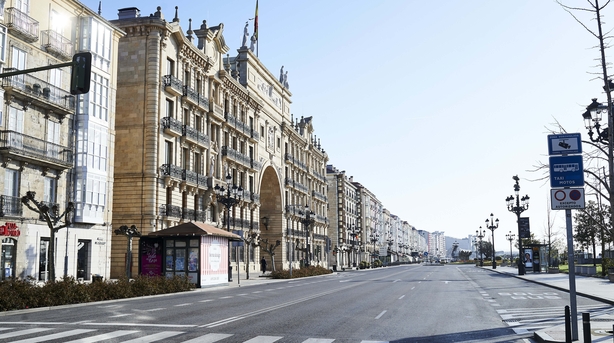 Around 80% of cases of Covid-19 will be a mild to moderate illness, close to 14% have severe disease and around 6% are critical.
Generally, you need to be 15 minutes or more in the vicinity of an infected person, within 1-2 metres, to be considered at-risk or a close contact.
Earlier in the day, authorities in Madrid urged people to stay home, the southern city of Seville announced the cancellation of hugely popular Holy Week celebrations and shops in several regions shut down today as Spain scrambled to try and fight the coronavirus.
Spain is the second-hardest hit country in Europe after Italy, with 5,753 cases recorded today, up by a third from yesterday even as health authorities in Madrid, which has the highest number of cases, stopped testing people with only mild symptoms.
Prime Minister Pedro Sanchez's government took few steps at first to impose tough measures and changed tack only this week. The opposition has criticised the government for letting events like International Women's Day marches go ahead a week ago.
National and regional authorities have said they reacted appropriately, taking stronger measures when the number of cases started soaring on Monday.
With schools now shut across the country and a first package of economic measures announced on Thursday, the government is also expected to announce a new package of economic and social measures.
In an increasingly deserted capital city, where all shops except supermarkets and pharmacies have shut down, posters put up by the city authorities read: "The best option to prevent the propagation of the virus is to stay at home." 
---
Read more:
North-South Ministerial Council meeting in Armagh over coronavirus
'High degree of caution' urged for Irish citizens travelling in EU
UK set to ban mass gatherings over coronavirus fears
More coronavirus stories
---
Around the world countries have continued to close borders, impose strict entry and quarantine requirements, and restrict large gatherings in efforts to contain the spread of Covid-19.
Countries have shuttered museums, tourist attractions and sporting events to minimise the risk of coronavirus transmission, with more than 138,000 people worldwide infected and more than 5,000 dead.
In the UK, health authorities have announced a further 10 deaths caused by coronavirus, almost doubling the number of fatalities in Britain since yesterday.
"I am sorry to confirm 10 further patients who have tested positive for COVID-19 in England have died," Chris Whitty, chief medical officer for England, said in a statement, adding that all of them were individuals were in the at-risk groups.
Earlier, a government source in Britain said the country will introduce emergency laws to ban mass gatherings, an escalation of its crisis plan which critics had said was too relaxed.
The World Health Organization (WHO) earlier confirmed that Europe has become the pandemic's current epicentre after reporting more cases and deaths than the rest of world combined, apart from China where the coronavirus originated last December.
In the Netherlands, the Dutch health authorities said the number of confirmed coronavirus infections has risen by 155 to 959, with two new deaths bringing the death toll to 12.
Denmark has recorded its first coronavirus death as it closed its borders to foreigners in order to slow the spread of the disease.
The fatality "was a person aged 81 years who was hospitalised for other serious illnesses," said officials at the hospital where the patient was treated.
The death is the fifth COVID-19 fatality in the Nordic countries. Two people have already died in Sweden and two in Norway.
The Czech government will shut most shops and restaurants from today, with exceptions including food stores, pharmacies and gas stations.
Czech Prime Minister Andrej Babis has announced that as of 16 March, all foreigners will be barred from entry apart from those with residency.
In Poland, the Ministry of Health said it will announce a state of threat of epidemic in the country. Yesterday, the country's government announced drastic measures to tackle the virus, closing both land and air borders, as well institutions, businesses, and restaurants.
Meanwhile, in Germany local media report that the city of Berlin is to gradually close schools and reduce public transport from next week.
Colombia said it will close its borders with Venezuela and stop visitors who have been in Europe or Asia, while the US has extended its travel ban to include Ireland and the UK following an earlier decision to impose the ban on Schengen-zone countries only. 
Saudi Arabia will suspend all international flights for two weeks, starting tomorrow, state news agency SPA said.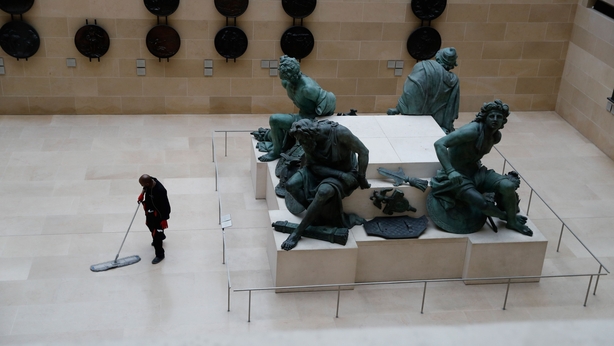 Russia will close its land borders with Poland and Norway to foreigners in a bid to limit the spread, while Norway has announced it will shut its ports and airports from Monday in an attempt to curb the spread of coronavirus.
Taiwan will require travellers from mainland Europe, Britain and Ireland to self-isolate for 14 days, while New Zealand implemented a similar measure for all those entering the country.
Prime Minister Jacinda Ardern also called on cruise ships, a major source of infections in some countries, not to come to New Zealand until 30 June.
"Alongside Israel, and a small number of Pacific Islands who have effectively closed their border, this decision will mean New Zealand will have the widest ranging and toughest border restrictions of any country in the world," she said.
The country has just six confirmed cases and has had no deaths, but Ms Ardern said that number inevitably would rise.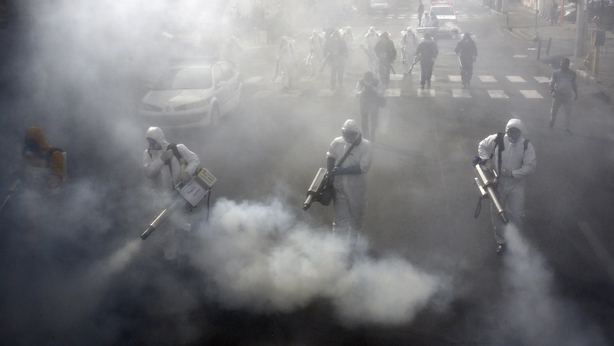 "That is why ultimately, we must go hard and we must go early," she told reporters.
Chilean President Sebastian Pinera announced a ban on public events with more than 500 people on Friday, joining countries such as Australia where the ban will come into force on Monday.
The Philippines capital Manila, home to 12 million people, announced nighttime curfews and urged shopping malls to close for one month.
"To limit the spread of the virus, we need to limit the movement of people. We are slowing down the movement of people in Metro Manila," said Jose Arturo Garcia, general manager of the Metropolitan Manila Development Authority.
Meanwhile, as infections continue to climb around the world, in mainland China the number of new cases is falling.
The number of new coronavirus cases imported into mainland China from overseas surpassed the number of locally transmitted new infections for the first time on Friday, data released by the National Health Commission showed.
Mainland China had 11 new confirmed cases on Friday, up from eight cases a day earlier, but only four of those - all in the virus epicentre of Hubei province - were locally transmitted.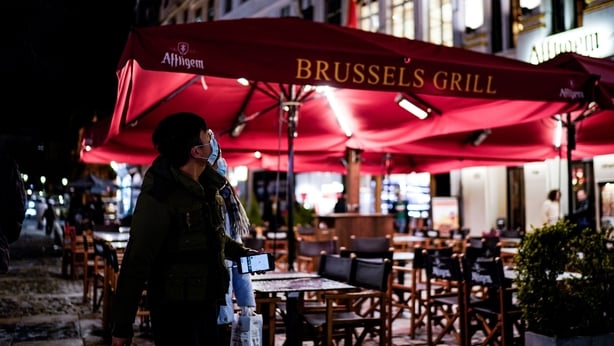 Hubei has now seen new infections fall for nine straight days. All four of the new cases on Friday, down from five a day earlier, were in provincial capital Wuhan.
The flu-like virus has infected 80,824 people in mainland China, the commission said.
Travel bans have hammered airlines and travel companies worldwide, while financial markets have been hit by panic selling this week.
The impact of the coronavirus on everyday life is also deepening.
The global sporting calendar has also been left in tatters with major tournaments cancelled, postponed or forced to continue without spectators.
But sport's biggest showpiece, the Olympics, will still proceed as planned, according to Tokyo organisers.
Meanwhile, Apple has said it will close all its retail stores worldwide outside of Greater China, until 27 March.
Apple reopened all 42 of its branded stores in China on Friday as the spread of the virus on mainland China slowed dramatically.