---
Public advised to show 'high degree of caution' travelling to EU
20 new cases confirmed, 90 cases in total in Republic of Ireland
29 cases in total in Northern Ireland
Big rise in testing expected as threshold changes
For public information on Covid-19, see hse.ie
---
The Department of Foreign Affairs updated its travel advice in relation to EU countries, advising people to exercise "a high degree of caution" before deciding to travel to other EU states.
Tánaiste and Minister for Foreign Affairs Simon Coveney said the decision was made in light of rapidly changing conditions and restrictions across a number of EU countries.
However, Mr Coveney said it does not include the UK.
The Department of Health has confirmed 20 new cases of Covid-19 in the Republic of Ireland.
The National Public Health Emergency Team (NPHET) said six of the new cases are associated with travel, 12 are from contacts of confirmed cases and two are community transmission.
Of the 12 associated with contacts of confirmed case, four of those are healthcare workers.
There are now 90 cases of Covid-19 in the Republic of Ireland.
In Northern Ireland, nine more people tested positive for Covid-19 today, bringing the total number of cases in the North to 29.
The total number of cases on the island of Ireland is 119.
The NPHET said anyone with a fever of 38 degrees or more, or chills and/or symptoms of respiratory tract infections, including cough, will be considered when assessing the requirement for testing.
Earlier this week, a woman with an underlying illness who contracted Covid-19 died.
Six people confirmed to have coronavirus in Ireland are seriously ill and are being treated in intensive care units in hospital.
Around 80% of cases of Covid-19 will be a mild to moderate illness, close to 14% have severe disease and around 6% are critical.
Generally, you need to be 15 minutes or more in the vicinity of an infected person, within 1-2 metres, to be considered at-risk or a close contact.
NB TRAVEL ADVICE: In light of rapidly changing conditions & restrictions across a number of EU countries, my Dept is now advising people to exercise "a high degree of caution" before deciding to travel to other EU States. We will continue to update advice. #COVID19 pic.twitter.com/5ai8U4SGiH

— Simon Coveney (@simoncoveney) March 13, 2020
Earlier, Minister for Finance Paschal Donohoe has warned that the economic effect of Covid-19 is already under way in businesses across the country.
Speaking during a press conference in Government Buildings this afternoon, Mr Donohoe said it was critical that Irish businesses that were vulnerable but are healthy have the support that is available to work their way through the crisis.
The Minister said the immediate challenge that many businesses and employers face is due to cash flow and the fact that VAT returns are due by the end of the month.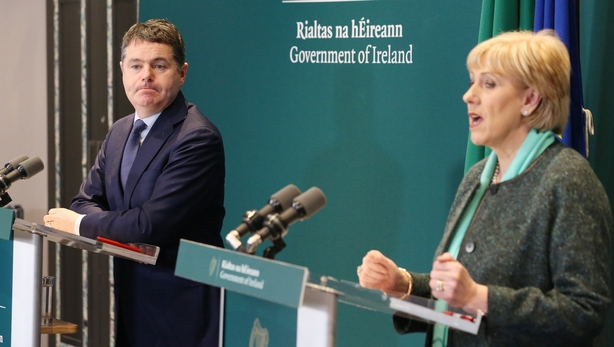 He welcomed an announcement by the Revenue Commissioners that small businesses who cannot pay their VAT payments will not face interest payments.
He said the Revenue Commissioners will issue guidance in relation to the March/April VAT returns, which he said would provide a potentially significant support in the coming weeks.
The Minister said Covid-19 presents an unprecedented challenge for our country and the world.
He said the Government will do all it can to support and assist businesses and employees as the country responds to the crisis.
Minister for Business and Enterprise Heather Humphreys said it is not necessary to put limits on how much food people can buy because she reiterated that there is sufficient supply.
Speaking at the same press conference, Ms Humphreys said there were no plans to close shops that do not sell groceries and she said it was up to each individual shop what they do.
"People do not need to panic buy. Supermarkets and shops will remain open. Stockpiling could cause problems - please don't do it," she tweeted earlier today.
Speaking on RTÉ's News at One after meeting with representatives of the major retailers across the country, Ms Humphreys said she has been assured that there is "sufficient produce in the supply chain," and that to over shop "will create difficulty for others".
Schools, crèches, colleges and State cultural institutions are all closed as part of sweeping new measures to control the spread of coronavirus in Ireland.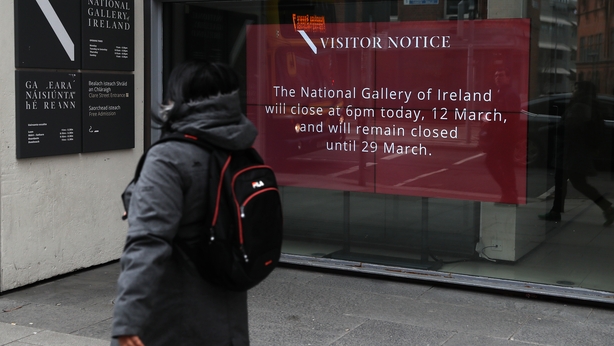 Yesterday, Chief Medical Officer Dr Tony Holohan said it was possible the closure of schools, crèches, childcare facilities, and higher education institutions may yet have to be extended beyond 29 March, depending on how the spread of the virus progresses in the meantime.
The National Public Health Emergency Team has changed the threshold for Covid-19 testing.
It had been the case that if people had returned from an at-risk area and had symptoms, they were to contact their GP.
Now, the at-risk area is no longer a condition and if people have symptoms, they should contact their GP.
This is expected to result in a big rise in testing.
People returning from Spain, Italy asked to restrict movement
Earlier, Minister for Health Simon Harris said more advice is being given to people coming back from areas from where there have been significant coronavirus outbreaks.
Within Europe, he said, all people coming back from Spain and Italy are being asked to restrict their movements for the next two weeks, which includes not going to work, and to lessen their social interactions.
Speaking on RTÉ's Morning Ireland, he said: "It is not quite self-isolate, but to restrict their movements."
The decision was made following a meeting last night of the National Public Health Emergency Team.
"Anyone returning from Italy and Spain will be met by environmental health workers on their return at the airport and told to restrict their movements."
Minister for Health Simon Harris has said all people coming back from Spain and Italy are being asked to restrict their movements for the next two weeks, which means not going to work | Read more coronavirus coverage: https://t.co/839hgCRs1u pic.twitter.com/9kqQLzY8Ck

— RTÉ News (@rtenews) March 13, 2020
He said it was another precautionary measure.
The minister said Covid-19 was gripping Italy, but it had now also very much spread to Spain.
He said travel advice will be updated accordingly as they monitor situations where there are outbreaks of Covid-19.
"Where we are telling people it is unnecessary to travel to, we will then have to ask them to take additional precautions when they return to this country."
He said he was aware it may seem counter-intuitive to see a big event like Cheltenham taking place in England.
"It is a statement of fact that the UK is not in the same situation as Spain or Italy."
Mr Harris said anyone coming back from Cheltenham will receive information on what to look out for but there is no specific restrictions on those people.
Regarding new measures that have been put in place since yesterday to stem the spread of the virus, he said he thinks they are "quite significant", adding "let's hope they work".
He called on people to "abide" by them.
The minister said Ireland remains firmly focused on contact tracing, which means getting people to come forward, getting tested and isolated if required.
"That is something I am not sure if other countries did very effectively. We are really going to ramp up our public health capacity in that regard in the coming days."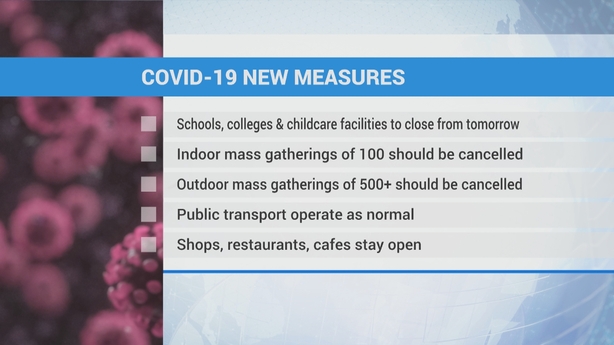 HSE CEO Paul Reid has urged the public to get behind the measures announced yesterday including social distancing, reducing contacts and being aware of vulnerable people. 
He said the intention was to strengthen the health service's capacity in this phase in reducing the impact of the virus and spreading it over a longer period of time. 
Speaking at a HSE briefing this afternoon, he said everyone was still in control of the virus in this phase in terms of what we can do. 
Mr Reid also said a number of measures in the plan were now under way, including sourcing additional beds, increased ICU investment and reductions in elective capacity. 
He said they were conscious of vulnerable groups like those who are homeless and self-isolation facilities were being put in place. 
---
Read more:
Big rise in testing expected as threshold changes
The terminology of Covid-19: From social distancing to mitigation
'No parties, no playdates, no visits to the playground' 
---
The HSE is procuring more ventilation and dialysis machines along with portable radiography equipment. 
He said this phase had been planned for since January. 
Mr Reid urged support for healthcare workers and GPs in getting to work - including childminding support.
The Department of Education is urging all pupils and students to practice social distancing and to minimise contact with each other.
This should include minimising social contact, avoiding meeting up and keeping physical space between them. Parents are being urged to support this.
Ministers want people to reduce discretionary social contact as much as possible and for work times and break times to be staggered.
Elderly or medically vulnerable people are also being asked to reduce social contacts outside the home.
Additional reporting: Aisling Kenny, George Lee