Women are well used to warnings such as "plan your route home", "let someone know where you are", "walk on well-lit streets" and "look confident if you are walking by yourself".
In fact, many women have been told from a young age that the world is not always a safe place for them, according to the Director of the Institute for Social Science in the 21st Century at University College Cork, Claire Edwards.
Ms Edwards said girls grow up in a world where they are told that public spaces are dangerous for women - and that they must take steps of their own to stay safe.
The murder of Sarah Everard in the UK earlier this month has thrown the issue of gender violence sharply into focus.
Following Ms Everard's disappearance on 3 March in London and the subsequent discovery of her body on 10 March in Kent, a number of protests took place in Dublin, Belfast, Cork, Limerick and Galway.
The protest in Dublin saw people holding placards saying "pandemic of gender violence", "end victim blaming" and "not one more".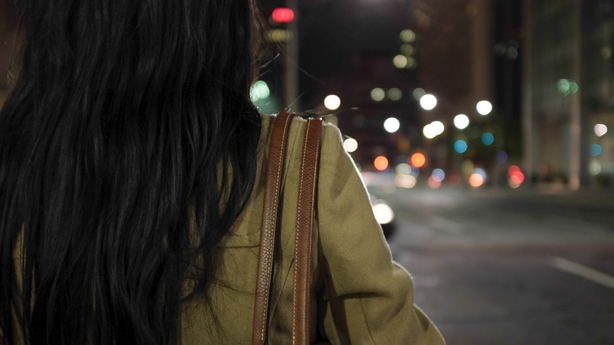 According to a study carried out by the EU's Fundamental Rights Agency in 2014, a proportionally higher level of Irish women feared being attacked when compared to the actual number of incidents.
The report also found that fear of assault was higher among Irish women than women in countries where the rate of crime was actually higher.
The same study, which was carried out across Europe, found that more than half of all women in the EU (53%) avoid certain situations or places, at least sometimes, for fear of being physically or sexually assaulted.
Last week, statistics contained in a report by Transport Infrastructure Ireland found that 55% of Irish women said they would not use public transport after dark or late at night - and 34% of women said this had occasionally stopped them from going out.
Figures from the CSO for 2019 also show that over a four-year period (2016-2019) women were victims of between 80% and 82% of recorded rapes and sexual assaults.
Telling women to look after themselves when they go out only results in women regulating their behaviour, instead of society addressing the problem of the perpetrator.
The same figures show that almost nine out of ten (88.6%) victims of sexual violence crimes reported, where the crime occurred within one year of its reporting, were women.
That figure is almost 19% for men over the same period.
Clíona Sadlier of the Rape Crisis Network said that looking at the figures from the Central Statistics Office in relation to rape and sexual assault, any fears women might have are not unfounded.
But Ms Sadlier said a woman's fear of some places, as well as public transport, can also come from being told from a young age about risk, about the clothes women wear and how women need to mind themselves.
"Women's fear is a social construct," she said.
Director of the National Women's Council of Ireland, Orla O'Connor, said that while messages for women to "keep safe" may seem practical, they can become ingrained and instil a sense of fear.
Ms O'Connor said it is important to highlight that evidence in relation to violence against women shows the vast majority of attacks are carried out by a man known to them.
She added that the murder of Sarah Everard, where her killer was not known to her, is a rare occurrence.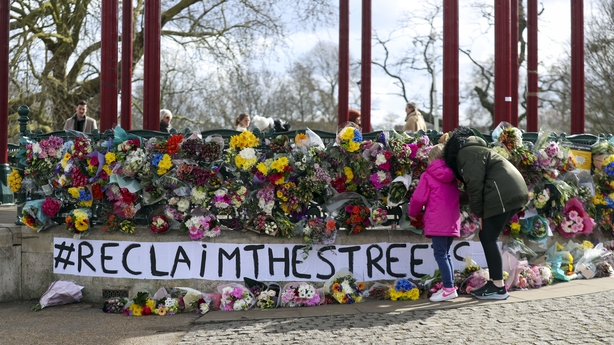 But why did Sarah Everard's death, one of many women murdered in the UK and Ireland, receive such widespread attention around the world?
Claire Edwards said it is because women in general can relate to the events leading up to the murder. Sarah Everard made a decision to walk home alone, and that's a decision many women have to make all the time. 
"Women make decisions all the time, like a form of self-regulation. What route should I take, what time should I leave?" she said.
Ms Edwards said telling women to look after themselves when they go out only results in women regulating their behaviour, instead of society addressing the problem of the perpetrator.
She said the fear experienced by women is not always related to what is actually happening on the ground; it is linked to the way people are socialised. In other words, what we learn about the world as we grow up.
Sexual harassment needs to be taken much more seriously, especially when women come forward to report it.
Being told from a young age to be careful when outside the home normalises women being afraid of public places, Ms Edwards explained.
She added that the messaging women receive is not helpful - and only reinforces a cycle of fear. "There's a certain hopelessness about it," she said.
Ms Sadlier said these messages also tell women they are responsible for the perpetrator's behaviour, when in reality they have no control over this.
So what needs to happen next?
In order to challenge this, Orla O'Connor said there needs to be an escalation in awareness and education surrounding violence against women.
As part of this, she said, sexual harassment needs to be taken much more seriously, especially when women come forward to report it. However, she said it happens so frequently it is often seen as "part and parcel" of everyday life for some women.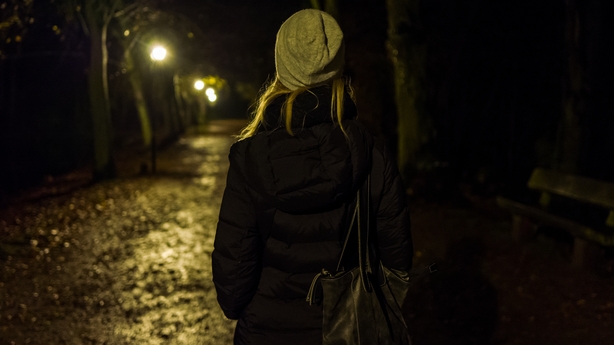 Ms O'Connor said at a societal level this "normalisation" of a culture needs to be called out. There also needs to be a stronger "justice approach" when women come forward to report attacks, including sentencing guidelines and tougher sentences.
She is also in favour of launching public campaigns to raise awareness about gender-based issues, adding that the recently introduced coercive control legislation, is an example of good forward-thinking.
But she said there still needs to be increased education around what the legislation does and what coercive control is.
Ms O'Connor also said the Istanbul Convention or the Convention on Preventing and Combating Violence Against Women and Domestic Violence, which the Government ratified in 2019, must be fully implemented.
Ultimately, she said that when women come forward, it has to lead to action.
"It's going to take time, but positive things are happening," she said.