Dozens of protesters chanting "reclaim the streets" and "we are the 97%" turned out in Dublin in solidarity with demonstrations across the world following the death of Sarah Everard in England.
Gathering at the Spire on O'Connell Street at noon today, protesters held placards saying "pandemic of gender violence", "end victim blaming" and "not one more".
Chants of "we are the 97%" reflected the findings of a recent UN survey - that 97% of women between the ages of 18 and 24 have been sexually harassed.
Activists had their names taken by gardaí and were warned they could face fines under the Covid-19 regulations if they did not disperse.
Some of those present chose not to continue with the protest, saying they could not afford the fines.
But several dozen remained at what proved to be a peaceful affair, with social distancing rules observed and masks worn at all times.
The group Rosa (Reproductive rights, against Oppression, Sexism and Austerity) organised today's demonstration, with further events planned for Belfast, Cork, Limerick and Galway.
It follows the death of Sarah Everard, a 33-year-old marketing executive who went missing after walking home from a friend's flat in London on 3 March.
Her remains were later discovered in an area in Kent a week later.
A member of the Met Police has been charged in relation to her kidnap and murder.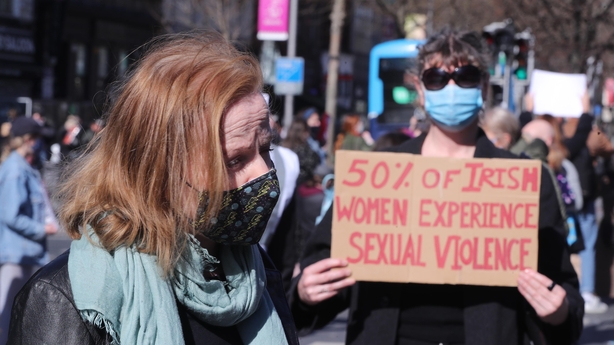 Ruth Coppinger, the former Solidarity TD and activist, urged the gardaí present to "cop on".
She added: "Be there for women when we actually need you. Not when we're trying to expose a societal-wide pandemic of gender-based violence.
"We're not here for fun. We're here because the political establishment does not care.
"Violence against women has increased during the pandemic, the UN has called it a shadow pandemic. Therefore it's necessary to keep the political pressure on the establishment to act," added Ms Coppinger.