A second person has died and 39 more cases of Covid-19 have been confirmed by the Department of Health.
This brings the total number of cases in the Republic to 129 and the total number of deaths to two.
It is understood that the patient who died had an underlying health condition.
Among the 39 new cases, 29 are male and 10 are female.
There were 21 new cases in the east of the country, 13 in the south, three in the north-west and two in the west.
There are now 163 cases of Covid-19 on the island of Ireland.
This afternoon, five new cases were confirmed in Northern Ireland, bringing the total number of cases there to 34.
Chief Medical Officer Dr Tony Holohan confirmed that healthcare workers were among the new cases.
He said he expected to continue to see an increase in cases of the disease.
Dr Holohan said that a number of countries had introduced travel restrictions and that the Department of Foreign Affairs would consider whether an update to current travel advisories was necessary on Monday.
He said that the advice for people who had travelled from at-risk countries remained the same - they should self-isolate if they have symptoms of Covid-19.
Dr Holohan said that travel for social or leisure reasons was "something that people should avoid".
Director of the National Reference Laboratory at UCD Dr Cillian de Gascun said that people who are otherwise well, but symptomatic, should stay at home.
Around 80% of cases of Covid-19 will be a mild to moderate illness, close to 14% have severe disease and around 6% are critical.
Generally, you need to be 15 minutes or more in the vicinity of an infected person, within 1-2 metres, to be considered at-risk or a close contact.
We need your consent to load this rte-player contentWe use rte-player to manage extra content that can set cookies on your device and collect data about your activity. Please review their details and accept them to load the content.Manage Preferences
Dr Holohan said there were plans to give the public a more detailed briefing of data on a weekly basis, probably on a Monday or Tuesday of each week.
He said there was currently evidence of more community transmission taking place.
Dr Holohan said that people who have symptoms should remain in self-isolation until they have taken a test for Covid-19 and received negative results.
He said there were concerns about members of the public not heeding social distancing guidelines. He said there was "non-compliance in some sectors", particularly in the 20-40 age group.
Dr Holohan said the department would continue to evaluate what was happening with social distancing.
He said it was important to maintain public transport for those who had to get to work and medical appointments.
As we all commit to the battle that is #Covid19, I express my deepest sympathies to the family & friends of the patient who died today from this. It truly breaks my heart. Time for some pubs/clubs to wise up quick. @HSELive

— Paul Reid (@paulreiddublin) March 14, 2020
As social contact takes place on public transport, Dr Holohan said the department must continue to balance and minimise the impact of public services while achieving their aims of reducing the spread of Covid-19.
He said school closures would be kept under review, adding that it was difficult to speculate about how long schools would remain closed.
There are lots of things that remain unknown about the virus, said Dr Holohan, so it was not possible to predict when it would peak.
Dr de Gascun said data from China indicated that the average duration of the illness was 14 days.
Earlier, Taoiseach Leo Varadkar said Covid-19 is a virus "that knows no borders" as he met political leaders in Northern Ireland.
He was speaking ahead of a special North-South Ministerial Council in Co Armagh to discuss coronavirus.
Mr Varadkar said: "This virus knows no borders, no nationality. It is a problem for all of us.
"Our response to it is made more difficult as we do have two jurisdictions on this island."
---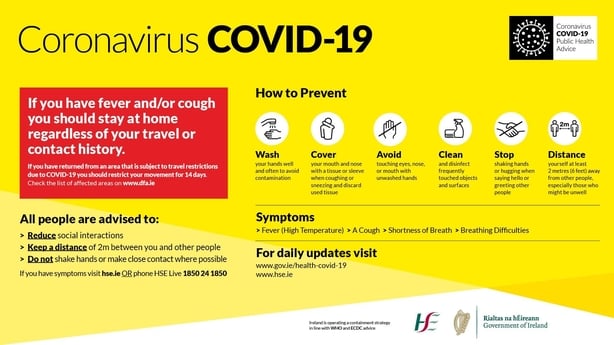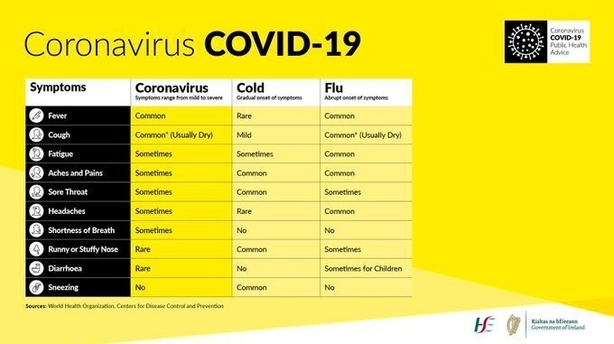 ---
The two administrations, north and south, are committed to cooperation in efforts to halt the spread of the coronavirus pandemic. However, on Thursday they decided to follow different strategies.
Mr Varadkar announced the closure of schools and colleges, and the curtailment of indoor gatherings and outdoor events.
Northern Ireland's administration is not yet introducing those measures, with First Minister Arlene Foster reiterating today that they would follow the advice of the UK medical experts.
Speaking at a joint press conference after the meeting, Ms Foster said authorities in Northern Ireland would take the necessary and decisive action when the evidence was right to do so.
We need your consent to load this rte-player contentWe use rte-player to manage extra content that can set cookies on your device and collect data about your activity. Please review their details and accept them to load the content.Manage Preferences
However, Deputy First Minister Michelle O'Neill disagreed and called for a consistent approach on the island.
She said "the situation now is about people" and people want decisive action and political leadership.
Ms O'Neill said all parties in Stormont agree that schools are going to close, but it is matter of when, and she called for it to happen immediately.
Mr Varadkar acknowledged the different approaches on the island, but said the main differences concerned the timing of the introduction of measures.
He said there would be lots of coordination and information sharing on both sides of the border.
Mr Varadkar said: "There will be differences of approaches over the next few weeks and months.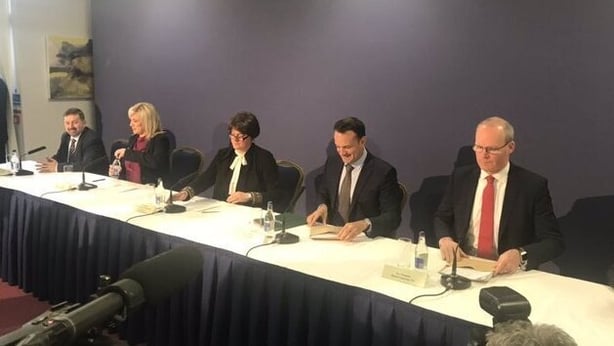 "What there isn't any difference about is our common objective, which is to slow down this virus and push it back as much as possible and limit the harm to human health."
---
Read more
---
Tánaiste Simon Coveney said we are confronted with a challenge that many could not have imagined and both administrations will work to inform people accurately.
He said the focus will be on how we can protect vulnerable communities.
Elsewhere, the Chief Executive of the Irish Kidney Association has said he expects the level of organ donations to drop off significantly in the period ahead, as Intensive Care Units in hospitals will likely be overwhelmed due to the Covid-19 pandemic.
Mark Murphy was speaking after Beaumont Hospital in Dublin sequestered the Irish Kidney Association facilities in the hospital grounds as part of the Beaumont Hospital Covid-19 contingency plans.
The HSE has been asked by the Public Health Emergency Team to identify 10,000 beds in various locations for Covid-19 cases as part of national contingency planning for the pandemic.
The Irish Kidney Associations facility at Beaumont consists of 30 en-suite rooms located 100m from the front door of the hospital.
It is used to provide family and kidney transplant patient support services and was built on the hospital grounds by the Irish Kidney Association.
The HSE said that GP out of hours services, HSELive and emergency numbers 112 and 999 have been receiving a very high number of calls today from people seeking access to testing for Covid-19.
GP out-of-hours services said they have been "swamped" by calls from people looking to be tested since yesterday evening, which they say is something they cannot provide. 
The HSE said it was working to have "new electronic processes" in operation from Monday to deal with the increased demand in testing.
In a statement, it said: "While GPs have had access for some time to testing through the National Ambulance Service, given the increased requirement for testing, the HSE is working to have new electronic processes operational from Monday, March 16 next to allow General Practitioners more easily order testing for patients where clinically indicated."
It said members of the public who have normal cold- and flu-like symptoms or who believe they may have been in contact with Covid-19 are being asked to self-isolate and to ring their GP on Monday, who will then be in a position to triage patients appropriately and order a test where needed.
The HSE said it is working this weekend to ensure that sufficient testing facilities are in place by then to meet the demand.
"GP out of hours services are not in a position to order testing for patients with normal cold and flu like symptoms."
The HSE's information line is also similarly not in a position to order testing for members of the public, it said.
The public are being asked to only use 112 or 999 for medical emergencies at all times.
"While we appreciate people's concern about Covid-19, we would ask for their patience as we respond to the increasing requirement for testing," said Dr Colm Henry, Chief Clinical Officer of the HSE.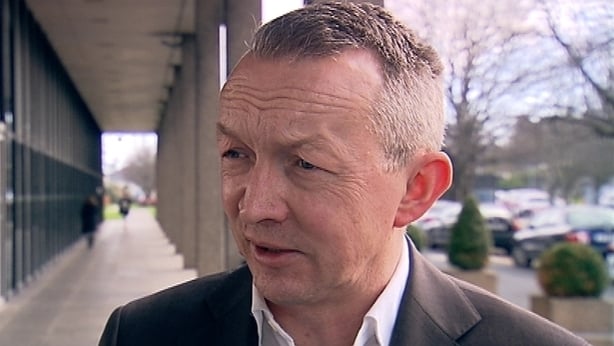 The Medical Director of the D Doc and E Doc services, which provide out of hours services to about one million people in north and south Dublin, said the influx of calls has caused "significant delays" to their ability to call patients back.
They are concerned that people who are acutely ill are having problems getting through to their services.
Reporting Tommie Gorman Vincent Kearney, Samantha Libreri and George Lee