The Taoiseach has said Budget 2020 is about shielding Irish citizens from the worst of a no-deal Brexit.
Speaking in the Dáil, Leo Varadkar said it was notable that Sinn Féin, Labour and the Green Party all based their budgets on an orderly Brexit.
He said such an outlook was convenient, but was not realistic for managing an economy and safeguarding people's lives.
He said the Green Party made only one mention of Brexit in their proposals and said Sinn Féin had their head buried in the sand.
Mr Varadkar said Budget 2020 would also ramp up investment in economic and social infrastructure, protect the environment and "make life a little bit easier for families, the elderly and the most poor."
He said despite planning a no-deal budget, it doesn't mean they believe there will be no-deal.
He said it just means they will not need an emergency budget because "this is the budget that will protect us in the worst of no-deal."
He said €365m was being provided for social protection for income replacement and training activation for people who lose their jobs in the case of a no-deal.
While €45m was being provided for people living in adversely affected parts of the country, like the border area.
He said they are using budget 2020 to step up climate action and that the increase in the carbon tax was "modest but meaningful", and that it puts the government on track to meet its target of €80 per tonne by 2030.
He said between now and 2030 the carbon tax would raise an extra €6.5bn which would be be ringfenced for climate action. He added that this was on top of the €22bn already allocated for climate action in Project 2040.
He said €52.8m was being made available to retrofit the homes of people living at risk of energy poverty through the warmer Homes Scheme. He said €13m of this funding is revenue that comes from the carbon tax through the ring fenced fund.
Over the coming years he said, free GP care would be extended to all children between 6 and 12 years, starting with the extension of free GP care to all children aged 6 and 7 beginning in September 2020. He said the move will require primary legislation.
He said the National Childcare Scheme would begin in November, with those already eligible receiving an increase in subsidies and around 10,000 previously ineligible receiving subsidies for the first time.
---
Read more:

Budget 2020: Key Points
Listen - Your Politics Budget Special
Little change unless Brexit bombshell explodes
The Brexit Budget Blunderbuss - On target or wide of the mark?
---
Minister for Finance Paschal Donohoe has defended accusations his Budget has done little to help single people.
A builder who described himself as a single worker said he had worked on the National Children's Hospital.
He accused Mr Donohoe of spending money "left, right and centre" and doing nothing for people who "get up at 5.45am and go to bed at 9.30pm".
Speaking on RTÉ's Today with Sean O'Rourke, Mr Donohoe said tax credits for single people were changed in the previous two budgets and that he had to plan his Budget with a hard Brexit in mind.
He added: "I've put tax changes in place in my two previous budgets that have been equivalent to 1,500 euro where I've increased the point of which you pay the higher rate of income tax.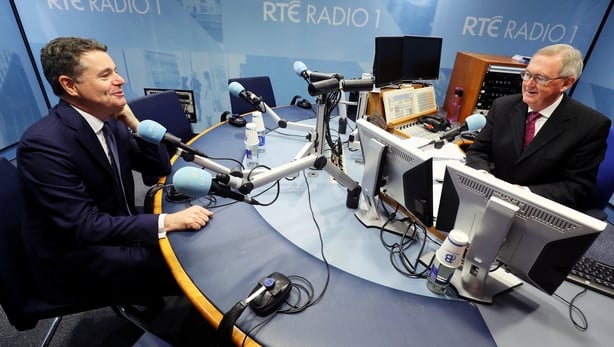 "In this budget we are better off playing it safe and dealing with a huge risk that we might have to deal with in a few weeks time.
"The changes that have happened over the last two budgets have benefited single people as much as those who are married and of course, whether you're single or married, my priority is to make sure that if we end up with Brexit going badly wrong, we're better protected than we otherwise might be."
Sinead, a mother-of-four children, one of whom has special needs, told the minister that nothing in yesterday's Budget benefits her family.
The paediatric nurse said there were no increases to tax credits or child allowances.
"There was only an increase in the cost of heating a home and getting to our work places," she said.
"With all this talk about Brexit looming and a substantial sum set aside in this budget for Brexit while we are still coming out of a recession, you are punishing us in in preparation for the next one.
"Minister, what is in this budget for me and my family?"
Mr Donohoe said: "We will be rolling out in the coming weeks a National Child Care scheme to try to give families, who are at work, more options in relation to how their children are looked after and to try to deal with a lower cost.
"What I respectfully say to you Sinead, though, is that no single budgets is capable of making much of a difference to you, as overall that a well run economy is.
"At the end of the day it's having an economy that's creating income."
Mr Donohoe also defended measures put in place in the Budget for carers.
A mother called Tracey said she works "ridiculous hours" caring for her daughter Willow who is incapacitated but said carers have got a raw deal in the Budget.
"I'm not asking to be paid for the hour, changes to means-tested and the needs of the child need to be addressed," she said.
"We should introduce needs-testing, not means-testing," she said.
Mr Donohoe said carer's allowance has the highest level of income disregard within social protection payments.
Mr Donohoe also said carbon tax must be gradually increased in order to meet the Government's commitment of increasing the price of carbon from €20 to €80 a tonne by 2030.
He said he wanted change to be done in a way that gives citizens, farms, families and businesses time to plan for it and that his decision was "informed" by the water charges controversy and the reaction to the introduction of that.
On taxes, Mr Donohoe said he is "playing it safe" by not introducing tax cuts in this Budget, with Brexit looming.
He defended the decision to make €16.8m available for the greyhound industry and was asked why this money could not be ringfenced for carers.
He said €1.4bn overall had been put aside for carers.
He told a caller that ministers Shane Ross and Michael Creed have looked to put significant changes in place to deal with behaviour that he believed was "utterly unacceptable in the greyhound industry."
Increase in carbon tax confirmed by Dáil
Some key taxation elements of Budget 2020 were passed by the Dáil last night, including the controversial increase in the carbon tax.
The number of deputies who voted in favour of the measure was 97, with only 36 opposing the increase and two TDs abstaining.
Accordingly, both petrol and diesel increased by 2 cent a litre at midnight.
The move was part of a Government plan to increase the price of carbon from €20 to €80 a tonne by 2030.
The increase will come into effect for other fuels from May next year after the winter heating season.
Mr Donohoe said the funds raised would be ring-fenced to fund new climate action measures.
Some key taxation elements of Budget 2020 were passed by the Dáil last night, including the controversial increase in the carbon tax.
The number of deputies who voted in favour of the measure was 97, with only 36 opposing the increase and two TDs abstaining.
Accordingly, both petrol and diesel increased by 2 cent a litre at midnight.
The move was part of a Government plan to increase the price of carbon from €20 to €80 a tonne by 2030.
People Before Profit TD Richard Boyd Barrett said the €6 increase in the tax was regressive and punitive.
He said it would increase fuel bills for those who are struggling.
However, Green Party leader Eamon Ryan said it did not go far enough, saying it was a status quo Budget from a status quo Government.
He said it did very little when it comes to tackling climate change.
Sinn Féin's Finance spokesperson Pearse Doherty said the Budget should have done more to give workers and families a break.
Labour leader Brendan Howlin said the poorest cohort of people would be worse off as a result of Budget 2020.
Other measures that were passed included increasing the price of 20 cigarettes by 50 cent, hiking the bank levy and also increasing stamp duty on the sale of non-residential property by 1.5%.
There were also measures passed to counter tax avoidance by large real estate funds.
Social Democrats co-leader Roisin Shortall said her party fully recognises the huge challenges facing the country in respect of Brexit, but the threat should not be used as some kind of cover for the Government in not addressing domestic issues in the Budget.
Speaking on RTÉ's Morning Ireland, she said there were a number of challenges such as the housing crisis and serious problems within the health service and what was seen yesterday was an attempt to ignore these issues or address them adequately.
The Chief Executive of Irish Rural Link said rural communities are disappointed with the increase in carbon tax.
Séamus Boland said people will "take it on the chin" but the tax, which is designed to change behaviour, probably will not have the required effect because most people cannot afford to change.
Mr Boland added that the cost is even greater for households dependent on home heating oil and called for retrofitting to be made available "across the board" to low income households.
Further statements on the Budget will be heard in the Dáil shortly after midday, while Minister Donohoe will be on RTÉ's Today with Sean O'Rourke from 10am.
Additional reporting: Paul Cunningham, Mary Regan, PA