If the Budget could be summed up in a nutshell it would be this: Little has changed and when there needs to be a big change (for a no-deal Brexit) Ireland will borrow a lot of money.
In reality, most people will notice minimal difference after Minister for Finance Paschal Donohoe's budget.
The people who benefit are the self-employed who will pay €150 less tax annually as their tax credit increases, which works out at €3 a week.
That is one more coffee in the local café.
Families in receipt of the Working Family Payment and the Home Carer Credit get slightly more.
For example a family in receipt of both, with an income under €25,000, would be €6 a week better off.
But many won't notice any difference at all.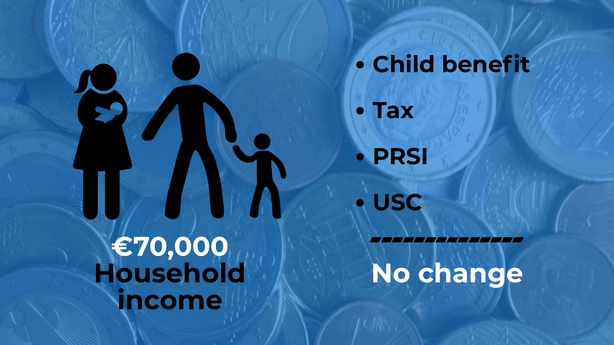 Our example above shows how a couple on a combined income of €70,000 with two children will see no change.
Not included in those examples is how much people will pay in additional carbon tax, which will add approximately €1.20 to a fill of fuel for a car or an additional €15 for a fill of home heating oil.
Also excluded are those unfortunate enough to be smokers - they will pay an additional 50c on a packet of cigarettes.
But the economic picture is far more complex.
Paschal Donohoe was very clear that this would be a prudent Budget because of the dark shadow cast by Brexit.
The cornerstone of his package is €1.2bn in funding in the event of a no deal. "If we don't need, we will not borrow it," he said.
In addition, €365m will be provided for those who lose their jobs due to the effects of Britain leaving the EU.
It is a grim figure that highlights that more people will be claiming the dole when vulnerable businesses get hit.
This year, the Government is projecting a surplus of 0.2% of Gross Domestic Product. In other words, there will be money left over after the State pays its bills.
But the Department of Finance is forecasting a significant swing in the public finances if there is a crash-out Brexit and has pencilled in a deficit of 0.6% for next year.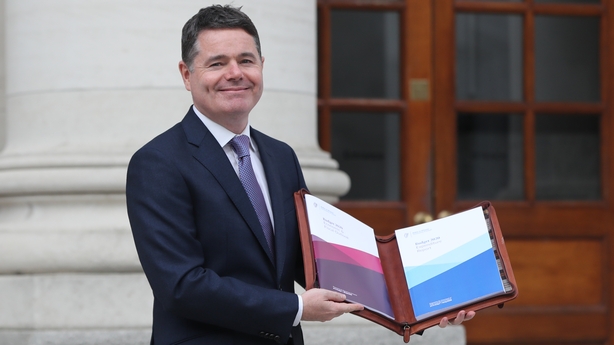 It means borrowing to run the country.
If Britain doesn't leave the EU, or if there is a deal, the Department of Finance is projecting a surplus for 2020.
During his Budget speech, Paschal Donohoe peppered his predictions with as many caveats as he could find.
But long after Brexit is sorted out Ireland and other countries will be continuing to deal with climate change.
While the minister was on his feet in the Dáil, outside Extinction Rebellion activists were protesting on Kildare Street.
So what did the Government do about climate change in the Budget?
While it did increase the carbon tax to discourage people from using fossil fuels, absent from its statement was a commitment to continue to increase the levy in future years.
The obvious option would have been a pledge to increase the tax by €6 every year until 2030 to reach the goal of a carbon tax of €80 a tonne by 2030.
Fine Gael would never have managed to secure today's increase without the backing of Fianna Fáil.
No doubt each party balanced the potential unhappiness among voters about the carbon tax against the long-term need to make progress on climate change.
Many opposition politicians were critical of the rise.
But Fine Gael is clearly wary about carbon tax becoming a stick with which it will be beaten in the next general election.
---
Read more:
Budget 2020: The Key Points
Brexit measures, carbon tax and cigarettes hike in Budget
Listen to the Your Politics Budget Special