The Minister for Finance has said that Brexit is the most pressing and immediate risk to the economy and today's Budget has been influenced by the increasing likelihood of a no-deal scenario.
As he delivered Budget 2020 to the Dáil today, Paschal Donohoe said the Budget was without precedent and the economy is poised at a point between the twin risks of overheating and Brexit.
Mr Donohoe said a no-deal Brexit will mean a slower pace of growth here.
He said that while employment growth will slow, the economy can still expect an extra 19,000 new jobs to be created next year.
An increase in tax revenue is also in prospect for 2020.
"This is a budget that has been developed in the shadow of Brexit," says Minister for Finance @Paschald as he begins delivering #Budget2020 | Live blog: https://t.co/LHQEn82cXX #brexit #nodeal pic.twitter.com/l6ffthpYex

— RTÉ News (@rtenews) October 8, 2019
But he added that the rate at which new jobs may be created could put pressure on tax revenues.
"The Government is clear about the challenges posed by Brexit," the Minister stated.
Mr Donohoe said €1.5bn would be transferred from the Ireland Strategic Investment fund into the Rainy Day Fund as he said the risk of a no-deal Brexit is now more likely.
The minister said he had originally planned to transfer €500m to the Rainy Day Fund from the Exchequer, however, he said moving money from the ISIF was a more appropriate response given the "challenging economic environment we may be facing".
---
Read more:
---
The money will be made available in the event of a no-deal, €220m of that would be deployed immediately.
Today's Budget has been met with mixed reaction from other political parties with Fianna Fáil saying the priority now has to be steering the country through "the Brexit storm". However it was met with criticism from most other parties.
Mr Donohoe announced a €6 increase in the price of carbon as a first step towards the Government's commitment of increasing the price of carbon from €20 to €80 a tonne by 2030.
He said it is the Government's intention - and his ambition - to increase this steadily to meet the 2030 target.
Here's a recap of some of the main points from #Budget2020 | Live blog: https://t.co/LHQEn82cXX pic.twitter.com/K1Yl9nuGug

— RTÉ News (@rtenews) October 8, 2019
The increase will apply from midnight tonight to auto fuels but the increase to other fuels will be delayed until May 2020 - after the winter heating season.
The increase is expected to raise €90m in 2020. All of this will be ring-fenced to fund new climate action measures, the minister said.
The Minister said that while Brexit is the country's most immediate economic risk, climate change is the "defining challenge" of our generation.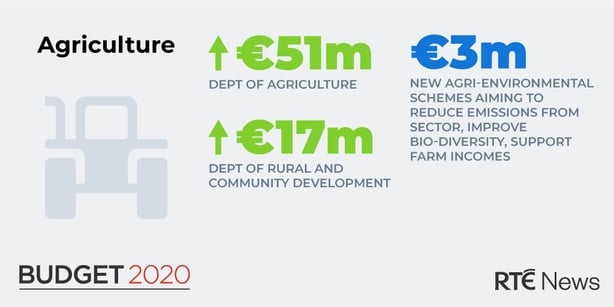 In other climate-related tax changes, the Finance Minister said that the 1% diesel surcharge - introduced last year - will be replaced by a nitrogen oxide emissions-based charge.
This will apply to all cars registering for the first time in January.
Minister for Finance @Paschald says Ireland's corporation tax rate will not be changing #Budget2020 | Live blog: https://t.co/LHQEn82cXX pic.twitter.com/DmxvWjId3e

— RTÉ News (@rtenews) October 8, 2019
He is allocating €5m for peatland rehabilitation - a 250% increase - which will support the reduction of greenhouse gas emissions and enhanced bio-diversity.
Mr Donohoe said €2.7bn would be allocated to the Department of Transport, Tourism and Sport in 2020.
This is an increase of €384m on 2019.
The price of a packet of 20 cigarettes is to go up by 50c from midnight.
"This will bring the price of cigarettes in the most popular price category to €13.50," Mr Donohoe said.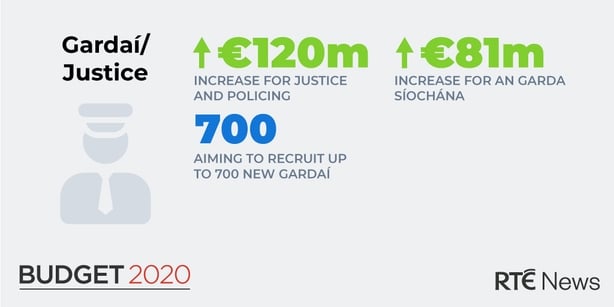 There has been an increase of €690m next year for the Department of Employment Affairs and Social Protection.
In 2020, the Living Alone Allowance will increase by €5 while there will be a €15 increase to the One Parent Family Payment as well as the Jobseeker Transition income disregards
The help-to-buy scheme has been extended in its current form for another two years to the end of 2021.
To date, some 15,000 new homes have been purchased or built by first-time buyers under the scheme.
Mr Donohoe said a further €20m will be spent on homeless services which will bring the total funding to €166m in 2020.
He said this will support people in emergency accommodation and increase preventative measures, long-term support and day services.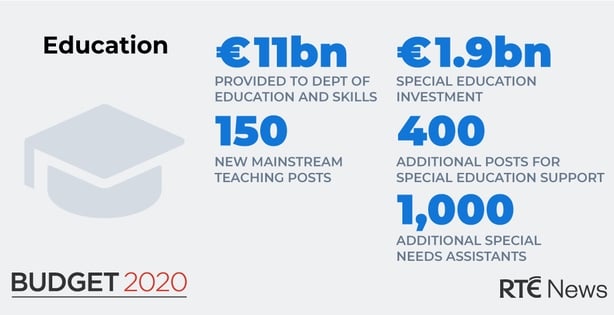 On social housing, Mr Donohoe is allocating capital funding of over €1.1bn to build over 1,000 new social homes next year with a further 12,000 units planned for 2021.
"Turning to our taxation system, I will not commit to across-the-board personal tax cuts at this time of economic uncertainty as to do so could potentially undermine the sustainability of our public finances," Mr Donohoe said.
"The unfunded tax cut of today is the unwelcome tax increase of tomorrow."
A reduction of 50 cent in the prescription charge is among the health measures announced.
The supplementary health budget to deal with this year's HSE overspend is €335m.