Finance Minister Paschal Donohoe has announced an "unprecedented level of funding" of €2.5 billion to the Government's Housing Programme in Budget 2020.
Noting that about 15,000 new homes have been bought or built by first time buyers under the Help to Buy Scheme, he said he will extend the initiative in its current form for another two years to the end of 2021.
The scheme had been due to wind up at the end of this year.
The Minister also confirmed an extension to the Living City initiative up to the end of 2022.
Under measures in Budget 2020, the Minister said he was raising the rate of stamp duty on non-residential property by 1.5% from tonight.
He said the commercial property market is performing strongly and he expects the increase can be borne without any significant impact.
But Duncan Lyster, managing director of estate agent Lisney, said the increase means that commercial property stamp duty has now increased 275% since October 2017.
"The Irish market has traditionally been known for being relatively transparent and easy to transact in. This change will be seen as a measure that reduces liquidity and investor sentiment," Mr Lyster said.
He also said the increase brings with it an added uncertainty to the commercial property market here.
On social housing, Mr Donohoe is allocating capital funding of over €1.1 billion to build over 11,000 new social homes next year with a further 12,000 units planned for 2021.
Mr Donohoe also said he will provide an additional €80m for the Housing Assistance Payment scheme next year, which will support 15,750 new tenancies as well as support existing tenancies getting the payment.
To help with the provision of new affordable homes, an extra €17.5m is being provided to the Land Development Agency, the Minster also said.
€186m is also being allocated to the Serviced Site Fund and Local Infrastructure Housing Activation Fund in 2020.
On the still too high level of homelessness, the Minister said he has allocated another €20m for services, which will bring total funding to €166m next year.
Mr Donohoe also said that the high cost of renting remains a concern for the Government and to this end it has introduced 44 rent pressure zones around the country.
"I am providing almost €2m in additional funding to the Residential Tenancies Board to support their increased powers to investigate and sanction non-compliance with rent pressure zone measures," he told the Dáil.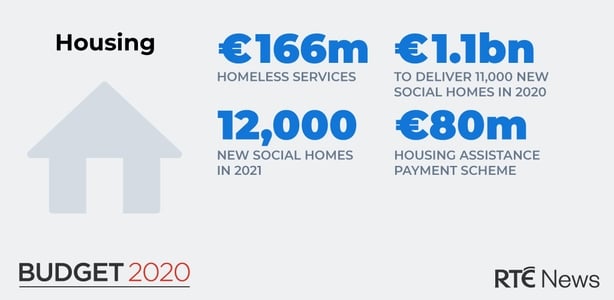 The Construction Industry Federation has welcomed the continuation of the Help to Buy scheme but warned it would not address affordability issues or rising construction costs.
In a statement, the CIF said what needs to be addressed is the cost of homebuilding where taxation, levies, finance and fees equate to over 30% approximately of the price of new homes.
It said the increase in stamp duty will mean a further land transaction fee adding to overall costs and potentially affecting viability of marginal projects.
Director General of CIF, Tom Parlon, said: "Over the last two budgets the Government has committed significant amounts to capital investment. However, at a local level, there is a slow-down in public sector project commencements.
"CIF members, particularly outside the Dublin area, are reporting stalling project delivery. If cities like Galway, Cork and Limerick are going to grow at the rate required to cope with Ireland's growing population, then delivering infrastructure more efficiently is essential."
Savills Ireland said raising stamp duty on commercial property purchases from 6% to 7.5% was unhelpful in selling Ireland as a stable and predictable place to do business.
Savills said this was the second time in three budgets that commercial stamp duty was unexpectedly increased.