There is much to take in from Budget 2020, but how will it affect you? Here are some of the key points on how Budget 2020 will impact sectors across the country.
Brexit
Paschal Donohoe said his decisions were influenced by the increasing likelihood of a no-deal Brexit.
A €1.2 billion package has been announced, excluding EU funding, to respond to Brexit
€200 million in Brexit expenditure will be available next year, to be allocated across a number of departments and agencies to increase staffing and upgrade infrastructure.
If a no-deal Brexit happens, Mr Donohoe said the Government will intervene to further protect our economy. He said it would be borrowed money, but "If we do not need it, we will not borrow it."
Employment growth will slow, but an additional 19,000 new jobs are expected to be created next year.
Measures announced in case of no-deal include:
€650 million will be made available to support the Agriculture, Enterprise and Tourism sectors. €220 million of that would be deployed immediately.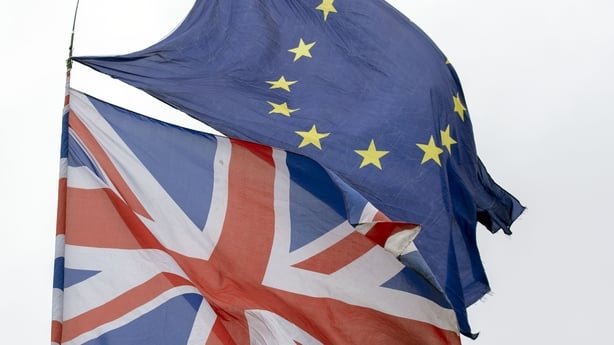 The Government would only borrow money if it needs to intervene to protect the economy.
Support issued by way of grants, loans and equity investments would include a €45 million transition fund.
€5 million would be made available to Micro Finance Ireland and €5 million for a Local Enterprise Offices Emergency Brexit Fund.
€110 million will be provided through the Department of Agriculture - €85 million for beef farmers; €14 million for fisheries; €6 million for other livestock farmers and mushrooms sector; and €5 million for the food and drinks processing industry.
€40 million of funding would be provided to the tourism sector.
€365 million would also be provided for extra Social Protection spending on the Live Register and related schemes.

---
Rainy Day Fund
Mr Donohoe said his original intention was to transfer €500m to the Rainy Day Fund from the Exchequer this year, with an additional €1.5bn being transferred from the Ireland Strategic Investment Fund.
He said that the €1.5 billion will be transferred to the Rainy Day Fund, given that a no-deal Brexit is more likely, but he will not transfer the additional €500 million this year.
---
Economy
Public capital investment will increase by 22% this year.
Tax revenues in line with forecasts with €40.7bn collected to end of September, an annual increase of 8.7%. Mr Donohoe said we expect to meet our revised target of €58.6 billon by end year.
GDP growth forecast at 5.5% for this year. Economy is forecast to grow by 0.7% next year.
0.2% surplus in GDP projected, although a 0.6% deficit is forecast in the case of a no-deal Brexit.
Total voted expenditure in 2020 will be €70 billion.
---
Health
Total health budget for 2020 will be over €17.4bn - the largest allocation ever.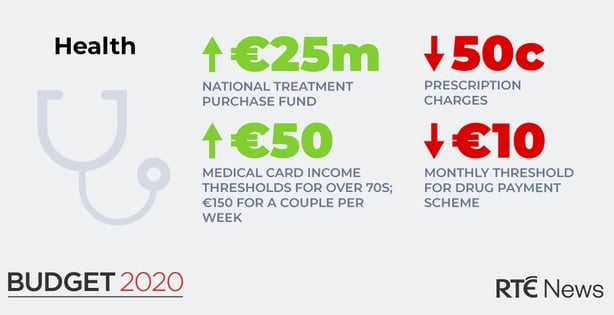 Most of extra funding aimed toward pay increases arising from deal with nurses and midwives
There will also be a supplementary health budget of €335m this year to deal with HSE overspending - which will include €26 million for a winter plan.
An additional €25 million in the National Treatment Purchase Fund to reduce waiting lists.
Prescription charges for all persons reduced by 50 cent.
Monthly threshold for the Drug Payment Scheme is being reduced by €10 per month.
Medical card income thresholds for people over 70 increased by €50 for a single person or €150 for a couple per week.
Free GP care to be expanded to children under eight and free dental care for children under six.
One million additional home care hours will be provided in 2020.
Excise duty on a pack of 20 cigarettes increased by 50 cents, with a pro-rata increase on other tobacco products – brings average price to €13.50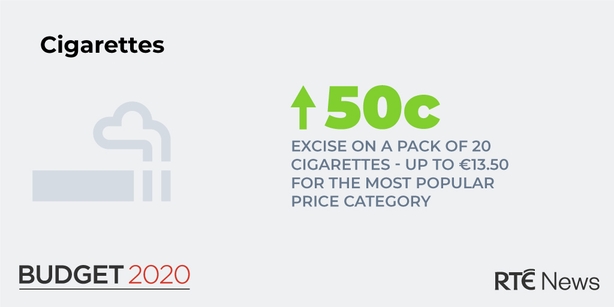 ---
Housing
€2.5 billion to the Housing Programme in 2020.
Capital funding of over €1.1 billion allocated to support delivery of 11,000 new social homes in 2020. A further 12,000 units will be delivered in 2021.
An additional €80 million for the Housing Assistance Payment scheme next year.
Help-to-Buy scheme extended in its current form for a further two years until end of 2021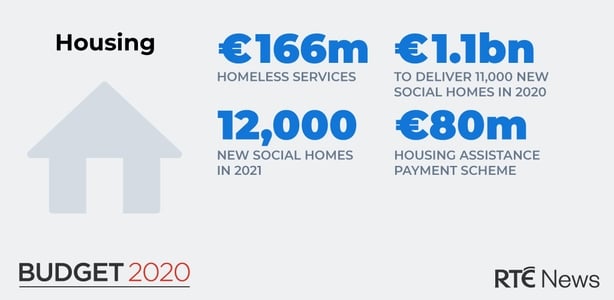 Almost €2 million in additional funding to the Residential Tenancies Board
Stamp Duty applicable to non-residential property increased by 1.5% with effect from tonight.
To help with the provision of new affordable homes, an extra €17.5m is being provided to the Land Development Agency, the Minster also said
€130 million in Urban Regeneration and Development funding available next year.
---
Homelessness
A further €20 million for homeless services bringing total funding to €166 million in 2020.
---
Social Welfare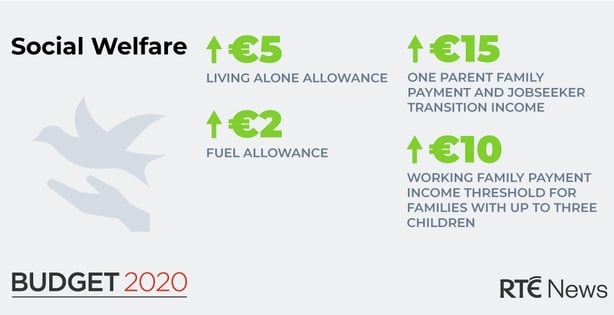 Increase of €690m next year for the Department of Employment Affairs and Social Protection.
The minister announced a payment of 100% Christmas bonus to all social welfare recipients this year.
In 2020, the Living Alone Allowance will increase by €5.
€15 increase to the One Parent Family Payment as well as the Jobseeker Transition income disregards
Working Family Payment income threshold will increase by €10 for families with up to three children.
The Qualified Child Payment will increase by €3 for children over 12 and €2 for children under 12.
Fuel allowance will increase by €2.
€13 million is to be made available to the Warmer Homes scheme to provide free energy efficiency upgrades to households deemed to be at risk of energy poverty.
---
Climate measures and Carbon Tax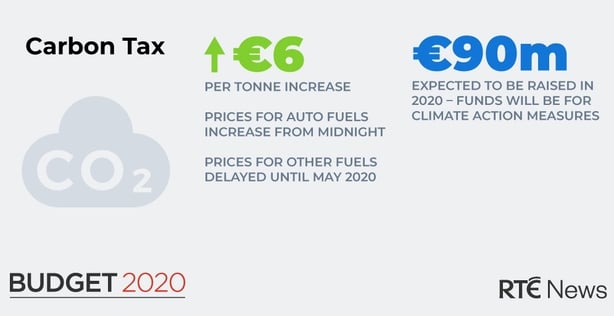 Climate Action Plan will be supported by the climate related National Development Plan investment of €8.1 billion and a further €13.7 billion of investment by our State companies.
Price of carbon from €20 today to €80 per tonne by 2030, raising an additional €6 billion.
Instead of a larger increase in any one year, first step will be a €6 increase towards the 2030 target – which will apply from midnight for auto fuels. Delayed for other fuels until May 2020.
The measure will raise €90 million in 2020 all of which will be ring-fenced to fund new climate action measures.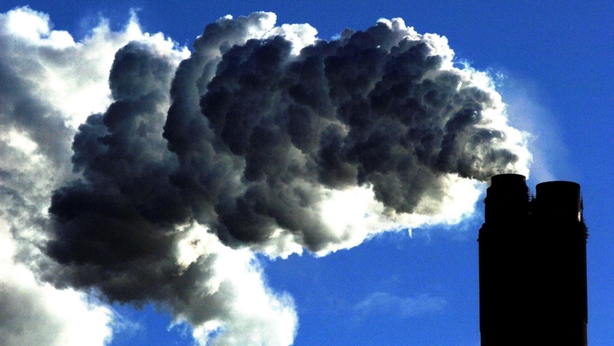 €20m will be dedicated to the creation of a new energy efficiency scheme
A further €5 million for peatland rehabilitation, toward the reduction of greenhouse gas emissions and enhanced bio-diversity.
A dedicated new 'Just Transition Fund' is being created, devoted to priorities identified by local communities. €6m will be available for this fund in 2020.
1% diesel surcharge introduced last year being replaced with a nitrogen oxide (NOx) emissions-based charge, which will apply to all cars from 1 January next year. The charge will apply on a euro (€) per milligram/kilometre basis, with the rate increasing in line with the level of nitrogen oxide emitted.
Electricity tax rates for business and non-business will be equalised
---
Business
€1 billion allocated to the Department of Business, Enterprise and Innovation in 2020 – a 2% increase
€10 million will be allocated to a Disruptive Technologies Innovation Fund.
The annual investment limit for the Employment and Investment Incentive will be increased to €250,000.
An annual investment limit of €500,000 will be introduced for investors who are prepared to invest in the EII for ten years or more.
Research and Development tax credit would be increased from 25% to 30% for micro and small companies.
An increase to the limit to third-level institutes of education announced from 5% to 15%.
Special Assignee Relief Programme and the Foreign Earnings Deduction extended until the end of 2022.
Relief from betting duty and betting intermediary duty announced up to a limit of €50,000 per year.
The farm restructuring relief programme is to be extended to the end of 2022.
---
Tourism
€40m announced for tourism specific initiatives
€21 million increase announced for Irish overseas development assistance next year, meaning Ireland will provide €837 million in 2020 to be invested in less developed countries.
As well as this Ireland will double its annual contribution to the Green Climate Fund which provides financial support to reduce greenhouse gas emmissions in developing countries.
---
Agriculture
€2 billion investment in rural Ireland in 2020
An additional €51 million for the Department of Agriculture, Food and the Marine and €17 million for the Department of Rural and Community Development.
€3 million allocation to pilot new agri-environmental schemes in 2020.
Government stands ready to further increase the level of investment already in place in case of no-deal Brexit.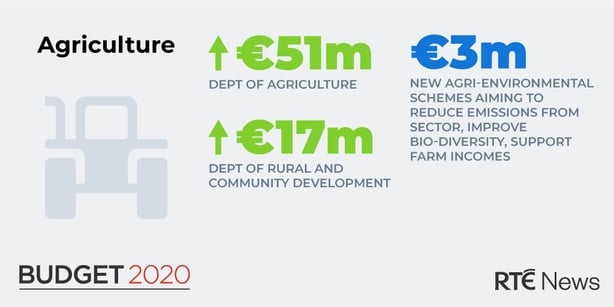 ---
Transport
€2.7 billion to be allocated to the Department of Transport, Tourism and Sport in 2020 – an increase of €384m
This funding includes a portion of the 2020 carbon tax revenues to support the sector.
€9 million announced for sustainable mobility projects around the country including for greenways and new urban cycling projects.
Additional €3 million announced for electric vehicle infrastructure.
---
Justice
A €120m increase has been allocated towards the Department of Justice and policing.
Increase in funding for An Garda Síochána of €81m, which he said will deliver up to 700 new Garda recruits.
However, this is 100 fewer than was originally planned for and promised - after Minister for Justice Charlie Flanagan told the Dáil earlier this year that up to 800 new Gardai would be recruited in 2020 and An Garda Siochana advertised for eight hundred new recruits in April.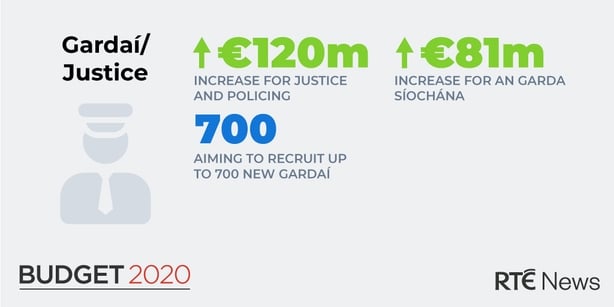 Extra civilian staff will allow more trained guards to return to frontline policing.
Plans for the building of a new forensic science laboratory and the redevelopment of Limerick prison.
New Garda offices in Dublin to replace Harcourt Square and further investment in the technology to allow the Garda's digital strategy to advance.
Education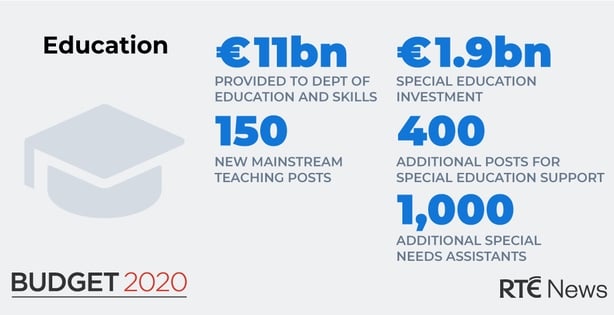 €11 billion is to be allocated to the Department of Education - including an investment of €1.9 billion to special education.
Allows for the hiring of 1000 additional SNAs and 400 additional teaching posts to support those with special educational needs.
Also allows for 150 new mainstream teaching posts.
0.1% increase in the National Training Fund Levy, which Mr Donohoe said will mean a further €74 million investment in the area.
The Human Capital Initiative - an initiative to increase investment in higher education courses - will receive €60 million in 2020 to provide an additional 3,000 places in identified priority skills areas
---
Culture
The minister announced "additional allocations" for the culture, heritage and the Gaeltacht.
He said that the allocation aims to deliver the Government's Commemorations Programme in line with the advice of the Expert Advisory Group.
The minister also said that the allocations aim to increase support for artists and culture, add investment in Gaeltacht areas as well as additional support for biodiversity and the restoration of peatlands.