A rare 14ft (4.2 metre) smalltooth sand tiger shark has washed up on the Co Wexford shoreline, in what scientists believe is the first time it has been officially recorded in Irish waters.
The shark washed up at Kilmore Quay over the weekend and was first noticed by a Swiss tourist who was out walking.
Researchers say the smalltooth sand tiger shark, or Odontaspis ferox, is a species rarely encountered by humans, as it is normally found in much deeper waters offshore.
Scientists have expressed surprise at encountering the animal this far north.
While it is found in a number of locations in temperate and tropical seas worldwide, it was thought to be distributed only as far north as the Bay of Biscay.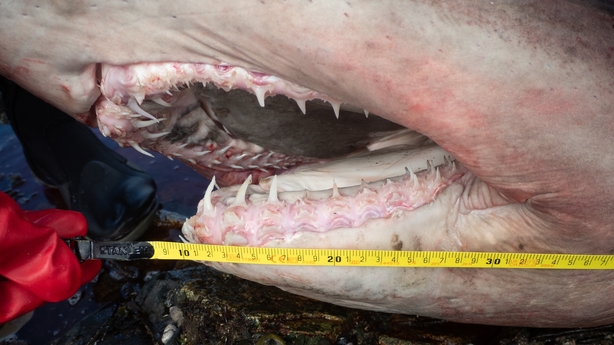 The female specimen is at the upper end of the species' size limits, given the maximum recorded size for females is around 15ft or 4.5 metres.
It is the second time in two weeks that the species has been seen this far north, after another had washed up on the south English coast.
Assistant Professor at Trinity College's School of Natural Sciences Dr Nicholas Payne described this as "a little concerning".
Dr Payne, who is a shark biologist, said a number of tests will now be carried out to try to learn what has caused this to happen, as well as to learn about the species in general.
Smalltooth sand tiger sharks are currently assessed as "vulnerable" by the International Union for the Conservation of Nature.
While not specifically targeted by commercial fisheries, they may face threats such as bycatch, or from pollution.
They are said to pose no risk to humans.
'Unusual'
Meanwhile a PhD researcher at Trinity College Dublin has said the discovery of the tiger shark is "as unusual as it gets".
Dr Jenny Bortoluzzi told RTÉ's News at One it is the first recorded sighting of the species in Ireland and it is very difficult to tell why the shark washed ashore.
She explained that the species is usually found in warm, deep, tropical waters and would only come up to the surface if the water was warm.
It is possible that the shark came here as a result of climate change, she said, but it is very difficult to tell and the animal may have been ill or gotten lost on migration.
We need your consent to load this rte-player contentWe use rte-player to manage extra content that can set cookies on your device and collect data about your activity. Please review their details and accept them to load the content.Manage Preferences
There is so little we know about the smalltooth sand tiger shark that it is very difficult to tell what might have triggered this, Dr Bortoluzzi added.
She said that scientists will run pathology tests to see if there was a contributing factor to the death, adding that scientists will also be able to find out more about the sharks biology and ecology from the animal.
Dr Bortoluzzi said the species is considered vulnerable and is facing threats in the wild, like many shark species.
She said the shark was a mature female and was "almost as big as we know they get".
This species has never been associated with a threat to humans, she said.