Environmental activists have ended a sit-down protest outside Leinster House and returned to Merrion Square.
Earlier, activists occupied Kildare Street preventing cars from leaving Leinster House.
A barrier was created between demonstrators and the gates of the building to allow politicians to leave.
The demonstrators said they were prepared to be arrested for their cause.
Separately around 200 environmental activists took part in a rally at the Garden of Remembrance.
Hundreds of EXtinction Rebellion activists demonstrating outside Leinster House this evening. Planning on marching to Merrion Square shortly #rtenews pic.twitter.com/oC0nlMQYrB

— Dyane Connor (@Dyaneconnor) October 8, 2019
The Environmental action group, Extinction Rebellion, called on the Government to go beyond a few token measures on climate action and adopt a 'Budget for Climate Justice' .
The group wants the Government to live up to its "moral and political obligation" and put a genuine response to the climate crisis at the centre of policy making in Ireland.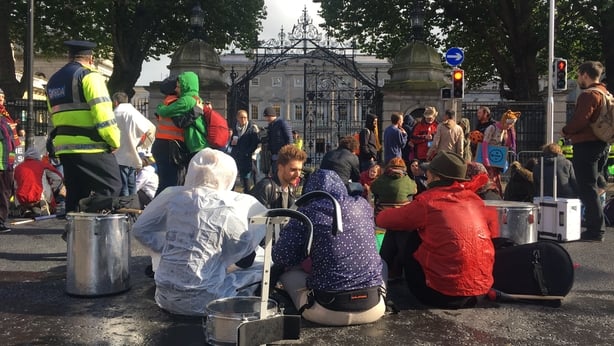 Activists have set up a camp in Merrion Square for the week and staged a "Budget for Climate Justice" event outside Government buildings.
The short performance, choreographed by a theatre director, featured a fire breather and 30 animal characters dressed in black with colorful masks.
Among the measures the activists wanted to see implemented include adequate funding for bus and cycle lanes and greater priority given to these modes of transport with particular attention paid to rural areas.
They also called for meaningful measures to reduce fossil fuel emissions to net zero by 2030.
Extinction Rebellion is also demanding that Irish farmers be supported in transitioning away from practices that emit high levels of greenhouse gases and "leave farmers vulnerable to exploitation by agri-business conglomerates."
In a statement the group said: "Most importantly of all, the changes listed above must all be made within a context of a 'just transition'".
Extinction Rebellion says it does not want the most vulnerable in society to sacrifice the most and is calling for the establishment of a Just Transition Task Force.
A spokesperson said: 'We need to ensure a more equitable future for all Irish citizens, both urban and rural, from struggling families facing fuel poverty to farming communities seeking a liveable wage for an honest day's work'.
Postcards with legal advice were handed out to the activists taking part in the protest on Kildare Street.
The postcard contained advice on what to do in the event of an arrest along with the name of a legal firm.
Merrion Street was also earlier closed to traffic while Extinction Rebellion activists demonstrated outside Government Buildings.
Around 70 tents are pitched in Merrion Square, which the group is using as its base for the week and people have travelled from all over the country including Cork, Clare, Meath and Galway.
A spokesperson for the group said the protests will cause some disruption in Dublin this week, but the protests will be focused on government and industry, rather that causing problems for the general public.
Susan Breen said a lot of different events are planned but there has been a lot of "sensationalist scaremongering" in the press.
She explained that she joined Extinction Rebellion because she is the mother of young children and she is "terrified" for their precarious future.
She said that the group will be trying to highlight what they see as climate crimes and those responsible for them.
Ms Breen said the group's aim is not to cause problems for the public and urged anyone with ideas to come and talk to them over the course of the week.