In the months, weeks and days leading up to the Budget each year, ministers spend much of their time trying to convince the Minister for Finance of the day to back their departmental spending plans.
Politically, success in Budget negotiations is measured by how much can be squeezed out of the Exchequer's coffers for use in new and expanded services and other initiatives.
This year, one of the big ticket items that approval was secured for was the no-deal Brexit mitigation package.
Yet ironically, everyone in politics here hopes that not a single cent of the cash will ever have to be spent.
Because if it is required, then the country and its economy will be in uncharted and very choppy seas.
Budget 2020 was long billed as a Brexit Budget - a chance to prep the public finances for the seismic shock that a no-deal would bring to the Irish economy.
And so it proved.
Paschal Donohoe led off his hour-long speech by setting out the Brexit mitigation measures that the Government is putting in place, in case they are needed.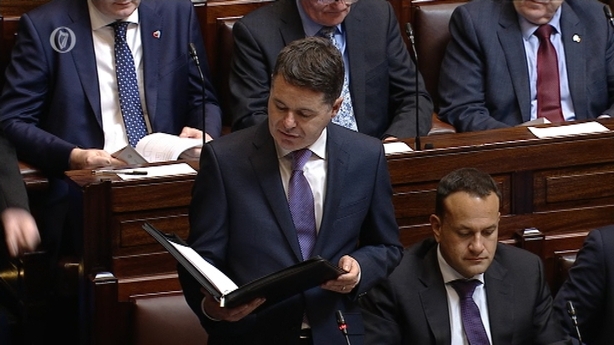 There's a €650m contingency fund for the most vulnerable sectors, including agriculture, businesses and tourism, as well as the most affected citizens and regions.
He said €220m of this will be available immediately if the UK crashes out of the EU without a deal.
Another €110m will go to the business sector to prop up vulnerable but viable companies, of which there are likely to be many, particularly in the food, manufacturing and internationally traded services sectors.
Within that there will be €42m for a "Rescue and Restructuring Fund", €45m for a "Transition Fund", €8m for a Transformation Fund for Food and Non-Food businesses ... the list goes on.
A further €110m will go to the Department of Agriculture, Food and the Marine to support the most at risk - including beef farmers who will have access to €85m and fishermen who will see €14m on offer.
The mushroom sector, livestock farmers, food and drinks processors will also have dedicated funding streams.
And with a significant fall-off in visitors from the UK anticipated following a no-deal, the tourism sector will receive €40m of the €650m fund.
---
Read more:
Brexit measures, carbon tax and cigarettes hike in Budget
Budget 2020: The Key Points
---
Tourism service providers and attractions in the border counties and south-east will be targeted, as will the British market through Tourism Ireland, while attempts will be made to boost promotion of Ireland further afield, in places like North America.
That will leave €390m remaining in the potential pot and how that will be deployed will be decided by the Government nearer the time.
With many workers expected to lose their jobs in a hard-Brexit scenario, a further €365m will be given to the Department of Social Protection to pay for the extra social welfare costs and €45m more will be spent on helping people transition to new jobs.
---
Read more:
Social welfare budget increase 50% less than previous two years
Government will only borrow if it needs to for no-deal
---
Then add in the €160m already being spent on compliance - preparing Dublin and Rosslare ports, Dublin Airport, and recruiting extra staff in government departments and agencies such as Revenue.
And don't forget the €240m being spent on multiple existing preparedness schemes.
It all adds up to nearly €1.5bn, much of which will have to be borrowed.
And that's without as yet unspecified financial assistance from the EU factored in.
You might call it a Brexit Budget blunderbuss.
But will it be enough to protect the economy and the jobs of tens of thousands of workers?
The honest truth is we simply don't know.
There are so many variables at play that plotting the true extent of the fallout from a potential no-deal Brexit is next to impossible.
If the reaction of interest groups is anything to go by though, it won't be sufficient.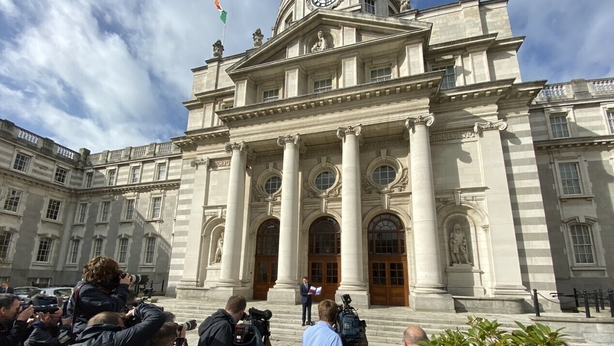 Already hard-pressed beef farmers said the €110m will only get them back to where they were last May when the Beef Exceptional Aid Measure was introduced to assist them.
The tourism sector too felt that more should have been done. The Restaurants Association of Ireland, which had campaigned vigorously for the return of the lower 9% VAT rate for the hospitality industry, described its omission as "a major blow".
It also argued that even if extra money is given to agencies such as Fáilte and Tourism Ireland after a hard Brexit, that does not have an immediate or positive effect on individual businesses.
Sentiments echoed by the Irish Hotels Federation and the Irish Tourism Industry Confederation, which estimates a no-deal would cost the sector €390m and 10,000 jobs.
---
Read more:
Carbon tax to be increased by €6 per tonne
€2.7bn allocated to transport with climate action plan in mind
---
Not everyone was so negative though. The British Irish Chamber said the supports would be an important protection for business.
The Irish Exporters Association also welcomed the Brexit package, although expressed concerns that the €110m for vulnerable businesses may not be enough.
And Ibec, which had sought a support package for business of €1.5bn over three years in the event of a no-deal Brexit also broadly offered its approval.
The Government says if further funding is required, it stands ready to do more.
But the question that everyone now wants an answer to is - will any of it be needed at all?