One of Ireland's top companies has warned that a hard Brexit could cause havoc at Dublin Port and put up the price of exporting for nearly 75% of Irish industry - and all because of the threat of a little beetle.
CJ Sheeran is a timber pallet manufacturer headquartered in Mountrath, Co Laois, and with other plants in Mayo and Dublin.
It employs over 150 people in Mountrath - nearly all of whom live locally.
It's a real family-based company with very strong family connections within the business , almost everyone employed is someone else's brother, father, son, sister, cousin, as Ashleigh Doyle the compliance director from Sheerans said.
"The firm is now 25 years in business" she explained. "Some of the employees have worked on this particular site in Mountrath for over 50 years - having worked at the old sawmills before CJ Sheeran took over, but now comes the real threat of Brexit and the potential for very serious change."
We need your consent to load this rte-player contentWe use rte-player to manage extra content that can set cookies on your device and collect data about your activity. Please review their details and accept them to load the content.Manage Preferences

The currency of boom
The humble pallet sector is seen by many in industry as an extraordinary barometer of the economy with its annual outputs aligned to GDP.
The majority of goods exported from or imported to Ireland are palletised. The UK is Ireland's second largest export market and our largest import market.
At CJ Sheeran, almost two million pallets are produced every year and another two million are recycled. They export some pallets directly to the UK, but 85% of what they produce is indirectly exported all over the world by their customers, with some of the country's best known brands on board.
Around 40% goes to the UK or to the continent via the UK's land bridge and here's where the problem arises.
---
---
Sheeran's customer portfolio encompasses almost every industry: food, dairy, infant nutrition, ingredients, drinks, distillery, meat, seafood, medical devices, pharmaceutical, technological – you name it, their pallets ship it - but now every one of those customers is facing a new challenge, how to be prepared to be shipped out of Ireland driven on a pallet through the UK.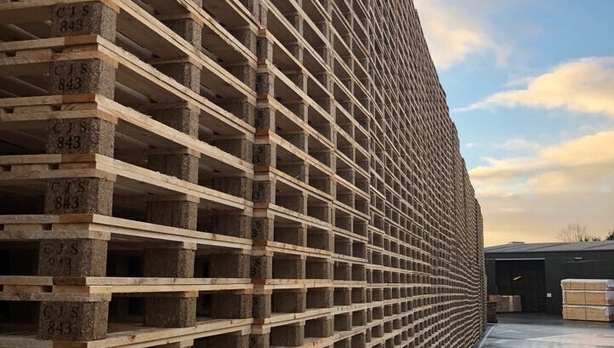 If there is a no-deal Brexit on 12 April and the UK crashes out, all of these exporters are going to be affected because of a critical globally agreed rule, which governs the movement of pallets and other wood packaging material throughout the world.
It's all about the hidden 'guest carrier' in the timber - a little beetle that could be a destroyer.
Known as ISPM15, this regulatory rule is designed to stop the spread of invasive insects such as the bark beetle and the pinewood nematode from spreading its reach around the world's great forests and woods.
The rules state that all timber packaging needs to be heat-treated to eradicate such pests and marked with a special mark. Currently pallets moving within the EU do not have to be heat-treated as the EU enjoys single country status but if the UK crashes out later this month it will become a "third country" and the "bark beetle rule" will come into effect immediately.
Hard Brexit could put up price of exports for nearly 75% of industry pic.twitter.com/SGp1spaBaf

— RTÉ Business (@RTEbusiness) April 4, 2019
There is a potential boost here for Sheerans and all other pallet manufacturers around the country - at least initially.
Some manufacturers are already preparing for a no-deal scenario by installing new kilns to increase their heat-treatment capacity, investing in warehousing and recruiting more employees, but they still say they're very concerned for their customers.
Most in industry know that the vast implications that a hard Brexit will bring (such as sharp increases in costs, customs inspections and delays, tariffs and all of the associated red tape) will be very difficult to work through and to work with.
Pallets are often the last piece in the puzzle for exporters and yet they are one of the most critical components necessary to actually physically move the goods.
There is some awareness growing about the problem in recent weeks.
Crisis meetings were held in the UK with the Department for Environment, Food and Rural Affairs (DEFRA) to discuss this scenario, the shortage of the 'right kind' of pallets and how they are going to keep goods on the road.
Sheerans have been working with the Department of Agriculture, Food and the Marine here to keep the industry and pallet users informed and prepared. The full extent of the problem and the delays it will cause may not be really known until that hard Brexit day actually hits - if it does – but MD of CJ Sheeran Pallets Mark Sheeran says long delays would be inevitable at Dublin port and it could prove costly too.
How will the Midlands fare?
What does this mean for those at the heart of the pallet sector in Ireland? First and foremost, there must be a concern for people's jobs and also for the future plans for the business.
While Sheerans and others see the pallet heat-treatment rules for export as an opportunity for growth, they are more than worried that this extra business will be fleeting and that if UK business actually falls then their customers exports may well shrink in size because of Brexit, and so too will their pallet orders.
Brendan Hogan looks after recycling in the company and says he is particularly worried about the effect on agriculture.
"The UK will have to improvise and source their own products or at least try to do it" he says, "that can only mean less orders for Irish agri-food suppliers and we all know this has wider consequences for the economy here. If the UK coughs we normally get a cold in this country - this time we could end up with pneumonia if we are not careful about preparing."
Peter Rice is from the Mountrath area and knows how much the community depends on Sheerans for new jobs. The livestock mart in the town closed a few weeks ago and that caused a ripple of discontent in the area but Peter says Mountrath needs a strong local industry.
"Everyone that works here has been here for a long time and the town is very proud to have a business here that we have all helped to build " he said.
"We work together, we live together, we eat together, we hurl together. Almost everyone in the town here has some connection with the business and we have great plans for the future."
"We want to protect the local economy too" Ms Doyle said.
"Mountrath has suffered enough with the by-pass and the recent loss of the cattle mart. Brexit will be hard enough on the economy let alone a no-deal Brexit.
"We are ready to deal with whatever comes our way but why try to fix something that is not broken."