The United Kingdom will be a "different" place after Brexit, British Prime Minister Theresa May has said.
As she conducted a whistle-stop tour of Northern Ireland, Scotland, Wales and England to mark a year until Brexit day, Mrs May called on UK citizens to "come together" to seize the "great opportunities" she expects as a result of EU withdrawal.
Mrs May said additional money will be available to spend on priorities like the NHS and schools once Britain is no longer sending "vast sums" annually to Brussels.
We need your consent to load this rte-player contentWe use rte-player to manage extra content that can set cookies on your device and collect data about your activity. Please review their details and accept them to load the content.Manage Preferences
But, in a BBC interview, she steered clear of repeating Boris Johnson's term "Brexit dividend" and twice ducked the question of whether she believes Brexit will be "worth it".
"I think there are real opportunities for the United Kingdom," she told interviewer Laura Kuenssberg.
"I think it's a bright future out there. And yes, I think Brexit is going to deliver a country that will be different, but I think there are real opportunities for us as an independent nation for the future."
Speaking earlier in the day to LBC radio, Mrs May said she was "looking forward" to Brexit day on 29 March 2019.
"Yes, I am looking forward to it because it presents great opportunities for the United Kingdom," she said.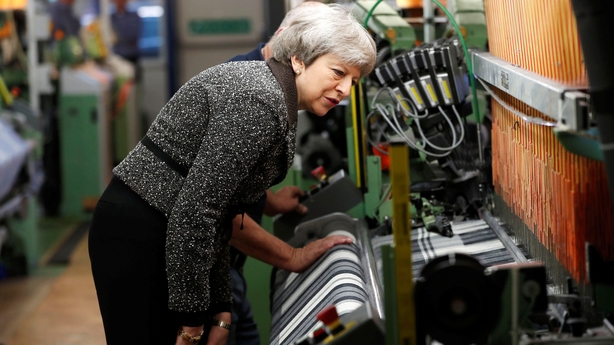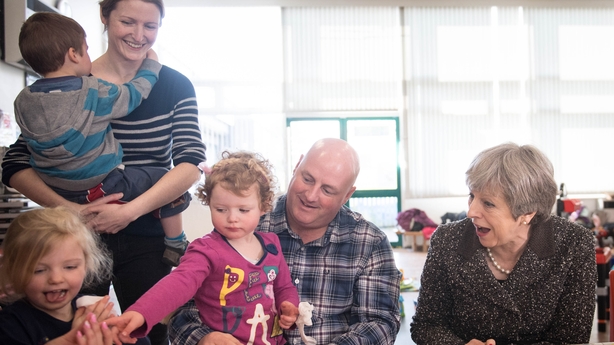 Mrs May kicked off her tour with a visit to a textile company in Ayr, Scotland, before attending a mother and toddler group in Newcastle, England, and taking lunch with farmers near Belfast.
She was later due to go on to Barry in Wales for a round-table discussion with businesses, before completing her tour in west London with a group of Polish citizens who have made the UK their home.
---
Read more:
Brexit: The battle for the Customs Union
Brexit: The five key players
Brexit timeline: One year to go
Brexit: The challenges ahead
---
Speaking ahead of her trip, Mrs May insisted that each of the devolved administrations will see "an increase in their decision-making powers" as a result of the return of responsibilities currently exercised by the EU.
Her government remains "absolutely committed" to the devolution settlements, she said.
And she restated her rejection of EU proposals that would effectively create an administrative border down the Irish Sea by keeping Northern Ireland in the customs union.
"As the Prime Minister of the United Kingdom, I have an absolute responsibility to protect the integrity of the United Kingdom as a whole," she said.
"That means ensuring that no new barriers are created within our common domestic market and that the UK is able to meet its international obligations in the future.
"No Prime Minister could leave these things to chance, because they are absolutely crucial to our success as a country in the future."
Mrs May's all-day plane trip comes amid polling suggesting the UK remains deeply divided over Brexit, but has little appetite for a second referendum on the issue.
One survey this week recorded a 53%-47% lead for continued EU membership. But 65% in a new ComRes poll for the Daily Express said they did not want a second referendum and 68% said that Remain voters should respect the will of the majority who backed Brexit.
Ibec concern over Brexit process
Elsewhere, business group Ibec has written to Mrs May to express its deep concerns at the way the Brexit talks are moving.
It says a comprehensive EU/UK customs and regulatory alignment is overwhelmingly in the economic interests of both parties, describing British plans for a Free Trade Agreement as a significant deterioration of the current relationship.
Earlier this month, Mrs May wrote to Ibec to inform them about the free trade agreement she was proposing to the EU as a way of minimising tariffs, quotas and customs checks when Britain leaves.
Today, Ibec Chief Executive Danny McCoy has replied, saying a free trade agreement would be a significant deterioration of the current relationship and would come with heavy economic costs.
Instead, he said the UK and EU should aim for a comprehensive customs and regulatory alignment.
Mr McCoy said Irish business is deeply concerned about the current trajectory of the Brexit negotiations, and is disappointed Mrs May's letter failed to mention Northern Ireland.
"After years of moving forward together, we are now going backwards", he said.
The President of the Derry Chamber of Commerce has said that there is uncertainty surrounding how Brexit might impact on business, adding there has been little political leadership in Northern Ireland.
Speaking on RTÉ's Six One, Jennifer McKeever, who owns a business in Derry, said a third of her customers cross the border each day.
She said the last two years have been pretty grueling and it is frustrating that there is very little detail on how Brexit might effect.
Additional reporting Sean Whelan and PA