This past year has seen many businesses bypass the challenges the Covid restrictions have brought them and delivered new products to market.
As part of our Boost My Business initiative Fiona Alston spoke to four companies who have launched new products into the alcoholic drinks market. 
Co Down native Rory King first discovered his appetite for hard Seltzer two years ago in Canada where he was working for Irish cream liquor brand Coole Swan building up their international sales.
He first read about the low-calorie alcoholic drink in an article on LinkedIn and little did he know at the time it was the acorn that would grow into his own brand Grizzly Hard Seltzer.
"The next day I went into an off licence in Canada which I was selling Cool Swan to, and there was a guy giving out samples of the brand I'd just read about," says King
Turns out it was the owner of the brand. A conversation over drinks and food ensued and King was keen to represent this brand in Ireland. In the end the brand expanded into ten states in America and King started to think in a new direction.
"The next best thing was to develop my own brand," he says.
"In January and February 2020, I started putting things together," he continues, "I had to design my labels, get someone to manufacture it, which I found in Dundalk, and I had to trademark everything, it was just one step after the next."
"I eventually got the prototypes out in June and July and we properly launched in on the 1st of August last year," he adds.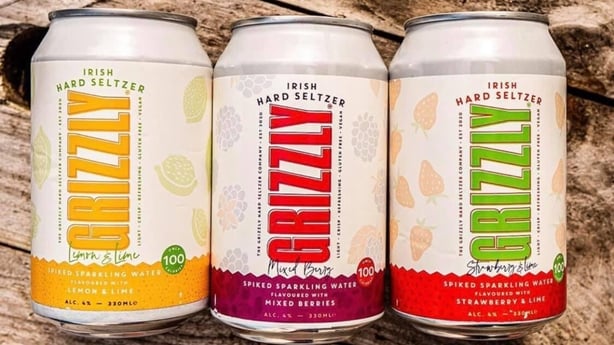 King was so optimistic about how hard seltzer would be received in Ireland, even the pandemic couldn't shorten his stride.
"This concept was going to be the next big thing in Ireland, there was no stopping me pandemic or not," he says. "Obviously without bars being open it has hindered me a bit but there's always ways round it and I feel nine months in we've done as well as we could have done."
For the moment Grizzly Hard Seltzer is a one-man band operation and King is growing the business as it comes with an initial investor, the rest of the assets are hard graft and a passion to introduce his 'boozy water with natural flavour'.
"It's a light refreshing drink which is low calorie, low carbs, low sugar, vegan friendly and gluten free, it ticks every box," he says. "The alcohol is made from fermenting sugars."
So far Grizzly Hard Seltzer is sold in 180 shops nationwide and King's next steps are to seek funding or investment to expand the operation.
Down in Co Kilkenny at Ballykeefe Distillery there has been a new product launch. The distillery which has made a name for itself over the past few years with their gin, vodka and poitín have just released a new whiskey to the market it, a rather select market.
Ballykeefe farm at Cuffsgrange has been in Morgan Ging's family for generations. Over the years they have been producing crops to sell for beer and whiskey production and upon deciding it was time to diversify the farm they decided to give a distillery a go themselves.
After years of research Ging seized the opportunity as the licencing laws in Ireland were updated.
"Over the years I gained a lot of technical knowledge and we brought in a number of experts as well to guide us in the process," says Ging. "We also said that one of our points of distinction was going to be our environmental approach."
"We are fully sustainable, no off-farm waste, we recycle all the by-products and we've integrated it into the farm itself," he says.
The by-products are fed back out to the cattle as part of their diet. "It also gives the meat on the cattle a distinct flavour and we are marketing those as whiskey steaks," Ging explains.
As the process of making whiskey takes time, three years and one day is the minimum by law in Ireland, Ballykeefe produced white spirits to get their brand out into the market. A plan that worked very well for them having won numerous accolades both in Ireland and worldwide and their tours have made them a top tourist attraction.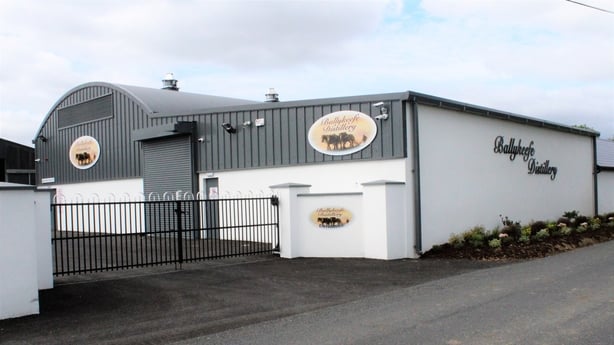 "Unlike other distilleries we chose not to put somebody else's whiskey in our bottle," says Ging, "because we want it to be 100% Ballykeefe, and also we don't sell out in bulk, we don't sell our liquids to put in other bottles."
"If you want Ballykeefe you have to buy it in a Ballykeefe bottle," he adds.
Now that the whiskey has come of age, they launched the product earlier this month.
"We did a celebration limited edition first release," says Ging. "We wanted to make it special for our supporters and our customers, there was extra effort made."
The bottles are hand engraved bottles by Kilkenny Crystal, presented in a box with its own certificate indicating which cask your bottle came from.
"There' are two levels of strength in these bottles, one is the more traditional level which is around 46% alcohol and then the other is at cask strength, which is much higher, it's around 60%," he explains. "It means it's just taken straight from the cask without adding any water to it."
"Those are presented in a bigger box with two cut glass crystal tumblers, there are only 500 of those bottles produced," he says.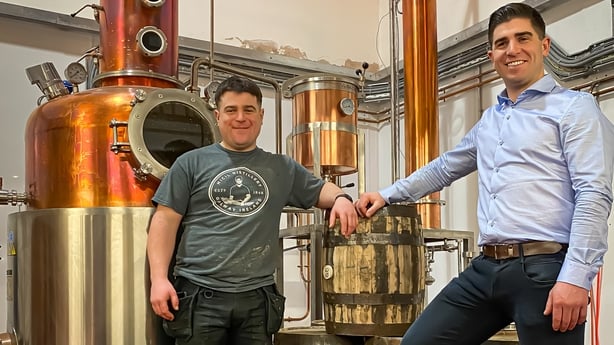 Another distillery getting into the whiskey market this year is Galway's Micil Distillery. They are producing Galway's first whiskey in 100 years.
While they are waiting for their own whiskey to mature, they've decided to go down the route of introducing a blended whiskey to their range. They've already had success producing gin and poitín.
"We'll have two independent whiskey bottlings coming to the market in July. One of them is a five part blend and the other one is a single pot still," says founder Pádraic Ó Griallais.  "We are also releasing a poitín based Irish cream liqueur – the world's first so that's going to be exciting for us."
"We started laying down our own whiskey here in Salthill and while we wait for those stocks to age, we are going to offer some of those casks to cask investors as part of a cask scheme. It's a very limited run of casks."
"With the single pot still whiskey, we've taken full control of finishing this whiskey and we've bought our own casks from around Europe and put the whiskey into those casks," he explains.
Apart from incorporating whiskey into their offering, and the world's first poitín crème liqueur Micil will also be trying to attract investment this year and are looking at expanding the operation to a new site in Connemara.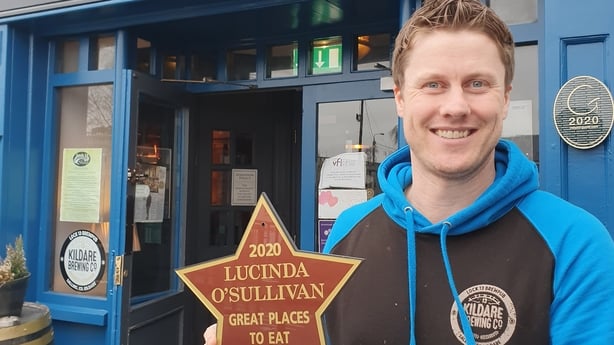 Kildare Brewing Company have also made some changes to their offering this year.
The craft brewery which is located in Sallins is part of the popular Lock 13 gastro pub. The owners of both enterprises have initiated many changes since Covid arrived.
"We were predominantly keg led and we were happy with that because our facility isn't that big of a facility," says owner Barry Flanagan. "Then in March the lockdown came."
"We did have a contingency plan in place if something did ever happen, and there was a shift away from on-trade, that we were able to adapt. The local enterprise office in Kildare funded us in 2019 for a can filling unit and a can steamer so we were able to can our beers on site and shift into that space in the off-trade market." he says.
This was not the only contingency plan they had in their back pocket. During 2019 they had researched fermenting other products not just alcohol, which resulted in them developing an organic kombucha.
"We pitched it to Aldi in January 2020, and we were taken as one of the 42 companies to trial and grow with Aldi in June and in then in September we were one of the five winners with ProKulture Organic Kombucha, and we got a 12-month contract with them."
Due to the inconsistency of the pub over the last year of restrictions it has given Flanagan the time to experiment with new products. As well as the kombucha they have released many limited-edition craft beers including a Lockdown IPA.
"It's been good to have two separate businesses as such within the realms of what the brewing company is," he says. "We are looking at different aspects of innovation and moving our products forward, not necessarily from an alcoholic pint of view, but alcohol will always be their because we are a brew pub, but we are always trying to innovate and research new ideas."