Even through the toughest of times in business we can find moments of joy. It can be as big as landing a new contact, securing investment, or getting publicly name checked by one of your role models, but it can also be as small as noticing a pep in your team's step or catching your reflection in the mirror and remembering where you came from.
Whatever the moment of joy we hope you dance it out and celebrate accordingly.
Boost My Business is celebrating moments of joy this week. Fiona Alston asks four business owners to tell her their moments of joy from the past year.
Who: Anna Carmody, founder and CEO of Little Red Edu Co Offlay
What: Little Red Edu provides a speak and play platform for three-to six-year-olds to learn English as a second language with augmented reality and speech recognition. During her time as an English language teacher in Hanoi in Vietnam, Carmody was inspired by a class she was teaching in a school there, where she found the children learnt best through play. This is not her first venture with AR, she has already launched two products in to market - a children's book about farm safety which works with an AR app and a fire safety app. "We incorporate AR into our platform for learning English with the speech recognition, because it's helping children learn in context to the world around them," she says.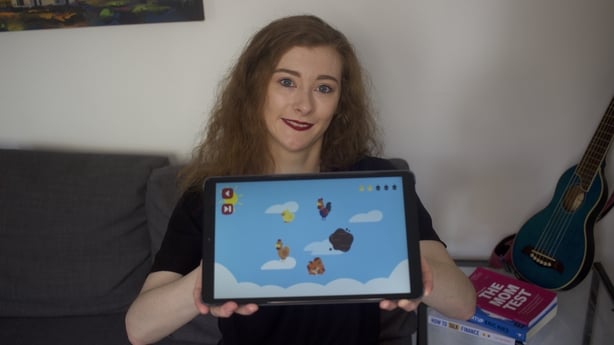 Moments of joy: When I got onto New Frontiers Phase Two, it was €15,000 year over six months and I actually got phase three as well that was an extra three months and so I ended up getting €27,500 from New Frontiers that kind of kept me alive and breathing and the business growing over a nine month period so that was the best thing, it was a really good moment for me. I remember I was in the kitchen when I found out I was running around, jumping up or down and doing a dance and everything. I had really expensive bottle of whiskey and I said I'd only open it if I got New Frontiers.
Getting on the NDRC pre accelerator was another really big moment of joy. The thing is, it's so isolating here, when you're on your own running a business that when you get onto these kinds of programs, you just know that you're going to be involved in with a lot of other people that are doing the same thing as you. During a pandemic, when you're meeting nobody, getting going on these calls with loads of people is just a sociable kind of thing as well.
Forming the team and having moments on our team calls also bring me so much joy. When we're all giggling and just getting on so well and we've made so much progress with the product - sometimes I stop in my tracks and I can't believe that I've managed to bring this team together, over a pandemic with very little funds and we're also passionate about it. We're all driven towards the same goal and helping children reach their full potential. Those little moments where I'm sitting there with the team I just think oh my god, how is this even happened? It's amazing.
---
Name: Jason Sinnott co-founder of Charge It Ltd. Co. Kerry
What: Mobile phone charging units for the hospitality and events sector. The company launched the same week as the country shut down in March 2020 leaving the Charge It team with units and nowhere to put them. They decided to change up their units to include UV lights in the lockers which would sanitise mobile phones, car keys, wallets and glasses. They have been busy helping hotels, restaurants, pubs and activity centres prepare for reopening as they now offer an alternative to customers asking for a quick phone charge behind the bar.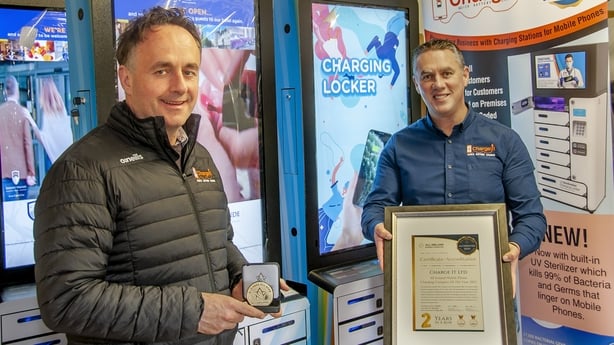 Moments of joy: We took our first order from the HSE back in August 2020. They purchased a load of units off us and it gave us the urge to keep going. That was a moment of joy because we didn't know if we should keep going and order more equipment or hold back. We did try local enterprises and different boards and we just felt we didn't get the love so we just had to keep going with our own methods, and make mistakes and learn from the mistakes. The Eureka moment really was when we got the call from the HSE.
Another happy moment was when we successfully took our first payment back in October, we set up in March and we had invested quite a lot of money and we got our first return in the first week of October.
Other moments included getting a contract with a company who are helping us get into the hotel sector, winning two awards in the last year and after taking in our first hire.
---
Who: Ailish Kelly owner of Sí Jewellery. Co Kildare
What: Custom made jewellery for weddings, spiritual gifts and forever pieces. Kelly has been in business for five years and the last six months have been the toughest of her business life. Covid brought the loss of many of her suppliers and the struggle to find new quality suppliers really challenged her - coupled with the loss of the wedding industry which would be a big part of her business. Finally, she is finding her feet again.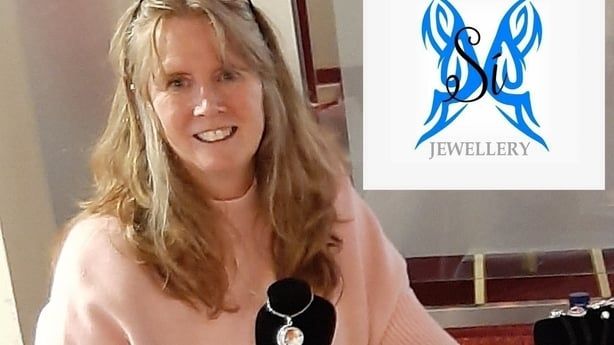 Moments of joy: My parents are both in their late 80s and when they started cocooning it was actually quite sad for them, they weren't able to see people or meet people - the whole cocooning issue for the elderly was a thing on my mind. So, I thought about a butterfly, after you cocoon a butterfly emerges. I created a beautiful piece with a butterfly on the front and a quote on the back that said, this too shall pass. I shipped it to all my cocooning family and the happiness those pieces brought to the people who were cocooning - we did butterfly keyrings for men, and pendants for the ladies. It just made me so happy so I could bring happiness to those who were cocooning, that was lovely for me.
My biggest news to date was that on Thursday my website went live. I tried to get a website for a very long time and financially it kept going out of my reach. Lisa from Myapp.ie created the most amazing website for me. It went live about 11.20 am and at 12 o'clock I had my first order from my website so I did a little happy dance around the kitchen, actually not a little one I did a huge one around the whole kitchen! It was the happiest I've been in about six months for my business, it was such a great positive boost.
---
Who: David Sloane, and founder and CEO of Cambrean. Co Cork
What: Cambrean is a platform that brings your sports life into the workplace, that goes for teams and professional clubs, but it also goes for everyday athletes, runners, triathletes, athletes, cyclists, all manner of sports. "Right now, we have a messaging feature, scheduling for the weeks ahead and sharing them with all the members on your team, note taking, shared and private, and reminders. What we're looking to bring in and roll out over the next few weeks and months now is integrations with platforms that we all use. That includes Google suite, Zoom, and then bringing in integrations with devices like Apple watches and heart rate monitors," he says.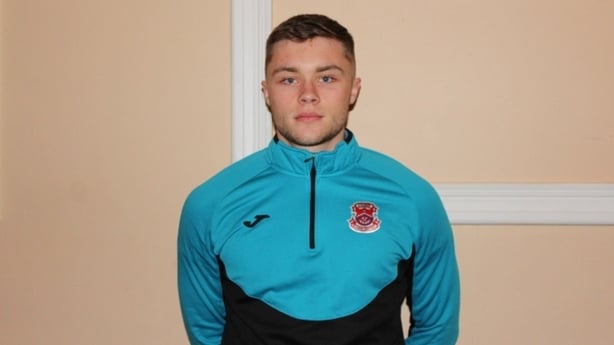 Moments of joy: One is the people that I brought in onto the Cambrean team, seeing their eyes light up, when we talk about Cambrean and what we want to achieve and our goals for the next few months and just seeing their motivation and their passion from something that I've started. It's a really nice feeling and it's kind of one that I've never experienced before.
The other one which sticks out in my mind as well would be, obviously, there's dark periods when trying to create something with nobody using it and you've no revenue, no investments, you've no money, nothing. You can go through a tough period, which we did from about December to maybe the March, it was a tough three months. And at the end of March, I was having some calls with people and one of them was Paddy Cosgrave (founder of Web Summit). The call was brilliant - we had a nice chat, I explained to him what we're doing and then he tweeted that night, just out of the blue, about how he spoke to me and how it was an uplifting chat and to keep an eye out for this young entrepreneur from Cork. I just thought that was kind of one of the first times I've got praise that I wasn't expecting and especially coming from someone as successful as Paddy. It was a really motivating moment.