As part of our Boost My Business initiative we spotlight one Dublin company who switch the tea out of your teabags for coffee.
Fiona Alston spoke to Peter Cooke, co-founder of Danú Coffee about his Covid born business bringing us coffee bags.
Cooke predominantly worked in hospitality, more recently in the tech side of hospitality, e-commerce and booking systems.
"The pandemic hit and I was forced to work from home like a lot of people," says Cooke. "Hotels were going through a tough time so we had a day reduction in our week and I didn't have the commute on the M50. I had three or four hours back every day and I just had loads of extra time."
"But I also didn't have the luxury of the office coffee, or the luxury of the café near the office," he continues. "It's quite hard to get a decent cup of coffee without having to grind beans and make it yourself and that just wasn't working for me – my wife was fed up of the mess I was making in the kitchen."
"I went on a research mission to see what else was out there and what options were around, and I came across these coffee bags. They were on the rise in the UK. In 2019 they were worth about 7 million pounds to the UK economy. I've been told that had doubled from the year before. And it was having that same trajectory for 50% growth again in 2020," he says.
Cooke looked into a couple of Irish companies that were offering a similar product but felt there was "room for improvement" in terms of the product and also the marketing and branding side of things.
Armed with his research and a thirst for a decent cup of home brewed coffee Cooke hit up two of his friends to see if they'd like to join the project.
Cooke, Dave Rooney and James Moriarty have been friends for over 20 years, they are from the Castleknock area of Dublin and there was one thing they especially wanted to do with the coffee brand, they wanted to give a nod to their mothers.
Each of their mums have had some difficult periods with severe illness in their lives and it's another reason the guys are so close. They decided to call their brand Danú Coffee after the original goddess of Irish folklore. It's said she was the mother of the Irish gods who was both nurturing and strong.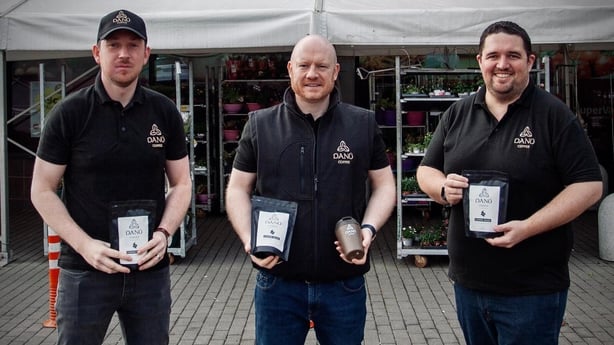 "It was a lot of trial and error," Cooke explains about developing the coffee bag taste they were looking for.
"We identified a supplier based in Meath, we had what's called a cupping session, it's nearly like a wine tasting session but with coffee," he says. "It was good fun, it was a new experience to us as none of us are connoisseurs of coffee and we are not trying to be, we were just trying to find a nice cup of coffee that would suit the general consumer palate."
"A Colombian coffee was the one we all agreed on, a mellow tasting real nice chocolatey feel to it of dark chocolate and citrus. We brought it home and our wives got involved because they were a huge part of the influence of it because they are a huge part of the buying power in any household," he explains.
Another thing they wanted to make sure of was that the coffee was sustainably and ethically sourced given that it the ethos throughout their brand. Essentially the coffee bags are eco-friendly as they go in the food waste bin and the packaging is recycled plastic which can go back into the cycle again in the recycling bin.
The co-op in Colombia is made up of thousands of small farmers in the Huila region. "We just like the back story to it as well, it goes back to 1963 and a group of farmers got together and said they were not happy with what they were getting, and they joined forces. It then just got bigger and bigger and they all work together, commune together and farm about 113,000 hectares of mountainous regions."
"They ensure the farmers get the best price and that the money they get is invested back into the growing of the coffee," he adds.
Danú Coffee is currently on sale online and now in fifteen Supervalu stores, with that list growing. They only launched the brand last month and already have had great feedback and are looking to expand the range and develop a decaf offering.
"We are trying to elevate the experience of the coffee. It takes beginners into a luxury style of coffee, but also takes luxury coffee drinkers into the convenience side so they don't need to go and grind the beans and wait until their cafetière is ready, and there is no clean up afterwards," adds Cooke.