Business networking has been the saviour of many during these challenging times. Like-minded people sharing their woes and wisdoms of surviving Covid and the future of business in Ireland.
This year saw the beginning of a new business network Borradh, a community for Irish speaking business leaders and innovators.
As part of the Boost My Business initiative, Fiona Alston caught up with founder Daithí de Buitléir and business owners Féilim Mac An Iomaire and Padráic Ó Griallais.
Daithí de Buitléir had been planning the Irish speaking business network for around a year before finally launching it in March.
"We just said, wouldn't it be really cool if we were able to use the Irish language as a focal point to bring business leaders from initially what we thought would be across Dublin," says de Buitléir, "but then, I suppose, with Covid it has moved online and has now become across the world."
"We thought wouldn't it be brilliant to bring them together and discuss business opportunities and learning experiences all through the medium of Irish," he says.
Of course, Covid had other plans for them.
"We launched in March 2020 just before Covid hit. We had over 100 people at our launch event in Huckletree on Pearse Street, Dublin. And quite quickly with Covid we realised we would have to move things online and that's what we've been doing ever since," he explains.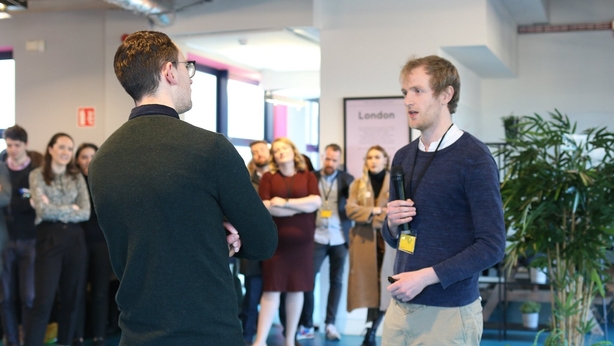 "We have monthly events where people can come together and we do remote meet and greet where people get to meet people from other businesses and discuss and troubleshoot problems and challenges," he continues.
"Then we have speakers who share their own experiences and stories. At the last event we had Iseult Ward, CEO of FoodCloud, and Rónán Ó Dalaigh, CEO of Thriftify, talking about the role of business in tackling the global environmental crisis," he adds.
They had initially hoped to launch with a more formalised membership structure but due to the restrictions and the difficult time businesses are facing they have kept their events free to attend.
Two attendees who grew up in the same Gaeltacht in Connemara are business owners Féilim Mac An Iomaire and Padráic Ó Griallais
Féilim Mac An Iomaire is owner of Splanc PR and has welcomed the opportunity to use his native language for business.
"I suppose the idea here was, what binds us wasn't a particular industry but the actual Irish language and that really appealed to me, to be honest," says Mac An Iomaire.
"I'm from Connemara, I grew up speaking Irish. If my dad was to ring me, I'd be speaking Irish, if I go out for pints with friends from home, we do so through Irish - even if I was to walk into a room and stub my toe, I would probably swear in Irish," he says.
"But the one aspect of my life where I wouldn't get to use my native language as much as I'd like to would be in my professional life.
"It really appealed to me the idea of connecting with like-minded individuals were also involved in various different businesses so I jumped at the chance to join," he adds.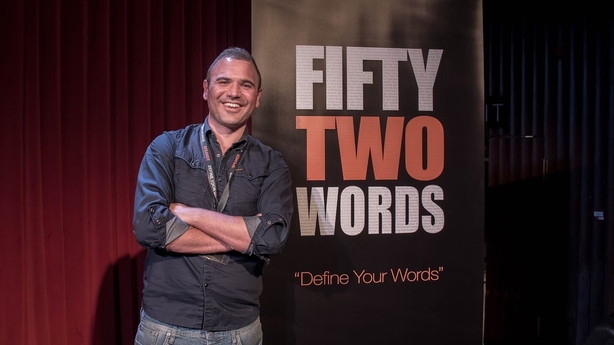 The group has given Mac An Iomaire a chance to meet up with people he would have grown up with or studied with and are now connecting yet again through Irish.
But it has also thrown up a few surprises too.
"I've connected with people who I have actually previously worked with, previously met in my professional life and I had no idea they spoke Irish which is lovely," he says.
"I've got two pitches coming up later this month off the back of people I've met through Borradh - I'm only on the road now for about a year and as you might imagine, it wasn't exactly all sunshine and roses once lockdown was announced," he continues,
"It was nice to almost be able to unburden myself with that and to listen to other people share their stories, in terms of how they were dealing with Covid in their professional life."
It was he who introduced Padráic Ó Griallais to the networking group who shortly afterwards found himself sharing his own story.
Ó Griallais is founder of Micil Distillery, which currently produces gin and poitín and are about to embark on a whiskey too, all made on its premises in Oslo Bar, Salthill.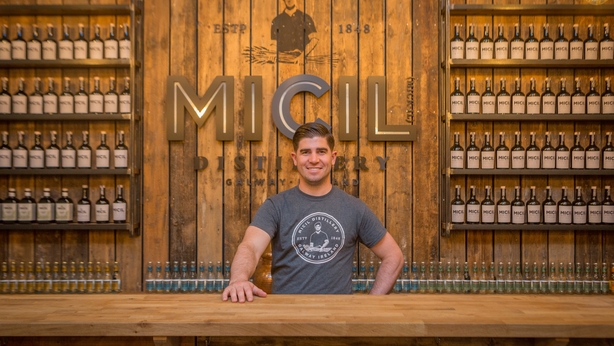 "I was invited to share my experience of doing business during Covid," says Ó Griallais. "We actually started doing hand sanitiser and with the great shortage we were supplying charities and selling as well to businesses.
"We shared our experience in terms of what it was like to pivot," he continues, "as normally we are in the drinks business and it was a fairly quick pivot into something different."
Mícíl are now back concentrating on the drinks business.
"It's great to have people who have that entrepreneurial and business-like attitude there" he says talking about his Borradh experiences. "It's great to have those mindsets there for people to bounce off each other, it creates a great energy."
Being brought up in the Gaeltacht community of Indreabhán in South Connemara, the culture is deep seeded in Ó Griallais. He grandfather is a seanchaí, which is a traditional storyteller. It's from his family he learnt his distilling craft.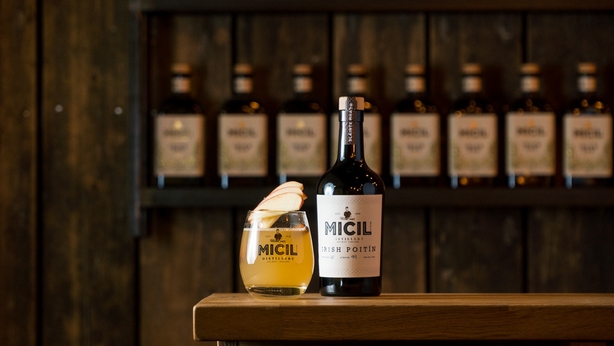 "It's in the family for six generations, I learned from my grandfather, the craftsmanship and all the history around poitín and whiskey making and I just continued the tradition, always in a legitimate sense, so I'm the first one in the family to do it legitimately," he says.
The network has brought members from around the world and even if you are not completely fluent in Irish but are learning the language, they welcome all levels.
Their next meeting is on 24th September and you can find all the details here.