Boost My Business caught up with a tech start-up who have been using their smart buildings tech to monitor air quality in schools and nursing homes. Fiona Alston spoke to co-founder Kieran Murphy about what the company has been up to during the time commercial buildings have sat empty.
ZiggyTec was founded by Kieran Murphy and Peter Murphy – non-related Bowie fans. They provided data on the day-to-day running of commercial buildings through their pay-as-you-go platform.  
Successfully monitoring the use and efficiencies of buildings via monitors on an Internet of Things system, the business was going well before Covid gave them new needs to focus on.
"We started off monitoring all the meters in the building for electricity, gas and water," explains CEO Kieran Murphy. "All this data's going into the cloud, and it's available over the ZiggyTec platform and the customers just pay us a cost per month for that data."
"Then since Covid air quality has been a big importance," he continues, "and so we came out with two products; one is called ClassFresh and the other ResiFresh."
The need for ClassFresh was discovered when Murphy's daughter came home from school complaining how cold she was, as they constantly had to have the windows open. She asked her dad to come up with a solution - and it is now being trailed in three Dublin schools.
"They need to be in well ventilated spaces and normally in commercial buildings they have air conditioning units, and it makes sure that happens," says Murphy, "they measure the carbon dioxide in a room and when those levels rise, the air conditioning sucks out the bad air and puts in fresh air."
"When it comes to classrooms and nursing homes, a lot of them don't have air conditioning units so hence, the teachers are relying on the Department of Education directive which is to keep the windows open," he continues, "that's fine in mild weather but not when it's cold."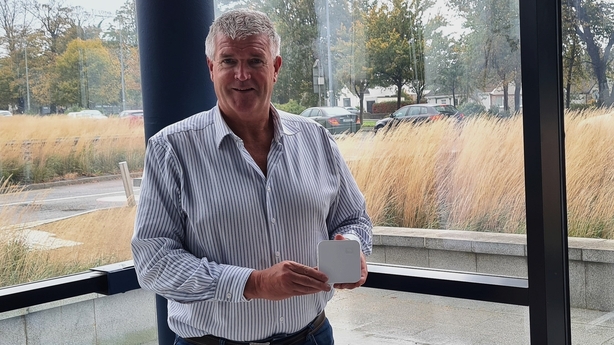 ClassFresh are battery-operated carbon dioxide monitors which are placed in every room and signal a traffic light system. Green is all good, amber means you should crack a window and red indicates all windows and doors should be opened to clear the air.
"Feedback is that the teachers are really happy because they have this kind of peace of mind that the air is being monitored," says Murphy. "They don't just have to sit there with the kids in their coats and blankets."
"I have been dealing with the Department of Education, I've been informing," he says, "so I'm trying to push that to an actual pilot project for the Department of Education."
The ResiFresh works in the same way and they are currently in conversation with a Shankhill nursing home to get it installed. "This is a monitoring system that gives them peace of mind and it's highly accurate and cost effective."
ZiggyTech are also involved in some Smart Cities projects around Dublin.
Their system monitors the use of ring buoys. It triggers an alert when someone removes a ring buoy and can also alert the emergency services. The same type of project has been used with public defibrillators and can monitor any theft or damage to these life-saving tools.