With the current restrictions in place real Christmas tree shopping is not business as usual.
As part of our Boost My Business initiative, Fiona Alston spoke to web developer and serial entrepreneur Jordan Casey.
Casey loves a challenge - and the 21-year-old tech entrepreneur loves nothing more than building things in the tech space, especially apps and games.
Before Covid graced Ireland with its presence, Casey was mainly working with nightclubs, bars and pubs but as that industry has been badly affected, he decided he would move his attentions elsewhere.
He put out a call to help businesses in his local area to go digital - the call was answered by Christmas tree grower Derek Walsh and so Real Irish Trees was born.
"Derek is based in Waterford, where I'm based," says Casey. "He usually sells Christmas trees every year at a retail site in Waterford but obviously, when the new Level 5 restrictions came about, he realised this could be at risk."
"He didn't even know if he was going to be able to have a physical site this year and so he wanted to pivot, innovate and adapt," he says, "And so he presented me with the idea of an online platform for selling Christmas trees."
For some, buying their Christmas tree is an integral part of the Christmas experience and many farms offer customers the opportunity to come out to the farm and find your own tree in its natural habitat.
This was an experience that Walsh and Casey were trying to recreate with the online platform, not just buying a tree but getting all the information that a chat with the growers can provide.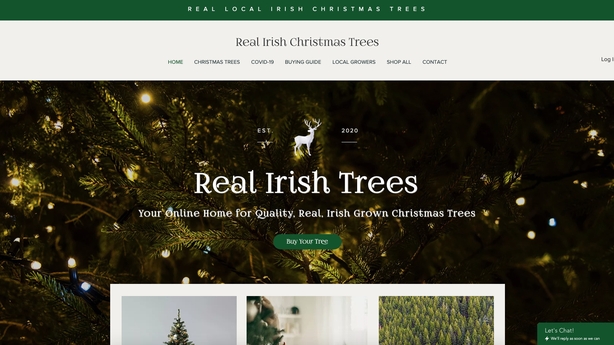 "We are trying to bring as much of the experience [to the customer] as possible, whether it be choosing your own tree, customising your height and width of the tree, learning about how the trees are grown and learning about the growers," explains Casey.
"I've been learning about them since October, so it's been Christmas time for me since then," he says. "But I can definitely feel it starting to come now, especially with the Toy Show just around the corner.
"The Christmas experience is going to be quite different this year and that's why I think the time was now for something like this to get built," he adds.
The platform has 13 growers from around Ireland so when a tree is ordered the customer is supporting the nearest grower to them – the trees will be delivered free countrywide.
Tree deliveries begin on the 24th of November and are available right up until the 20th of December and trees must be ordered on the platform at least two days before the delivery date chosen.
"The sales have been crazy, and it's been really overwhelming," says Casey, "especially given that it's only mid-November."
"It's so hard to predict because the online space is so different to what Derek or some of the other growers would have been dealing with in terms of their retail space - it's pretty much the opposite in every way," he explains.
People are certainly buying their trees differently this year, the poor weather days draw a crowd to the site, and they have even noticed a quiet period over the weekends with higher sales mid-week.
If restrictions do ease at the beginning of December, and the growers can regain their usual retail spots, the platform will be an excellent addition to their sales allowing them to branch out to areas they've never felled before.