Things might be about to get Stormy for Donald Trump.
In New York City in the US, the District Attorney has convened a Grand Jury to hear a case that the former President should be indicted on charges relating to the hush money payout to the adult film actress Stormy Daniels in 2016.
Since last Monday, a panel of 23 citizens of New York City have begun hearing from witnesses called by Manhattan District Attorney Alvin Bragg.
It is the clearest signal yet that the DA's office wants to bring charges against Donald Trump in connection with the way his campaign was financed in 2016, and the way in which his business (the Trump Organization) operated.
These would be criminal charges, felonies, in which the prosecutors would seek jail time as a punishment. One person has already gone to jail in connection with the Stormy Daniels payout – Mr Trump's former lawyer Michael Cohen, who was sentenced to three years, and served two of them.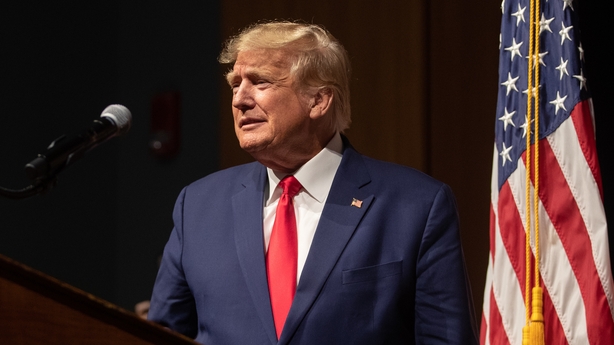 Cohen paid the hush-money to Stormy Daniels weeks before the 2016 presidential election, and was repaid by the Trump Organization. He billed them for "legal services", but stated in court "I participated in this conduct for the principal purpose of influencing the election". This was a violation of Federal campaign finance laws.
But this isn't the first time prosecutors have come close to charging Mr Trump in relation to the $130,000 (€120,000) payout to Stormy Daniels.
Indeed the on-again, off-again nature of the investigation has been at the heart of one of the most bitter and long running feuds in the American legal and political system, with a number of prominent legal figures unloading on each other in public.
The allegations – variously "weaponising" the Department of Justice or a "Witch Hunt" against a President, mask an extraordinary and deep-rooted legal battle that goes far beyond the "President and the Porn Star" tittle-tattle.
So let's get the tittle-tattle out of the way. Ms Daniels says she slept with Donald Trump at a golf tournament in 2006. Mr Trump denies this ever happened.
In 2015 Michael Cohen and another individual connected with the Trump campaign (but not named in court documents) met David Pecker, the publisher of the down-market tabloid "The National Enquirer".
He agreed to operate a "catch and kill" scheme for Mr Trump, looking out for stories that could damage the Trump election bid (Bimbo-eruptions, as they were know in Bill Clinton's campaign), then buying the stories from whoever came forward and not publishing them.
Mr Pecker paid $150,000 (€138,000) for the rights to a story about former playboy model Karen McDougal, but refused to pay up for Stormy Daniels' story when approached by her lawyer and agent Keith Davidson.
He connected Mr Davidson with Cohen and the $130,000 figure was arrived at (Cohen says Mr Davidson told him in a very short negotiation that Ms Daniels wanted to clear a $100,000 debt, and he wanted $30,000 as his fee. Cohen paid up and got the money back from the Trump Organization the following year.
....the Stormy Daniels campaign financing issue kept coming up. It got the name "the zombie-theory" in the DA's office – an idea that refused to die.
Mr Davidson has been reported to be on the witness list for the current Grand Jury hearings in New York this week. Mr Pecker of the National Enquirer was seen going in to give evidence on Monday.
Cohen has been interviewed by the DAs team last month, and is reported to be ready for another interview this month. He has agreed to hand over phones and electronic devices to them.
Since his release from jail, Cohen has pursued a one-man war against Donald Trump, the Trump Organization and the US Department of Justice, especially its former head, Bill Barr, Trump's Attorney General for the second half of his term. (Mr Barr quit in the final month after investigating claims of irregularities in the 2020 Presidential election, and finding none.
He refused to be a part of further efforts to overturn the election victory of Joe Biden, and was gone two weeks before 6 January).
But back in 2018, Cohen was very much a Donald Trump loyalist, even after the FBI raided his home, office and hotel room and seized documents, phones and computers that yielded the information to charge him. (In an echo of the recent "raid" by the FBI at Mar-a-Lago, Donald Trump's Florida home in connection with classified documents found there, the material seized from Cohen in 2018 was subjected to a review by a "Special Master" appointed by the court at the request of lawyers acting for Cohen and Donald Trump).
When the case came to trial, prosecutors said Cohen's payout of $130,000 to Stormy Daniels was effectively a donation to the Trump campaign, because by getting her to shut up it improved his electoral fortunes, and thus violated campaign finance laws that banned donations of more than $2,700 (€2,000) in a general election.
Cohen suddenly pleaded guilty at the trial, not just to the campaign finance charges, but to tax avoidance and a bank fraud charge as well. So the campaign finance theory was not tried and tested in front of a jury. This has affected the way the case against Donald Trump has been handled by prosecutors ever since.
In his recent book 'Holding the Line', the United States Attorney who led the Southern District of New York in the original Federal prosecution of Cohen, Geoffrey Berman, gave for the first time his account of the intra-agency warfare over the case.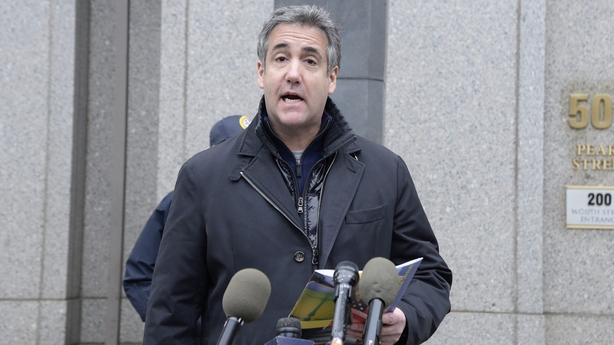 Specifically, he claims interference from the Department of Justice in Washington that tried to protect Donald Trump. (Mr Berman, a Republican, was a Trump appointee). He writes that the charging document in the Cohen case was whittled down from 40 pages to 21 under pressure from the Justice Department to keep Trump's name out of the case. Instead, the document stated "Individual 1" acted in concert with Cohen.
But there was no doubt who "Individual 1" was.
The document filed in court by the SDNY stated "On or about June 16 2015, Individual 1 began his Presidential campaign".
It later states "In or about January 2017, Cohen left the company and began holding himself out as the personal attorney to Individual 1, who at that point had become the President of the United States".
In an open court, Cohen stated that Mr Trump knew about and orchestrated the payments to Ms Daniels and Ms McDougal to keep them from going public.
But the interesting stuff came six months later, when Bill Barr took over as Attorney General. The DA's office had continued to investigate the campaign finance charges. But Mr Berman claims Mr Barr tried to kill off the investigation, and suggested that Cohen's conviction be overturned.
He claims Mr Barr issued a directive to the Southern District to cease all activity on the file until the Office of Legal Counsel in Washington (a part of the Department of Justice) had determined there was a legal basis for the campaign finance charges, and until Mr Barr as AG had determined there was a federal interest in pursuing charges against others (i.e. Donald Trump).
Mr Berman speculates on Mr Barr's motive – was it to help Mr Trump's defence against impeachment charges? Was he trying to ensure no other Trump Organization employees or officer were charged, in case they ratted out the boss to the Fed? Was the goal to ensure the President could not be charged after he left office? Or was it part of an effort to undo a series of prosecutions against Mr Trump linked individuals like Cohen, Roger Stone and Michael Flynn? He doesn't answer his own question.
His relations with Mr Barr were testy right up until Mr Barr forced him out of the post five months before the 2020 Presidential election.
Prosecutors in the Manhattan DA's office want to put the squeeze on Weisselberg to testify in their new case against Mr Trump over the Stormy Daniels payoff.
But the Stormy Daniels question refused to go away. In the Manhattan District Attorney's office, led at the time by Democrat Cyrus Vance Jr, prosecutors were pouring over the Trump Organization to see if it had broken State laws, and many prosecution theories were advanced. But the Stormy Daniels campaign financing issue kept coming up. It got the name "the zombie-theory" in the DA's office – an idea that refused to die.
Mr Vance preferred a more wide-ranging approach to the Trump Organization. But that too became controversial – and is the topic of a new book to be published next week by veteran prosecutor Mark Pomerantz. It promises to be explosive. Pomerantz is scheduled to appear on the CBS flagship current affairs show '60 minutes' on Sunday night.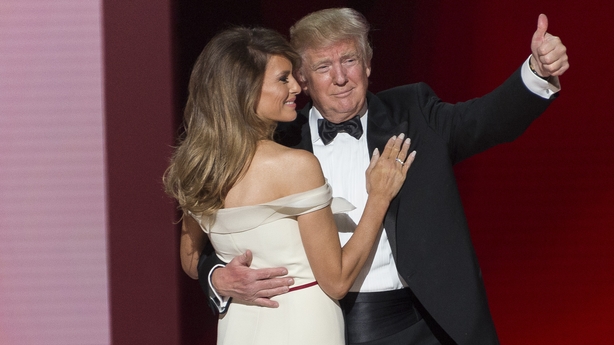 The New York Times has obtained an advance copy of the Book - 'People Vs Donald Trump', and reports that it claims the DA's office once considered charging Mr Trump with racketeering, a law used against organised crime groups like the Mafia.
The new revelation from the book is that prosecutors had taken a broader approach to investigating the Trump Organization, based on the theory that he had presided over a corrupt business empire for years.
Mr Pomerantz – who has prosecuted and defended organised crime figures – likens Donald Trump to John Gotti, the head of the Gambino organised crime family (aka "the Dapper Don").
Last year, that wider investigation produced a separate tax evasion case against the Trump Organization and its former chief financial officer, Allen Weisselberg. Wiesselberg is currently in New York's most notorious jail, Rikers Island, as part of a plea bargain in that case. The company was fined $1.5m (€1.39m). Weisselberg testified against the company, but not against Donald Trump.
Prosecutors in the Manhattan DA's office want to put the squeeze on Weisselberg to testify in their new case against Mr Trump over the Stormy Daniels payoff. They have publicly mulled the possibility of bringing new charges against Weisselberg in relation to an alleged insurance fraud, figuring that actual experience of Rikers Island might make him more inclined to co-operate rather than risk a longer stretch.
So why did Mr Pomerantz quit? Enter Alvin Bragg, newly elected DA in Manhattan who took over at the start of last year, after Cyrus Vance Jr's 12-year stint. Another Democrat to hold the elected post – and the first African-American person to hold the job - he was initially cautious about taking a prosecution against Mr Trump.
It looks like a race is on to indict Donald Trump. As for Stormy Daniels, she just wants to get back to writing and directing adult movies, and living the quiet life.
A Grand Jury had been sworn in and had just started to hear the case presented by Mr Pomerantz and another lead prosecutor against the company and Donald Trump, including allegations that both had inflated the worth of Donald Trump's assets in order to secure cheaper finance on loans.
The new DA was not impressed with the strength of the case and ordered a halt to the Grand Jury process (a type of pre-trial screening to see if prosecutors have a reasonable case before proceeding to trial – most hearings result in an indictment). Mr Pomerantz and the other lead prosecutor quit in protest.
In his resignation letter he wrote: "I believe Donald Trump is guilty of numerous felony violations of the Penal Law in connection with the preparation and use of his annual Statements of Financial Condition.
"His financial statements were false and he has a long history of fabricating information relating to his personal finances and lying about his assets to banks, the national media, counterparties and many others, including the American People."
Mr Pomerantz also stated in the letter that Cyrus Vance had been "intimately involved in our investigation" of Mr Trump.
"He (Vance) concluded that the fact warranted prosecution". He accused his new boss of being wrong and said he and others had advised him they had sufficient evidence to "establish Mr Trumps guilt beyond reasonable doubt".
He said he was convinced a failure to prosecute would risk undermining public confidence in the administration of justice.
But now the Manhattan DA's office, led by the same Alvin Bragg, is laying out the bones of a case to a Grand Jury. But instead of the wide ranging "John Gotti" case, it's the zombie theory about the Stormy Daniels payoff.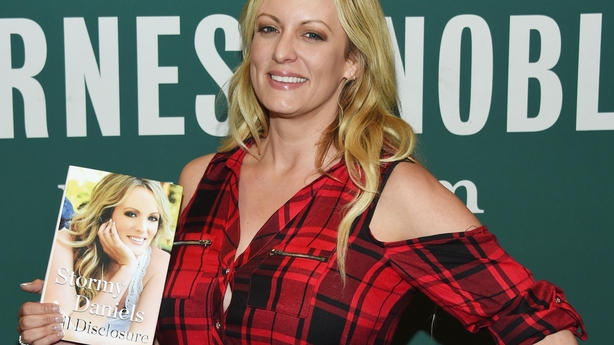 The prosecution argument on this narrow ground is that when Mr Trump paid Michael Cohen back the $130,000, he classified it as legal expenses – so prosecutors argue that amounted to illegal falsification of business records.
That is only a misdemeanor in New York law, and hardly worth the effort charging. But by arguing that this was done to break campaign finance law in the state, it becomes a felony - and that could lead to jail time. But because this line was never actually tried in the Cohen case of 2018, it is an untried theory, and a prosecution could fail – the reason the zombie theory was not advanced in the past.
What changed DA Bragg's mind? It appears the rising tide of legal cases against Mr Trump since the "raid on Mar-a-Lago" last summer, and especially the appointment of a special prosecutor by the current Attorney General Merrick Garland played a role, as did the increasing likelihood that the District Attorney in Atlanta, Georgia, will move against the former president.
Two weeks ago, the Fulton County DA Fani Willis told a judge a decision on prosecution is "imminent", after nine months of hearings before a Special Grand Jury, in a case related to Donald Trump's efforts to overturn the election result in Georgia (that is the one where Mr Trump's phone call to the Georgia Secretary of State, asking him to find an extra 11,000 odd votes to overturn the election was recorded and published).
There is a civil case against The Trump Organization being prepared by the New York State Attorney General Letitia James. Video of Donald Trump's deposition in that case last August leaked last week.
It featured Trump exercising his fifth amendment right to not answer questions more than 400 times. (In New York, a jury in a civil case can draw conclusions from a person taking the fifth, as it is only designed to offer protection from criminal prosecution).
So, it looks like a race is on to indict Donald Trump. As for Stormy Daniels, she just wants to get back to writing and directing adult movies, and living the quiet life.
At least that's what she told Michael Cohen when she appeared as a guest on his foul-mouthed but entertaining podcast, Mea Culpa.