This week's breakthrough in the Northern Ireland Protocol talks happened gradually, then suddenly.
On Monday, London and Brussels announced a deal on granting the EU access to UK trade databases. Foreign Secretary James Cleverly and Maroš Šefčovič, the EU's chief negotiator, said the deal was a "critical requisite" to building trust. There was now a "new basis" for discussions on the Protocol.
Those discussions, mired for so long in tortuous technical detail, now have momentum.
Officials are discounting a big bang moment when everything comes together in time for the 25th anniversary of the Good Friday Agreement. But further milestones are expected.
On Monday, Mr Cleverly and Mr Šefčovič will hold a video conference and then are expected to make a further statement.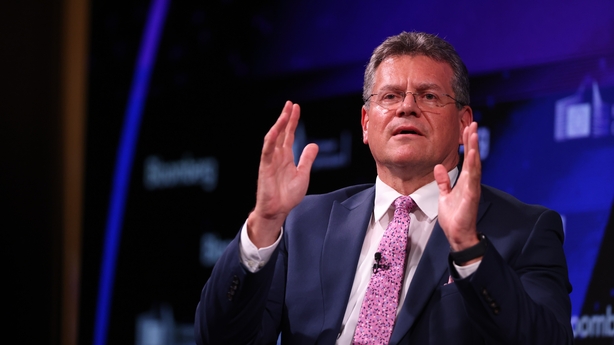 EU and UK officials met on Friday to continue work on the draft statement. The final version will depend on technical agreements which officials are hoping to close off over the weekend.
"There's a seriousness about this," says one EU diplomat. "We're not going round in circles."
The creation of a data access system, required under Article 12 of the Protocol, is designed to give EU officials a real-time and forensic picture of goods moving from Great Britain to Northern Ireland. Getting agreement on it has taken more than two years.
The logic is that if EU officials operating in Northern Irish ports have an electronic picture of what goods are arriving in advance, they can reduce the degree of checks and controls accordingly.
This could have a cascading effect in unblocking other problematic aspects of the Protocol.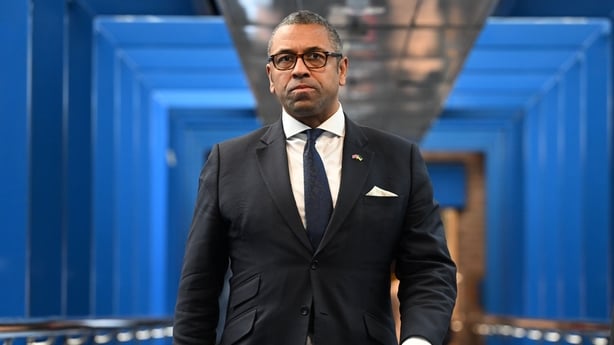 The system will allow officials to look at individual consignments, patterns, rhythms and anomalies using a drag-and-drop function. Any suspicious trade movements would prompt a red flag and a physical check; in conjunction with a trusted trader scheme, the hope is that checks could be kept to a minimum.
The UK insists the system, which effectively synthesises five separate trade-related databases into one bespoke interface, was ready to go from January last year, but that the European Commission was puzzlingly reluctant to take the system over.
EU officials counter that what was on offer was not ready, and not capable of being interoperable with the EU's own risk analysis tools. There were data protection and other technical hold ups.
In the weeks leading up to Christmas, the system was being tested by EU officials on the ground. There were issues over how much data would be uploaded onto the system and by whom.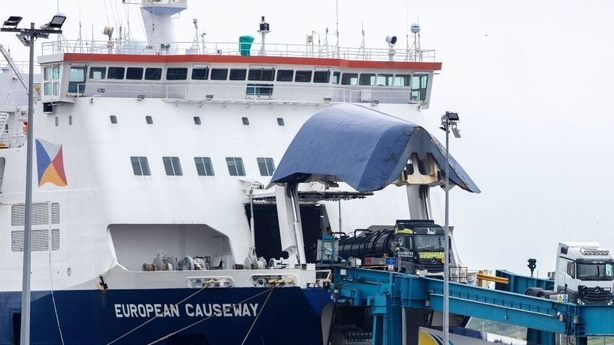 In mid-December one EU diplomat said: "They are deep into the mechanics of trusted trader regimes and customs and veterinary procedures, right down to the most minute detail. The Commission says there is some progress being made but it's very difficult and very slow."
Some issues were fiddly: how would copy and paste functions work? How quickly would the information be downloadable once a ferry left a GB port? Would an Excel spreadsheet download in horizontal or vertical format?
That everything was suddenly ready to go last Monday took member states by surprise, a reflection of how closely the European Commission and UK negotiators are keeping things under wraps.
"We were a bit taken aback by how positive it was last Monday," says one EU diplomat. "We were all being told very little. Now there is this idea that unlocking the data access provides a building block to try and resolve the rest of the issues."
'The mood music is good'
On Tuesday the European Commission briefed diplomats from member states on the breakthrough and the following day 27 EU ambassadors were briefed.
There were precious few details beyond the fact that the atmosphere in the talks had been positive. "Things are going well, is what we were told," said one diplomat.
"The mood music is good and it does reflect the atmosphere in the [negotiating] room," says another source briefed on Tuesday's meeting.
"There's an understanding there's still a lot to be done, but the UK is willing to find solutions. The tone of the [Cleverly-Šefčovič] statement was telling: it was a joint statement. We haven't seen that in a long time."
Diplomats were left in no doubt that an agreement on the key issues that have plagued acceptance of the Protocol - customs, sanitary and phyto-sanitary (SPS) controls, VAT, competition rules - were within reach, even if it would take time.
"The reading from the European Commission is that both sides believe there is enough room for manoeuvre to come to a solution on the outstanding technical issues," says one EU diplomat. "But it will take weeks, if not months, for real breakthroughs to appear."
Officials were playing up the importance of an improved atmosphere between the EU and UK teams.
"There's a lot to be said for warm words," says one EU official. "If you look back over the past six years it's positive that we're meeting, that we're talking, that we're not having nervous breakdowns live on air."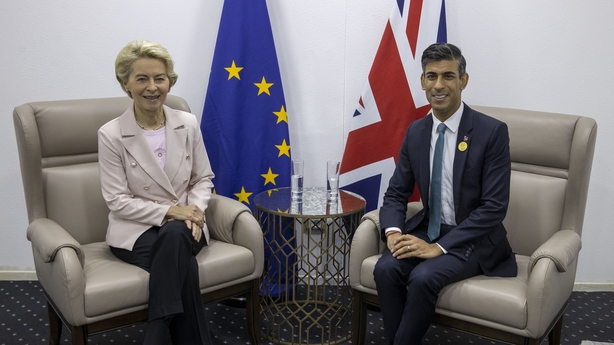 A key change is that Rishi Sunak, the UK prime minister, is now viewed as a completely different interlocutor compared to Boris Johnson and Liz Truss.
"Among Tory leaders he is probably the one who can do a deal," says a senior EU diplomat. "He's considered serious by [French president Emmanual] Macron, whereas [Boris] Johnson was seen as a clown, [Liz] Truss as not understanding and not being capable of doing anything."
On the 22nd of December, Mr Sunak held a phone call with Commission president Ursula von der Leyen. Officials downplayed any sense that this was a watershed moment, but it was clear they were on the crest of a more positive wave.
"There was no sense that the phone call was somehow a key moment," says one EU diplomat briefed on developments.
"We were told it was very warm, it was helpful, it was constructive. There's a certain amount of relief in the [European] Commission that the relationship at that level is quite good compared to previous phone calls."
Another source said the call consolidated the fact that discussions were now "much more factual and less emotional than they were in the past."
Cautious optimism
The relative secrecy of the talks has unnerved Northern Ireland businesses, even though the Northern Ireland Business Brexit Working Group (NIBBWG) welcomed engagement in the North by UK and Irish political leaders this week.
"We're cautious about how things were done before," says Stuart Anderson, head of public affairs at NI Chambers, "where movement has come, agreements have been made then - post event - we end up having to look at it to see if it works or not. They need to do this with Northern Ireland and not to Northern Ireland."
Mr Anderson believes the breakthrough on data access is important. "Data access will be the foundation for any kind of clarity on this often talked about trusted trader scheme and what that looks like. It will probably spill into other issues like parcels."
Northern Ireland businesses will also be watching to see if any agreement - or series of mini-deals - takes the grace periods as the baseline for the future, or whether the EU insists that full implementation of the Protocol is the baseline.
It certainly seems clear that the EU will move beyond its proposals of October 2021, which, on customs, foresee a combination of a trusted trader scheme with reduced checks and paperwork, and an express lane for qualifying goods, but how far remains to be seen.
Officials say the more the EU is reassured that it knows what goods are entering Northern Ireland from Britain, through the data access system, the less intrusive the checking can be, and the less physical the Irish Sea border.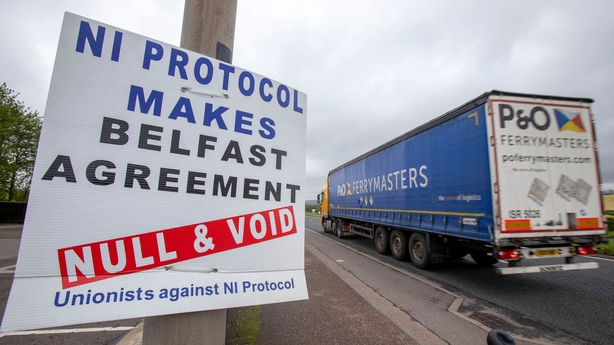 There is still a way to go over what paperwork has to be electronically filed by traders moving goods from Great Britain to Northern Ireland in advance, and whether cumbersome commodity codes need to be registered with each consignment.
Agreement on how onerous agri-food paperwork will have to be is also said to be some way off.
It's also important to note that the UK has publicly stated that the data access system is, in itself, a key enabler of the Northern Ireland Protocol Bill (NIPB) which, of course, would dismantle the existing Protocol.
The NIPB, currently in the House of Lords, foresees a green lane/red lane arrangement whereby GB goods clearly destined for consumption in Northern Ireland (and sent by approved trusted traders) would not require customs declarations or checks (hence they would avail of a virtual "green lane"), whereas goods clearly destined for the South would be subject to controls and SPS rules and would be subject to a "red lane".
In a letter to the House of Lords subcommittee on the Protocol on the 28th of December, the UK biosecurity minister Lord Beynon spelled out that "red lane arrangements would mean that goods going to the EU would be subject to full EU checks and controls and full customs procedures."
In other words, even though the data access system is a requirement of the Protocol, it would still facilitate the UK's preferred solution through the NIPB which replaces the Protocol.
However, it is clear from a number of sources that Rishi Sunak has tacitly stalled the NIPB in its progress through the House of Lords as a goodwill gesture while the negotiations intensify.
"It has been paused," says one source familiar with discussions, "not ad infinitem, but it has been paused. At other stages there has been some ticking over of stuff [on the bill], but at the moment no-one is lifting a quill."
In a further reflection of the thaw in relations, UK officials signalled to the European Commission over Christmas that Whitehall would take over the running of Border Control Posts (BCPs), or Points of Entry, as London prefers to call them, at Northern Ireland ports.
The Protocol requires the Northern Ireland department of agriculture (DAERA), to carry out EU food safety checks on GB agri-food products at these BCPs and as such they have been a running sore between London and Brussels.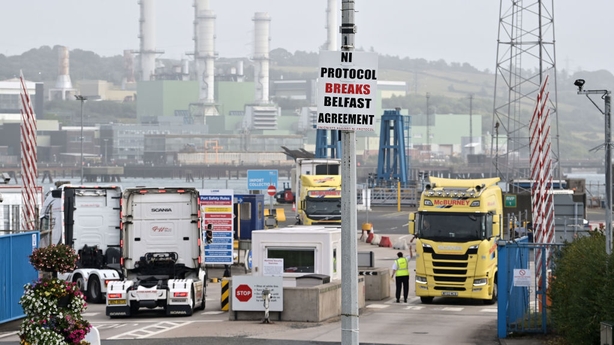 Commission officials frequently complained that construction was well behind schedule and that the facilities were understaffed.
In February last year the DUP agriculture minister Edwin Poots ordered officials to stop carrying out the checks, arguing that the Northern Ireland Executive should have approved them.
In December the Belfast High Court ruled that Mr Poots had acted unlawfully and for political reasons.
Because agriculture is a devolved competence, the UK this week adopted a statutory instrument allowing ministers to direct that the BCPs be completed and properly staffed.
This was not a case of London accepting that the writ of the Protocol was now permanent: on the contrary, the letter from Lord Benyon spelled out that the BCPs would still be required if the Northern Ireland Protocol Bill became law, since GB goods going through the virtual red lane would be subject to EU food safety controls and customs formalities.
"The Government's position has always been that the arrangements in place for the red lane will require the enhancement of existing SPS facilities at points of entry in Northern Ireland," Lord Benyon wrote.
When it was published on Thursday the legislation made it clear that a UK minister could compel DAERA to "recruit and employ a sufficient number of suitably qualified staff" to operate EU food safety controls at the ports, and, in a clear nod to the Edwin Poots experience, the obligation was there "irrespective of whether any matter has been brought to the attention of" the Northern Ireland Executive.
25th anniversary of the Good Friday Agreement
Can a deal be done in time for the 25th anniversary of the Good Friday Agreement anniversary on April 10?
Several sources have said that rather than a big bang agreement both sides will take a step-by-step approach, to avoid creating prominent political targets, and also because so much technical work still has to be done.
There is a view in Dublin and Brussels that the first six months of Rishi Sunak's tenure as prime minister is his only real opportunity to make a positive impact before pressures and deadlines start to crowd in.
In May, Mr Sunak will face his first test in the local elections, one which will largely set the tone of his prospects to lead the Tories into the next general election.
"This has to be solved quickly now and not drag on, even if we don't have all the miracle solutions in one go, otherwise problems start popping up," says an EU diplomat.
"I don't think Mr Sunak can eternally postpone the [Assembly] elections. Then there will be some heat with the deadline of the 25th anniversary of the Good Friday Agreement. So for Mr Sunak it's better to get this done now when the UK is obsessed with [Prince] Harry's book and the strikes and the discontent and the cost of living."
Yet Mr Sunak will have to manage a potential backlash from the rightwing European Research Group (ERG), the DUP's main allies in Westminster.
Despite the general view in Brussels that Mr Sunak is the first serious post-Brexit British prime minister, there is always the wild card of the Tory right to contend with.
"That's the eternal question that will haunt us with any Tory leader," says the EU diplomat.
Writing in Conservative Home, Henry Hill notes the ERG "might not have been prepared to actually vote down the Protocol in the first place but are absolutely up for kicking off about it now… the ERG has shown no indication that it has shifted on its red line regarding the role of the European Court of Justice."
There is a prevailing view that both the EU and UK want to get the Northern Ireland Protocol issue resolved so they can both focus on graver geo-political challenges.
"Everyone is aware of the wider relationship in the face of global threats," says one EU diplomat. "It's hard to believe these threats are not influencing both sides.
"There are areas where we are forced to work together with each other, for example in training Ukrainian soldiers and sending weapons to Kyiv. There are new channels of communication."
On the 19th of December, the UK signed a memorandum of understanding in Brussels with the North Sea Energy Cooperation group (NSEC), comprised of nine EU member states, including Ireland, and the European Commission.
The agreement was designed to boost cooperation in wind energy in the North Sea, Irish Sea and Celtic Sea in the light of Russia's invasion of Ukraine and the subsequent energy crisis (the UK had left the NSEC because of Brexit).
Although the development does not explicitly impinge upon the Protocol discussions, it is more evidence of an appetite to put the relationship on a more pragmatic footing.
There is a feeling in the European Commission that the coming weeks, running up to April, could be the last chance to deal with this issue once and for all, even if technical work has to continue.
Ultimately the success of EU-UK efforts in the coming weeks will be measured by the DUP's willingness to accept the compromises being forged and to agree to return to Stormont.
"The true test of this isn't whether or not the EU and the UK agree, because we've seen that before," says one source familiar with discussions.
"The true test is whether or not it creates an atmosphere in Northern Irish politics that allows people to get back around the Executive. The longer this goes on, and the more polarized it all becomes."