Boris Johnson is undoubtedly badly damaged by the so called "partygate" affair.
His apology and explanation for his attendance at a social event in the garden of Number 10 was weak and weaselly - obviously lawyered to within an inch of its life, to avoid giving hostages to fortune.
It is the narrowest path imaginable through a battlespace of mantraps, landmines and barbed wire. Its presentation was exactly as Tony Blair's former spin doctor, Alasdair Campbell, said it would be - a groveling apology, an insistence no rules were broken, and Sue Grey, Sue Grey, Sue Grey.
The senior civil servant investigating that party and others in Downing Street and several government departments, now effectively holds the political future of the Prime Minster in her hands. It's a tricky, dangerous situation, requiring immense skill to navigate. But then again, she used to run a bar in Newry in the late 1980s, so maybe not the first tricky situation she has dealt with.
But the tactic may be just about enough to keep his nose above the waterline a while longer - and as the man said, dum spiro spero (while I breath, I hope). His hope is that something turns up, that people get bored and forget what all the fuss is about, that something new comes along to occupy the January mediascape (did someone say Prince Andrew?). Buying time is key to survival.
With early signs of improving Covid numbers, he might be able to change the focus onto the end of Covid restrictions - they are due for review on the 26th of this month.
Then who knows, the white heat of this moment may have one out of the 'partygate' affair.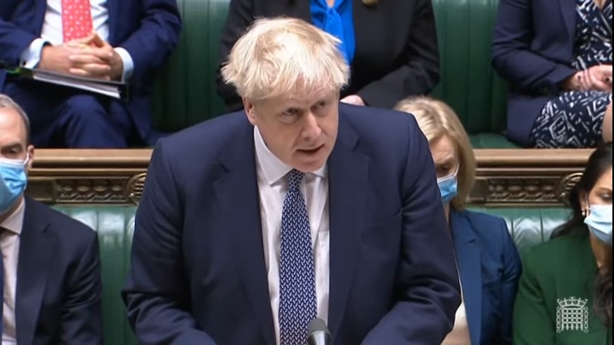 Backbenchers seem undecided. Whilst massively underwhelmed at Mr Johnsons apology to people who were offended (not an apology for what he had done), backbenchers, especially those who owe their election to Mr Johnson's leadership and energy in the 2019 general election, worry that there is nobody else readily available to replace him who has the same broad appeal, who could unite the various party factions and rally the country to back them at the next general election.
Hence the flow of letters to the chairman of the 1922 committee, Sir Graham Brady (remember him from the fall of Theresa May in 2019?) appear to be more a trickle than a flood - at least for now.
A leadership challenge is triggered when 15% of the parliamentary party members - currently 54 MPs - submit letters calling for a confidence motion. Nobody knows how many Sir Graham has - though two English backbenchers and the leader of the Scottish Tories, Douglas Ross, say they have submitted letters, and have called for Mr Johnson to resign in the wake of his Commons statement.
With most cabinet ministers now joining in (with varying degrees of enthusiasm) a campaign to rally support for the PM and defend him in public, many MPs will wait until they have taken the temperature in their constituencies before making any move in the short term. Some have spoken of May's local authority elections as a defining point - a bad outing for the Tories then and a move may well come, to give a new leader time to bed in for a general election.
But the short term game changer might be the emergence of video of the Prime Minster at a social gathering. If that were to happen over the weekend, then the mood among backbenchers could change very quickly.
As the leader of the Liberal Democrats, Sir Ed Davey pointed out, the only person to have resigned over the 'partygate' affair has been Allegra Stratton, the erstwhile press spokesperson - and she went not because she was at a party, or had broken any Covid rules, but because she was caught on video apparently laughing about a "hypothetical" party.