"You say you love your children above all else. Yet you are stealing their future in front of their very eyes. Until you start focusing on what needs to be done rather than on what is politically possible there is no hope."
Those are the words of the now 16-year-old climate activist Greta Thunberg addressing world leaders at the COP 24 climate negotiations at Katowice in Poland just three months ago.
Greta is a Swedish girl from Stockholm. She speaks truth to power about the climate crisis with stunning clarity, devastating frankness and remarkable intelligence. 
Her words and her actions alone since last August have sparked a global movement and inspired young people and old people in every corner of the world to take to the street demanding climate action.
School children in 105 countries and 1,600 cities around the world including at multiple locations here in Ireland are taking part in today's Global School Strike for climate action. 
This is a rapidly growing international movement that flowed from Greta's individual decision on 20 August last year to take Friday off school to sit on the ground outside the Swedish Parliament Building in Stockholm demanding change.
In her interviews Greta comes across as blunt, honest and very smart. 
"I was diagnosed Asperger's Syndrome, OCD and selective muteism", she said in a recent TED Talk. "It basically means that I only speak when I think it is absolutely necessary. Now is one of those moments.
"For those of us who are on the spectrum almost everything is black and white", she added . "We aren't very good at lying and we don't participate in the social games that the rest of you are so fond of."
We need your consent to load this YouTube contentWe use YouTube to manage extra content that can set cookies on your device and collect data about your activity. Please review their details and accept them to load the content.Manage Preferences
She describes herself as an introvert and says she is inspired by the example of Rosa Parks the American activist in the black civil rights movement best known for her historic role in the Montgomery bus boycott back in 1955. She said Rosa Parks showed that the actions of just one person can spark enormous change. 
About the fact that so many school children around the world are now following her lead Greta has this to say. 
"I think it's amazing to see that hundreds of thousands of children all around the world are realising that we are facing an existential climate crisis and are fighting for their future, making their voices heard, and saying why should we go to school and study for a future that may not exist anymore.
"We need to hold the older generation accountable for what they are doing to us. I think that's the main thing."
There is little doubt that this movement which has grown with lightening speed is making politicians and big business everywhere nervous. 
It is difficult for them to know how to react in the face of a younger generation who don't yet have the right to vote but are determined to have their say. And gosh do they have some import stuff they want to say.
"For way too long the politicians and the people in power have gotten away with not doing anything to fight the climate crisis. We will make sure that they will not get away with it any longer. We will continue to school strike until they do something." 
That was Greta speaking to EU politicians earlier this year.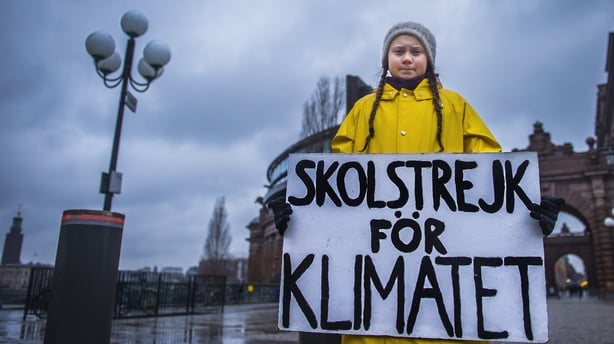 "People always tell us that they are so hopeful, they are hopeful that the young people are going to save the world. But we are not. There is simply not enough time to wait for us to grow up and become the ones in charge. Because by the year 2020 We need to have bended the (greenhouse gas) emission curve steeply downwards. That is next year. 
"We know that most politicians don't want to talk to us. Good. We don't want to talk to them either. We want them to talk to the scientists instead. Listen to them. Because we are just repeating what they are saying and have been saying for decades.
"We want you to follow the Paris Agreement and the IPCC reports. We don't have any other manifestos or demands. Just to unite behind the science that is our demand."
And it is not just the politicians that the young people striking today are taking aim it. It is the media too. That was made clear by Greta in this comment she gave to Rolling Stone magazine. 
"On climate change we have to acknowledge that we have failed. All political movements in their present form have done so. And the media has failed to create broader public awareness. But Homo sapiens have not yet failed. Yes we are failing but there is still time to turn everything around we can still fix this.
"We still have everything in our own hands. But unless we recognise the overall failures of our current systems then we most probably don't stand a chance. We are facing a disaster of unspoken sufferings for enormous amounts of people.  Now is not the time for speaking politely and focusing on what we can or cannot say. Now is the time to speak clearly."
For those who feel uneasy about the sight of hundreds of thousands of children worldwide taking the day off school to throw their weight and support behind everything Greta Thunberg has articulated it might be well to bear in mind, not just that this young lady has just been nominated for the Nobel Peace Prize, but that she has rocked some solid answers for her detractors.  
We need your consent to load this YouTube contentWe use YouTube to manage extra content that can set cookies on your device and collect data about your activity. Please review their details and accept them to load the content.Manage Preferences
"If you think that we should be in school (rather than out on the streets protesting)  then we suggest that you should take our place in the streets, striking from your work, or better yet join us so we can speed up the process. We have started to clean up your mess and we will not stop until we are done."
Perhaps even stronger was contribution she made on this issue during her TED talk referred to earlier. 
"Some people say that I should be in school instead. Some people say that I should study to be a climate scientist. So that I can solve the climate crisis. But the climate crisis has already been solved. We already have all the facts and solutions.
"All we have to do is to wake up and change. And why should I be studying for a future that will soon be no more, when no one is doing anything whatsoever to save the future. And what is the point of any facts in the school system when the most important facts given by the finest scientists of that school system clearly mean nothing to our politicians and our society.
"I think that if a few students can get headlines all over the world just by not going to school imagine what we could all do together if we wanted to."