In Loudoun County in Virginia, I met canvassers who were targeting early voters. They handed out sample ballot papers on which their candidates' names have been pre-selected.
Ballot papers across the US this year contain a record number of women candidates.
Betsy Fischer Martin is the executive director of the Women and Politics Institute at American University in Washington.
She says we are not poised to see a wave of women winning in these midterm elections - it will be a tidal wave.
"We can tell now just from the number of women who ran for office in the first place and got through their primaries. The number that ran for office was 476," she said.
"Half of them won their primaries, so we have about 257 women that are going to be on the general election ballot for Congress, which is a record number."
Women candidates are not just running for Congress in large numbers, records also look set to be broken in local and state elections.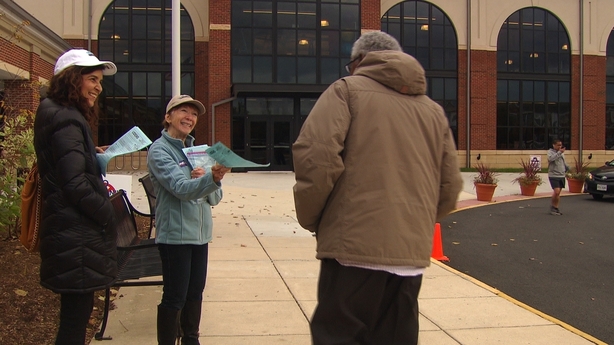 Nevada could be about to elect the first female-majority state government in US history and Jennie Sherwood is one of the candidates in the running.
"Women don't like how we're being represented in Washington. We've just put another man on the Supreme Court who isn't very woman friendly," she said.
According to her, women candidates have decided to take matters into their own hands.
"I think we're just done, fed up and ready to go out there and make the difference ourselves. We can't wait on anybody else to do it for us," she said.
In 33 Congressional races, voters will definitely elect a woman because both of the candidates in the running are women.
---
Read more:
Poles apart: A guide to the US midterms
US midterms: The view from the 'rust belt'
Taking a gamble on the midterms - the view from Las Vegas
In the shadow of the Alamo, another battle for Texas
---
That is the case in Virginia's 10th District where the sitting Republican Congresswoman Barbara Comstock is in danger of losing her seat to her Democratic challenger, Jennifer Wexton.
Both sides have released attack ads. The Republican candidate is accused of being too close to Donald Trump. The Democrat is branded a liberal who will raise taxes.
The voters I spoke to in Virginia were divided over which party they will be supporting, but they all agreed that an increase in women candidates is to be welcomed.
One woman, Anne Peterson, told me she would be voting Democrat.
"Traditionally I've been a Republican but I'm not a fan of Mr Trump and I want to send a message," she said.
One man, Dick Lehr, said he would be sticking with the Republicans.
We need your consent to load this rte-player contentWe use rte-player to manage extra content that can set cookies on your device and collect data about your activity. Please review their details and accept them to load the content.Manage Preferences
"I think they've done a great job. I think Donald Trump is the best president since Ronald Reagan," he said.
I asked him his thoughts on the record number of women candidates. "It's great for America. It shows the diversity in our politics," he said.
Another man, Kevin Smith, also welcomed the idea of more women in politics. "More power to them, they'll probably be better at it than the men," he said.
He had mixed views on President Trump. "He's kind of a clown but I knew that coming he in. He's done a good job with our economy," he said.
The final voter I spoke to was a woman who did not want to give her name.
"There are a lot of really good women candidates who are tired of how things are in Washington. I think a lot of women are outraged and angry. Mr Trump is very divisive and I hope somehow, someway, we can take our country back," she said.
Even if women candidates win all the races in which they are favoured to, they will still be underrepresented in Congress compared to men.
However, campaigners say it is at least a step in the right direction.